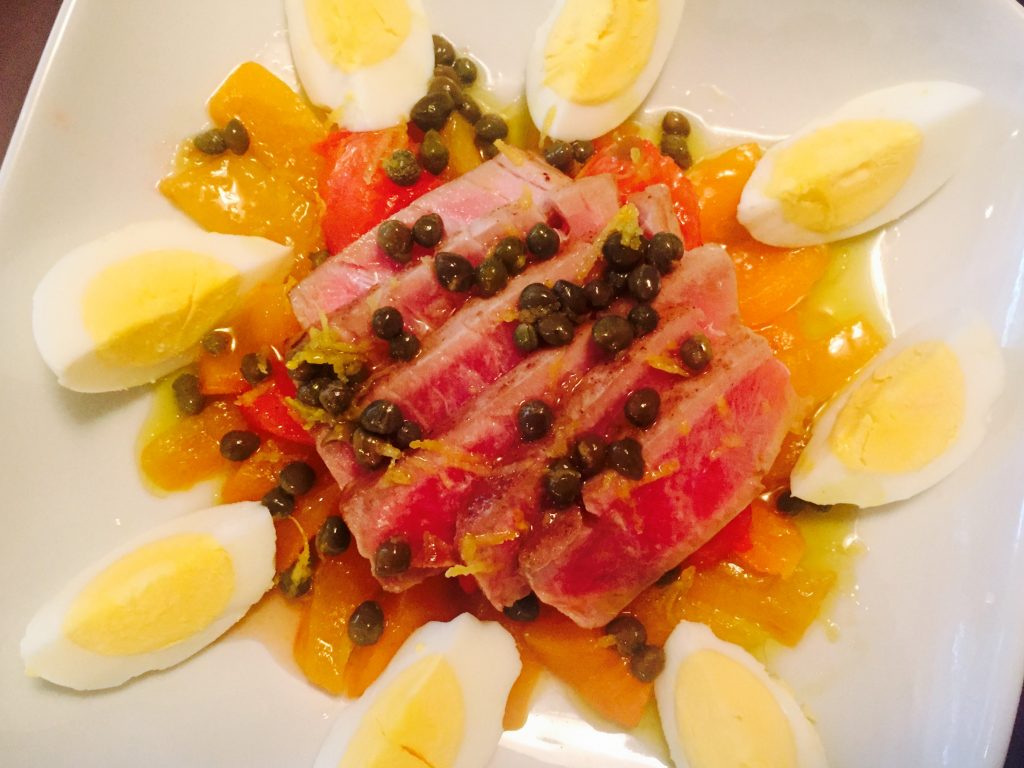 The Mysterious Eccentricity Of Mechouia Salad
Our dairy free & gluten free world-wide weekly menu plan brought us to North Africa for the unusual but satisfying flavours of Tunisia. The goal is to try new and sometimes unexpected foods, and while this meal was certainly different it also opened my eyes to many new culinary possibilities.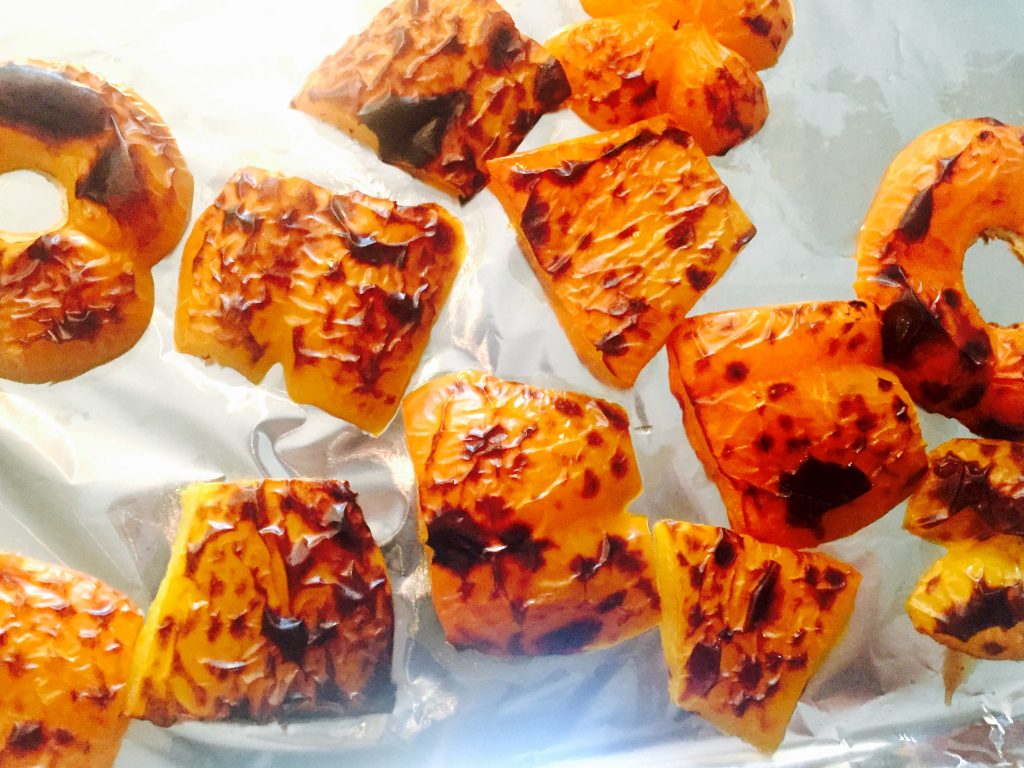 I was very thankful to have prepared this dish, although the techniques were quite familiar, it was the choice of ingredients that made me re-think a few of my own expectations. Mechouia salad is a very popular dish in Tunisia, and being that it is so unusual to me, I'm more intrigued than ever to learn about Tunisian culinary traditions.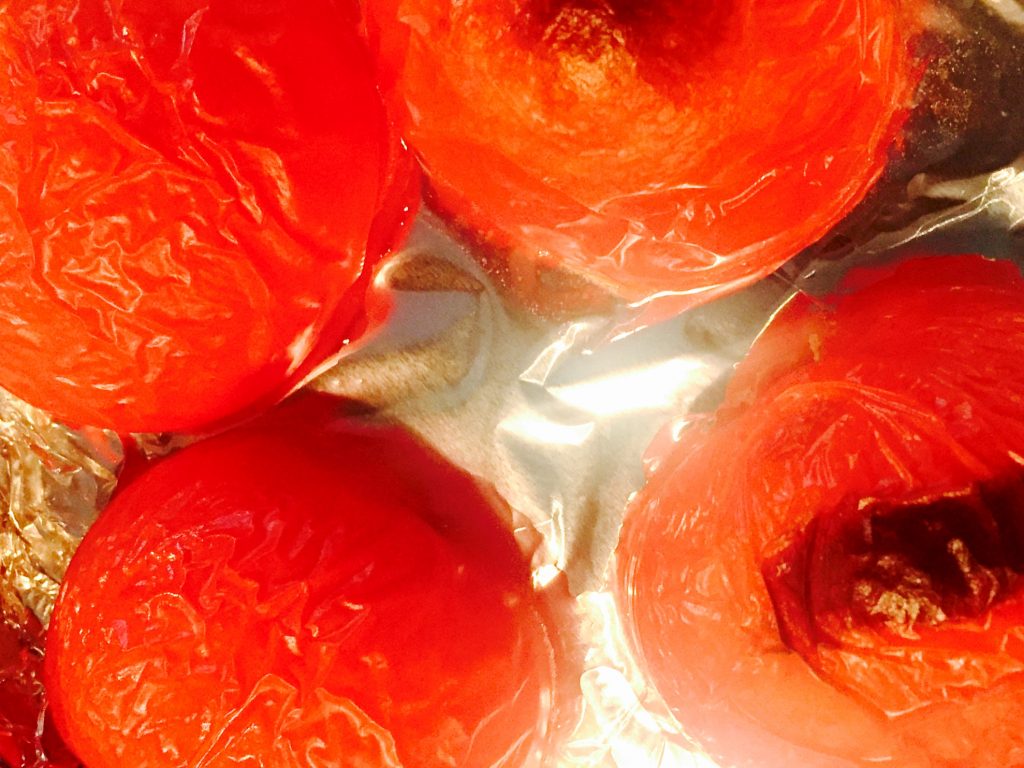 Impulsive Culinarian's Mechouia Salad With Seared Tuna Recipe
Ingredients
4 eggs
2 orange peppers
2 tomatoes
1/2 lb yellowfin tuna steak
2 tbsp capers
2 tbsp good olive oil
Juice and zest of 1/2 lemon
1 tsp honey
1/2 tsp kosher salt
Instructions
Place eggs into a small sauce pan, fill with enough hot water to cover the eggs by one inch. Add a little white vinegar and a pinch of salt to the water and place on the stove top over maximum heat.
As soon as the water begins to bubble in a slow boil, reduce heat to medium and cook for 11 minutes. As soon as the timer is done, rinse the eggs in cold running water and set aside.
Set broiler to high, line a cookie sheet with tin foil, and also line a 9″ cake pan with tinfoil.
Slice the peppers into flat, even pieces and lay them skin side up on the prepared cookie sheet.
Cut both tomatoes in half and place them flat side down in the lined cake pan.
Roast peppers until the skin begins to blacken, blister and char … around 8 to 10 minutes.
Roast the tomatoes until the skin begins to blacken just a little but not char … Around 4 to 5 minutes.
Always monitor broiled foods carefully the entire time without distraction! Set a timer every 2 minutes if you must to avoid over-broiling.
Set the roasted peppers and tomatoes aside to cool.
Heat a cast-iron skillet over high heat & generously season the tuna on both sides with salt & pepper.
Once the skillet is piping hot, add a bit of oil and sear the tuna for 1 minute on each side, then remove from the skillet and let the tuna rest before slicing.
Peel the peppers and cut into thick slices, then arrange them on each plate.
Peel the tomatoes and cut them into thick wedges, then arrange them on each plate.
Peel the eggs, quarter them, and arrange them on each plate.
Cut the tuna into 1/8″ to 1/4″ slices and arrange them on each plate.
In a medium bowl combine the oil, lemon juice, zest, honey & salt, then whisk together well until fully emulsified.
Add capers to the vinaigrette and spoon it over the mechouia salad plates, then serve.