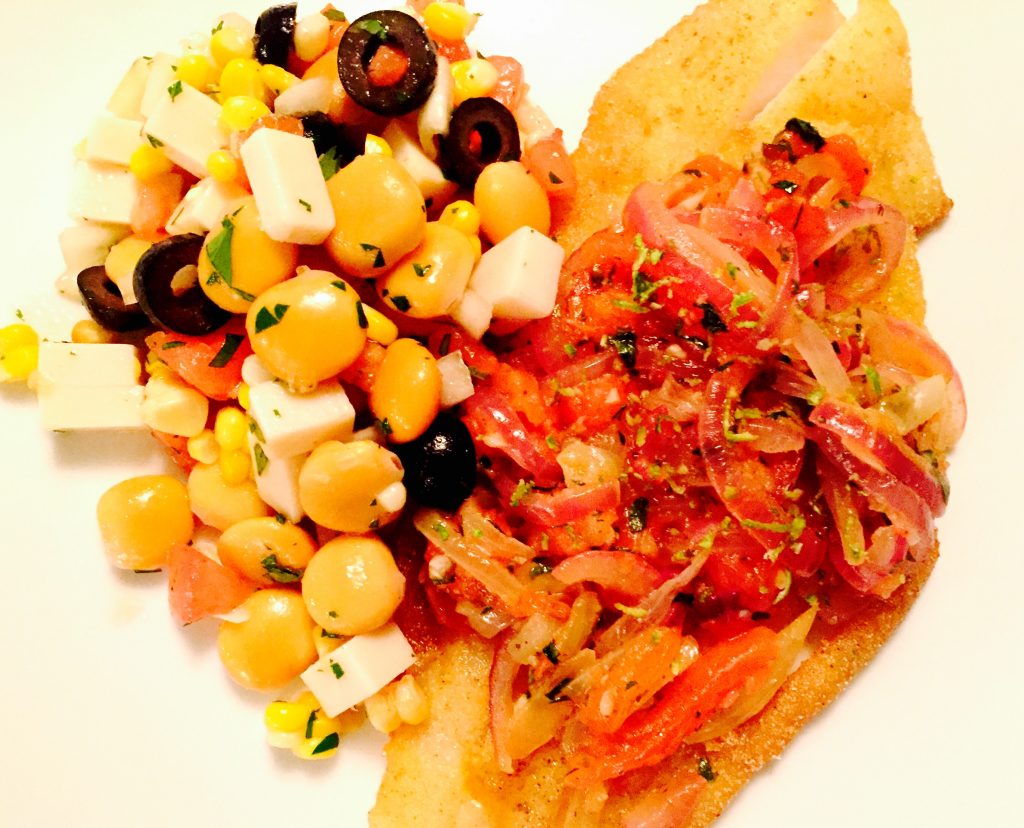 Our dairy free & gluten free world-wide weekly menu plan took us on a mini tour of South America to try the delicious flavours of Peru.
This lovely dish speaks the language of a commoner's kitchen while providing flavours worthy of royalty. I defy any home chef worth their salt to try this dish and not fall instantly in love with the simple yet immensely satisfying flavours.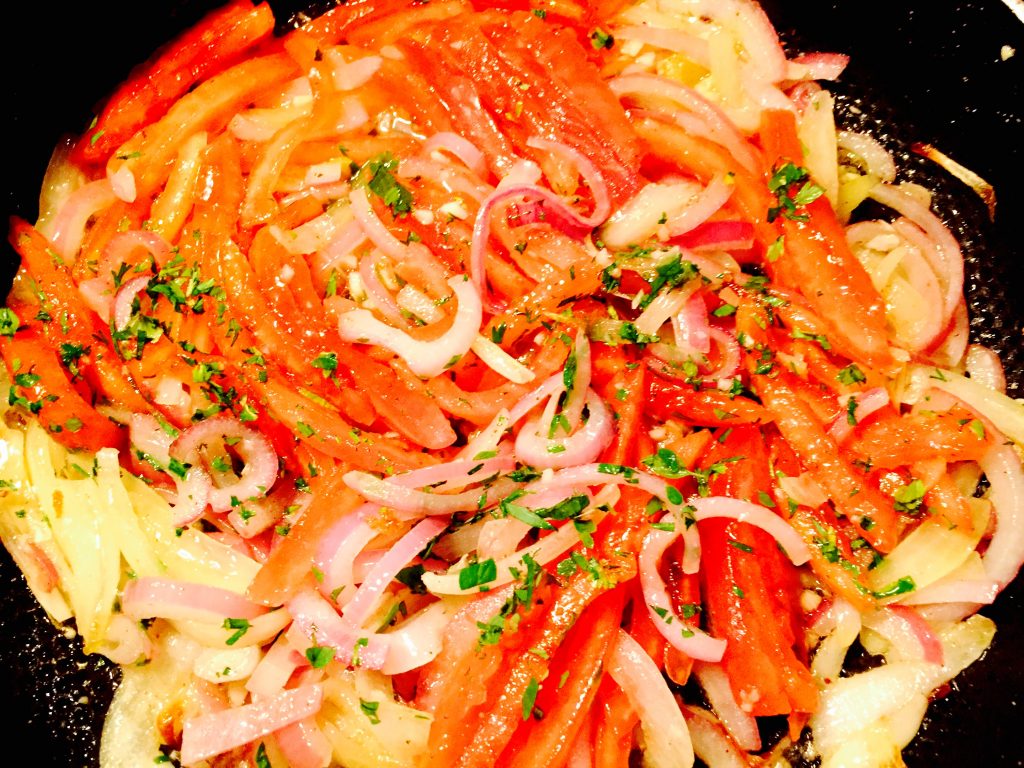 Impulsive Culinarian's Peruvian Pescado A La Chorrillana With Solterito
Ingredients for Solterito
1 cup lima beans, drained & rinsed
2 tomatoes, peeled, seeded, diced
1/2 onion, diced
6 oz. dairy free white cheese, diced
Corn of 1 cob, cooked, removed from the cob
1/3 cup black olives, halved
2 tbsp fresh, chopped parsley
3 tbsp good olive oil
1 tbsp apple cider vinegar
1/2 tbsp honey
1/2 tsp kosher salt
Ingredients for Pescado a la Chorrillana
1 lb of fresh turbot fillets
Corn flour for dredging
1/2 red onion, sliced
1/2 yellow onion, sliced
2 cloves of garlic, minced
2 tomatoes, peeled, seeded
2 tbsp fresh, chopped cilantro
1 tbsp fresh, chopped oregano
Instructions
Prepare a large bowl for the solterito salad, add lima beans, tomatoes, onions, cheese, corn, olives & parsley to the bowl.
In a small bowl, whisk together the oil, vinegar, honey & salt until fully emulsified.
Add the dressing & parsley to the salad and mix thoroughly to coat all ingredients, then set aside until ready to serve.
Rinse and pat dry the turbot fillets, then season them with salt & pepper.
Dredge the seasoned filets in a light coating of corn flour and pan-fry them in olive oil for 3 minutes per side until golden brown.
Carefully transfer the fillets to a plate and set aside.
In the same skillet, sauté the red & yellow onions (add a bit of oil if necessary) over medium heat until they soften, around 5 minutes.
Add the garlic and sauté for another minute until fragrant.
Add the tomatoes, cilantro & oregano and simmer for another 5 minutes so the flavours can meld together, season with salt & pepper.
Serve a generous portion of the chorrillana medley on top of each turbot fillet, along with a healthy serving of solterito on the side.