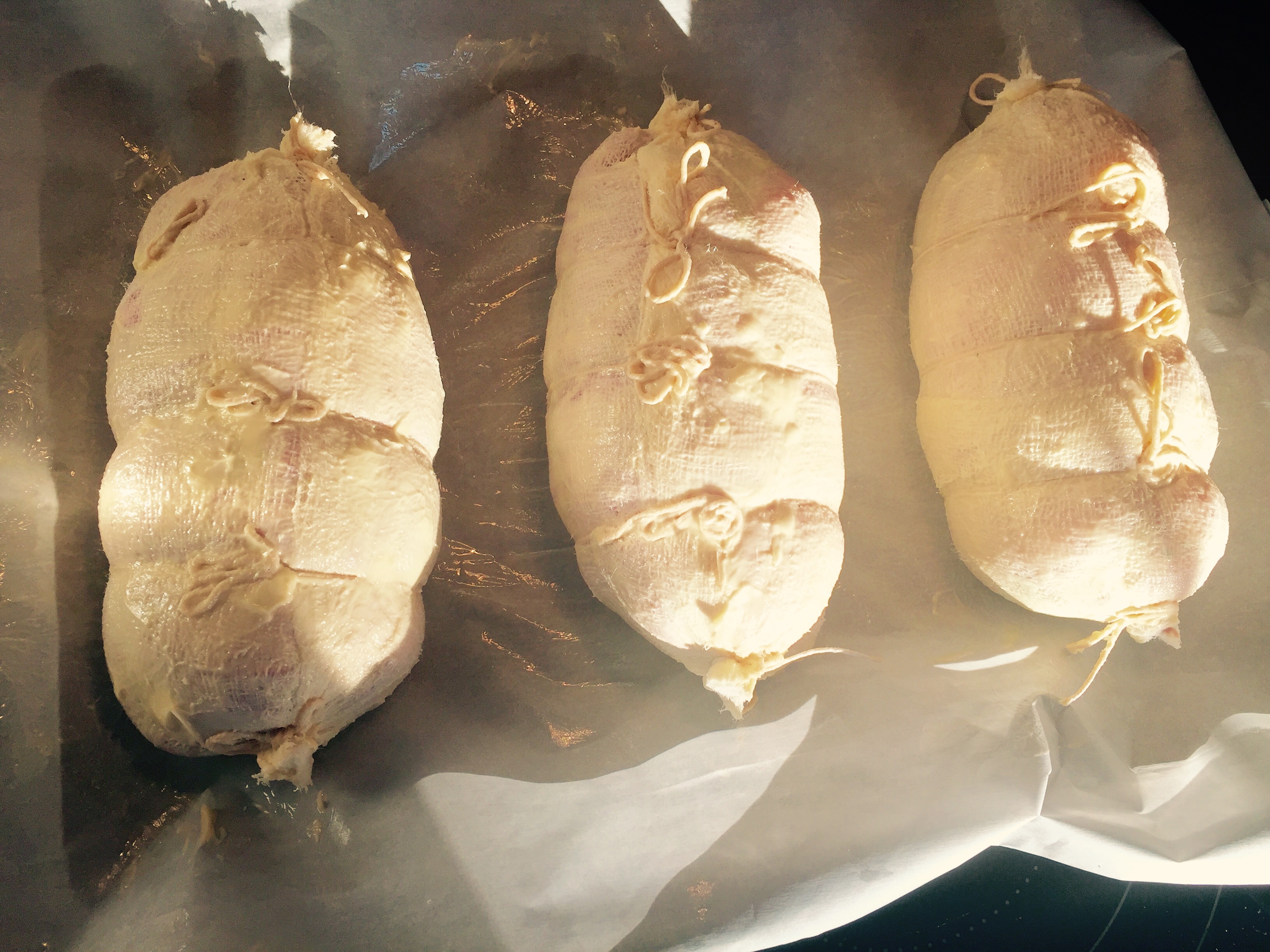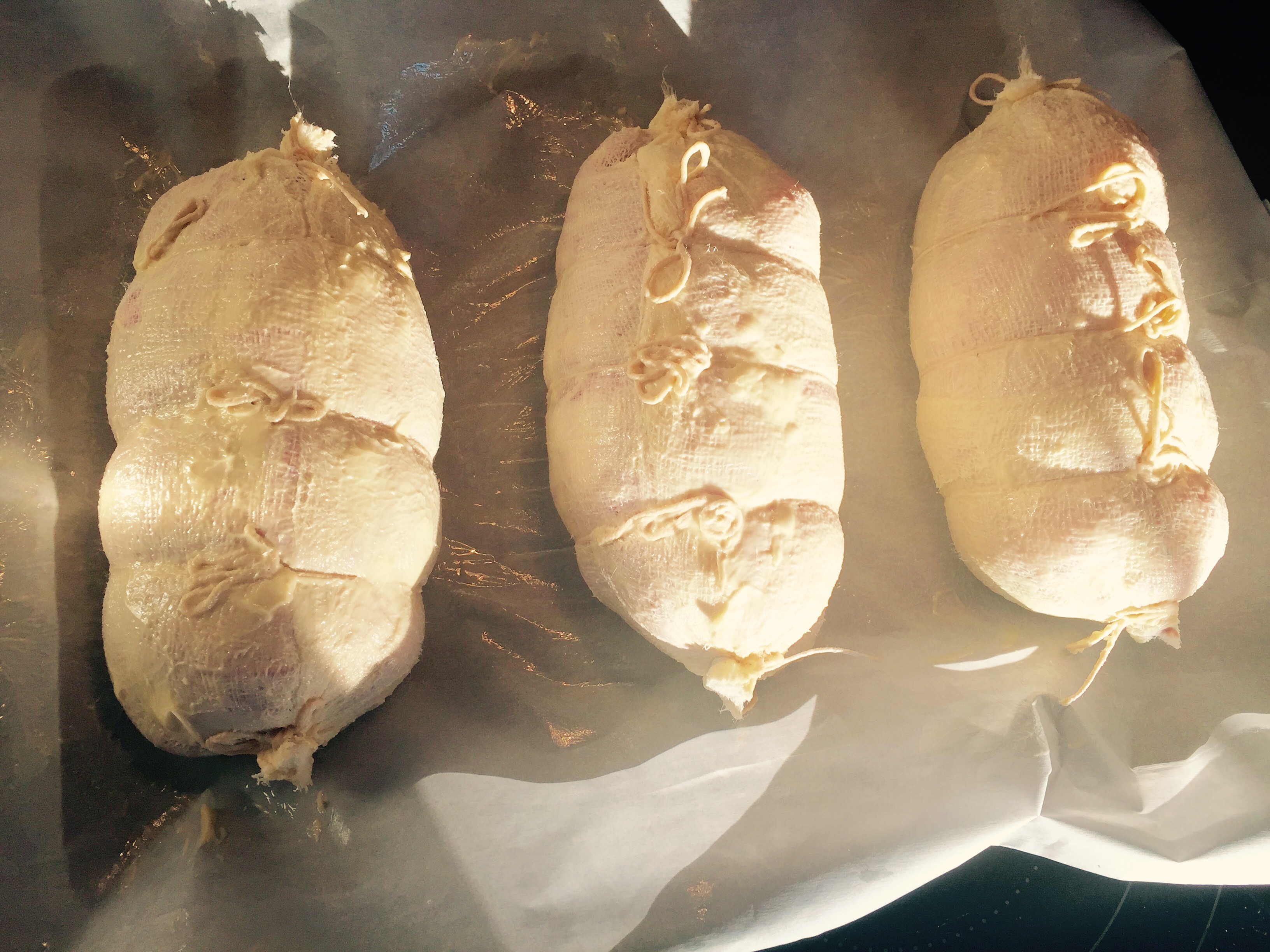 Stress to Impress …
Making a fancy supper for lots of guests is such a rewarding experience. Since moving into our new place we've only really just started to entertain as home-owners but we're slowly getting the hang of it and the routine of hosting for large groups is finally becoming familiar to us.
This year's first big challenge was to avoid repeating dishes that already made an appearance during our Thanksgiving get-together. Eating the same stuff twice in a row just wouldn't be right.
Our 2015 Christmas Menu
Stuffed Turkey Breast Ballotine
Bread Stuffing with Liver & Onions
Bread Stuffing with Bay Scallops & Mushrooms
Cranberry sauce
Tourtière du Lac St Jean
Salmon Tartare
Seared Tuna
Colcannon
Roasted Sweet Potatoes
Sautéed Brussel Sprouts
Pecan Pie
Shortbread Cookies
Yule log
Stuffed Turkey Breast Ballotine
The star of our Christmas feast was courtesy of Martha Stewarts's beautiful recipe for Stuffed Turkey Breasts prepared in a Ballotine style then wrapped in cheese cloth and slathered in butter. I loved making this dish, and it came out perfectly after just over an hour in the oven.
The organic turkey breasts I was lucky enough to find were spectacular but had no skin. This gave me an excellent opportunity to substitute pancetta bacon to seal the stuffed rolls before swaddling them in cheese cloth. Also I opted for a more traditional stuffing recipe for the the turkey rolls with plenty of extra for a casserole side.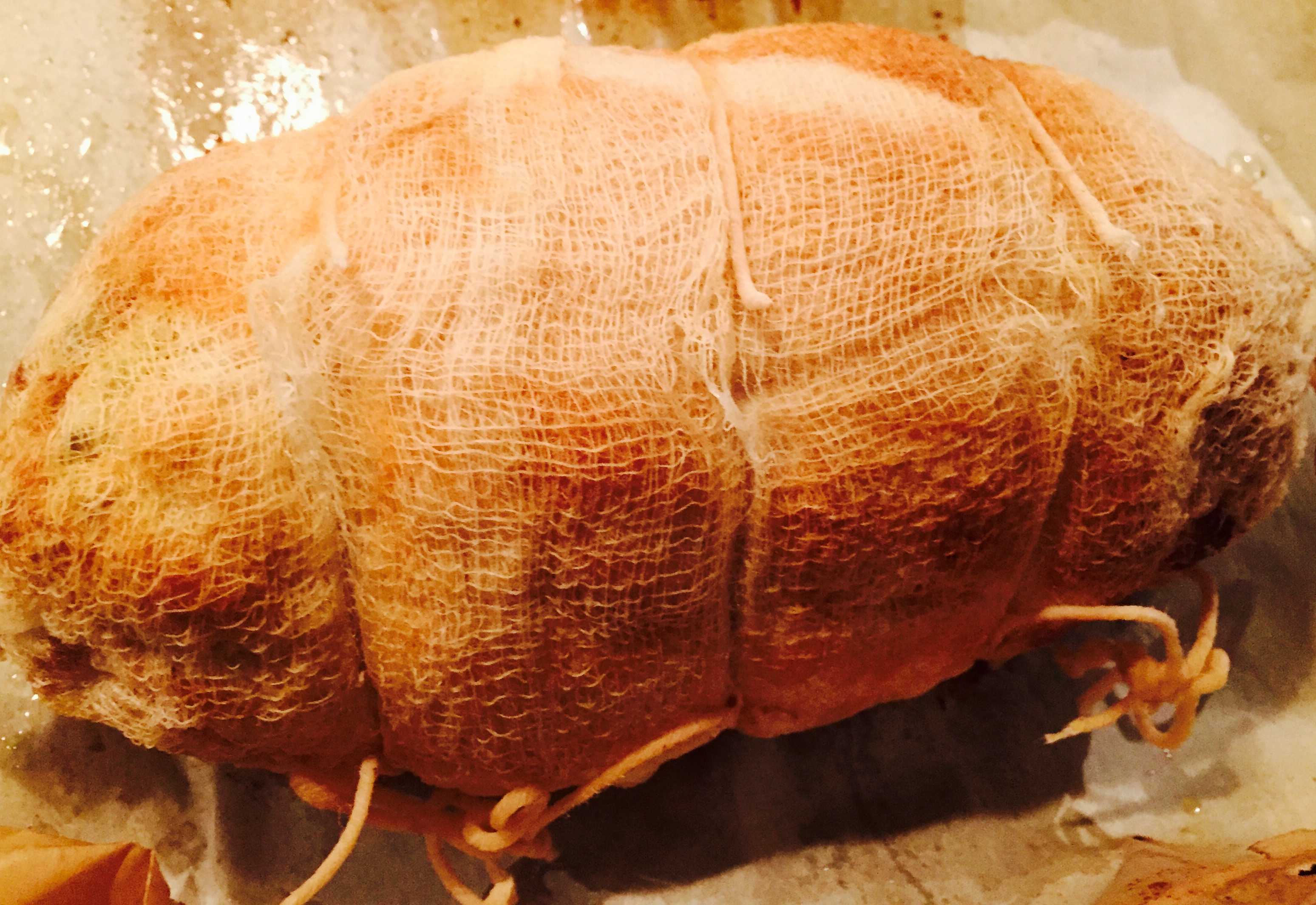 Bread Stuffing with Bay Scallops & Mushrooms
Providing a pescatarian version of our classic bread stuffing was important to me, so I picked up some tiny fresh bay scallops at my favourite fish monger. With cubed sautéed mushrooms and raw scallops replacing the chicken liver in the recipe above, I had a lovely seafood version ready to bake along side it's traditional counterpart.
Cranberry Sauce
This is a definite must-have at Christmas. If you make turkey without making cranberry sauce, shame on you. I used Martha's recipe for Orange-Scented Cranberry Sauce substituting clementines for the orange (which I simply had run out of) and adding a shot of Grand Marnier for some extra love. I may have put a bit of wine in there too because I do that quite a bit, it's a thing.
Tourtière du Lac St Jean
Now this is something I had been looking forward to trying for years. Tourtière is a very traditional Québécois holiday dish, and I've eaten plenty of it over the decades but never yet tried my hand at making it myself. Tourtière is a very personal thing and each family has their own classic rendition. For my first attempt I was committed to going big.
The recipe I found that spoke to me most of all was this ambitious monster of a meat "pie" with a whopping 6 pounds of meat of varying types. It has so much stuff inside that a conventional pie plate could never do, you have to make it in a Dutch oven lined entirely with a doubled savoury pie crust recipe.
This was the dish I was most worried about, simply because the technique was completely new to me. The original recipe also seemed very bland so I had some extra work trying to adjust with such a large amount of meat, which I braised first to add what I suspected would be some much-needed flavour. The braising also gave me an excellent base for what would become my gravy which was perfect.
I learned a LOT with this dish, and though it didn't turn out the way I would have liked, it gave me the confidence and experience needed to try it again with much more desirable results … maybe next year's Christmas menu!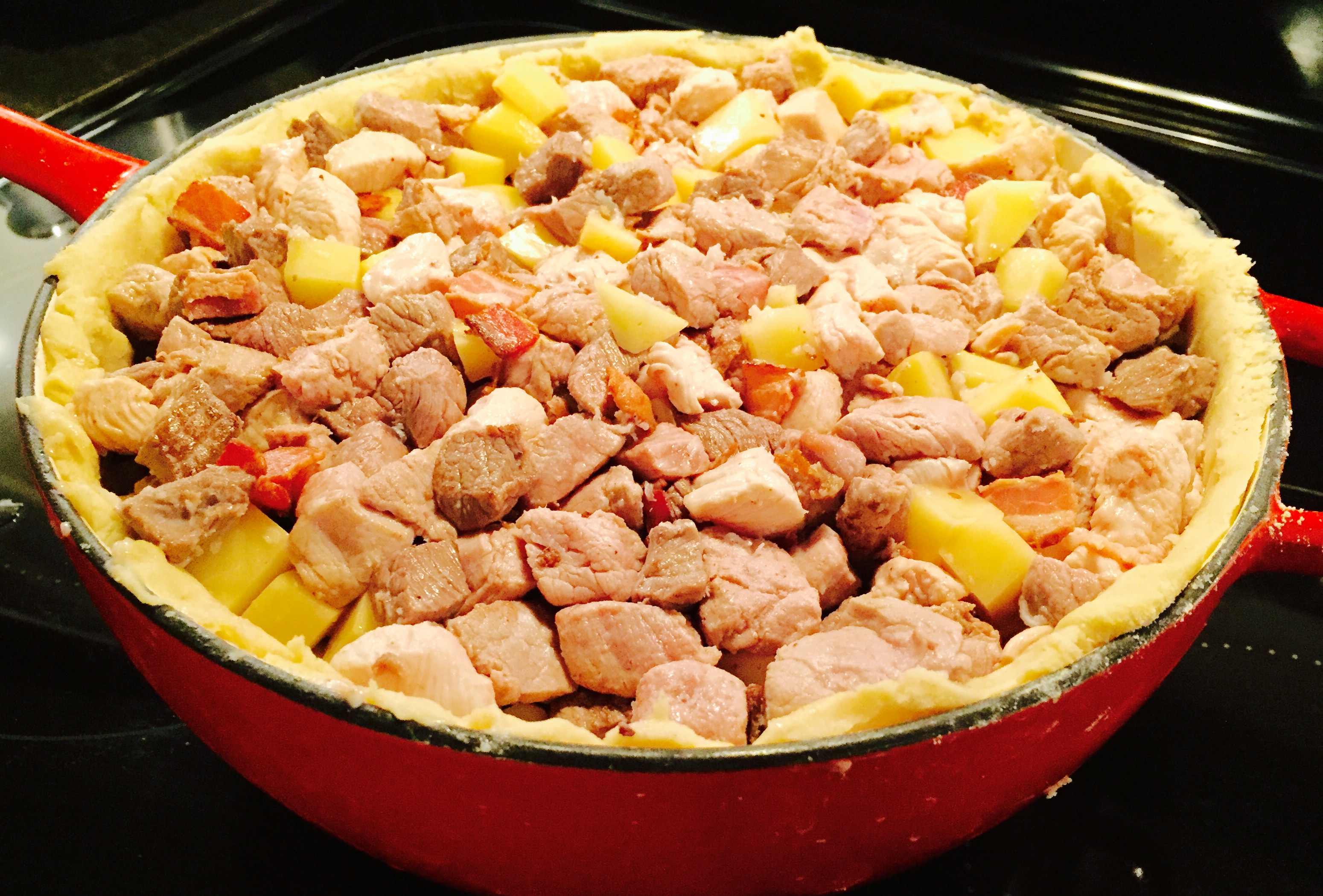 Salmon Tartare
Liz loves salmon tartare, and it almost always makes an appearance at our table during the holidays. This year I decided to combine the best of two recipes, my favourite recipe by Ina Garten, with some additions inspired by this recipe at allrecipes.com.
Seared Tuna
Fresh tuna steaks from a fishmonger you trust, season with salt & pepper, coat them in sesame seeds then sear them in a piping hot cast iron pan for 2 minutes each side; perfection!
Colcannon
Everybody loves mashed potatoes, but this Irish/Scottish traditional version is a delicious change that's well worth trying. I used Napa cabbage and mini red potatoes with a generous amount of cheese. In hind sight though there was too much cheese, making the consistency a little too "melty" for my taste but the dish itself is wonderful and I'll certainly make it again with some important adjustments. Here's the recipe that got me started.
Roasted Sweet Potatoes
Peeled, rustic cut, tossed with olive oil, salt & pepper, then roasted to perfection. This comfort food is always a welcome addition any time of year, but especially for Christmas.
Sautéed Brussel Sprouts
Not exactly sure how or why this has become such a local staple of Canadian holiday fare but we've always just had them at Christmas, and well who am I to break with such a delicious ritual, Brussel sprouts are awesome! Martha has the most simple and delicious rendition I've found by far, and I recommend you try her recipe for Sautéed Brussel Sprouts as soon as you get the chance.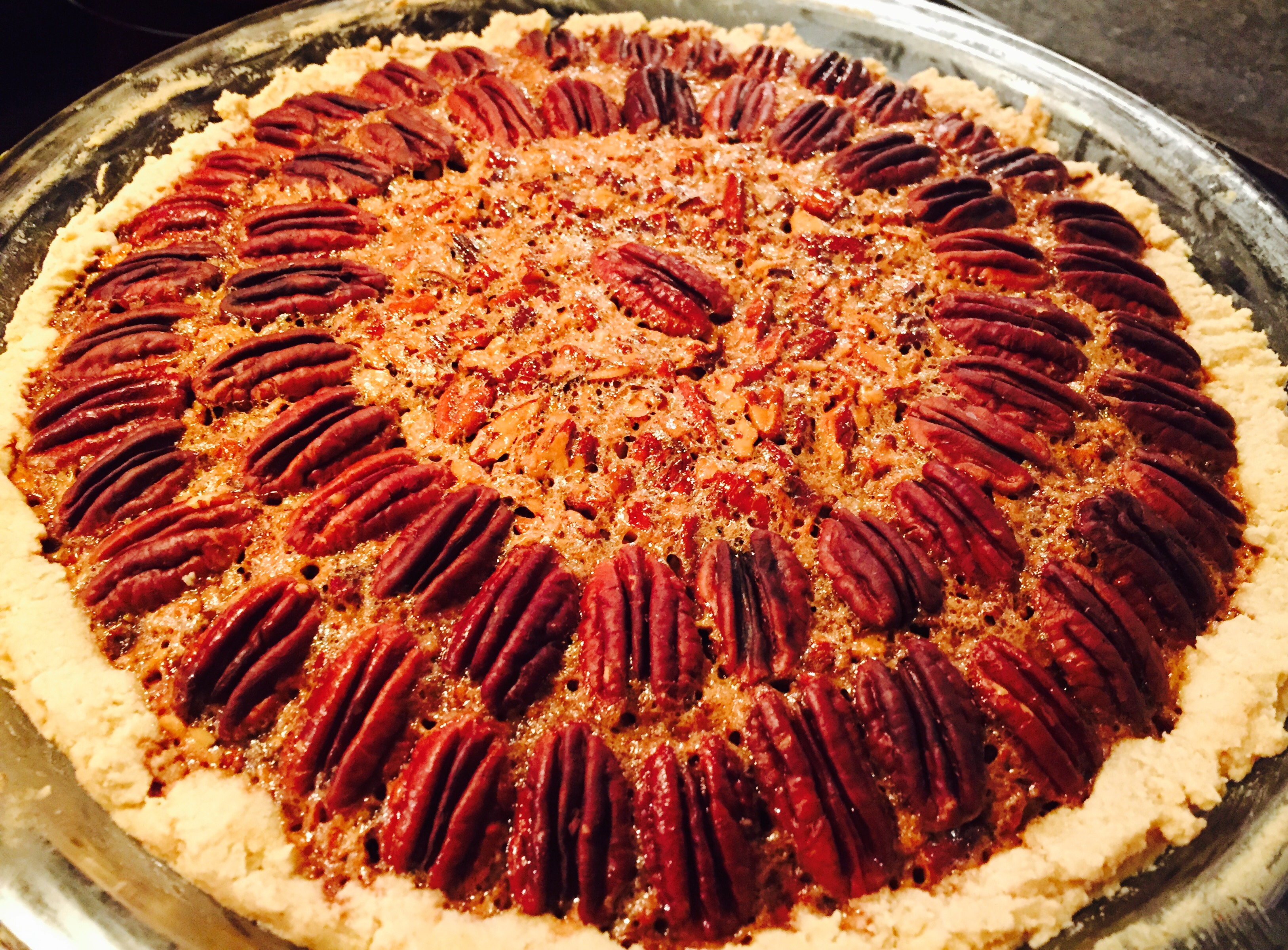 Pecan Pie
There are lots of recipes for sugary pies, but this decadent rendition from Betty Crocker caught my eye as I was scanning through the many options available online. The process is simple for me, when I find recipes that use booze I often stop to read just to make sure everything else is in order; when all checks out we have a winner.
Shortbread Cookies
Nothing says Christmas like shortbread, but it's been some time since I made this delicious treat. This classic recipe from Canadian Living looked like just the right match up for my gluten and dairy free variety. It seems too that even our older and more discerning guests were in agreement as hardly any were left for Santa by the end of the night!
Yule Log
A few years ago I tried making a Yule log for the first time in my life. At the time however I wasn't very confident about baking or making desserts of any kind. Thankfully I had the good fortune of finding this recipe by Nigella Lawson and it has become my go-to Christmas menu concoction ever since.
Before all the menu plans and culinary adventures there was Nigella's trusty Yule log, and to this day it still never fails to be a crowning jewel at the end of each big Christmas dinner with family and friends.