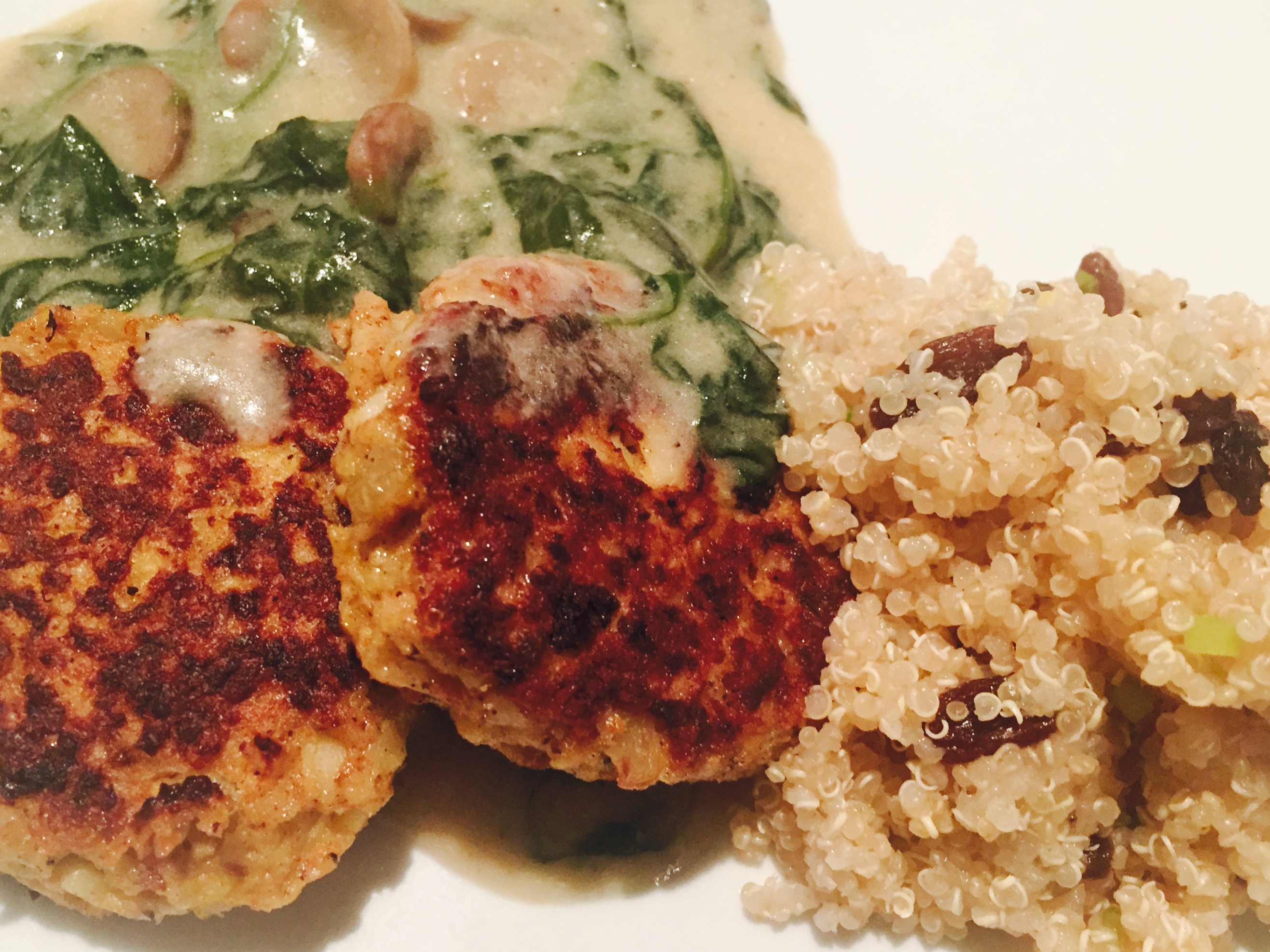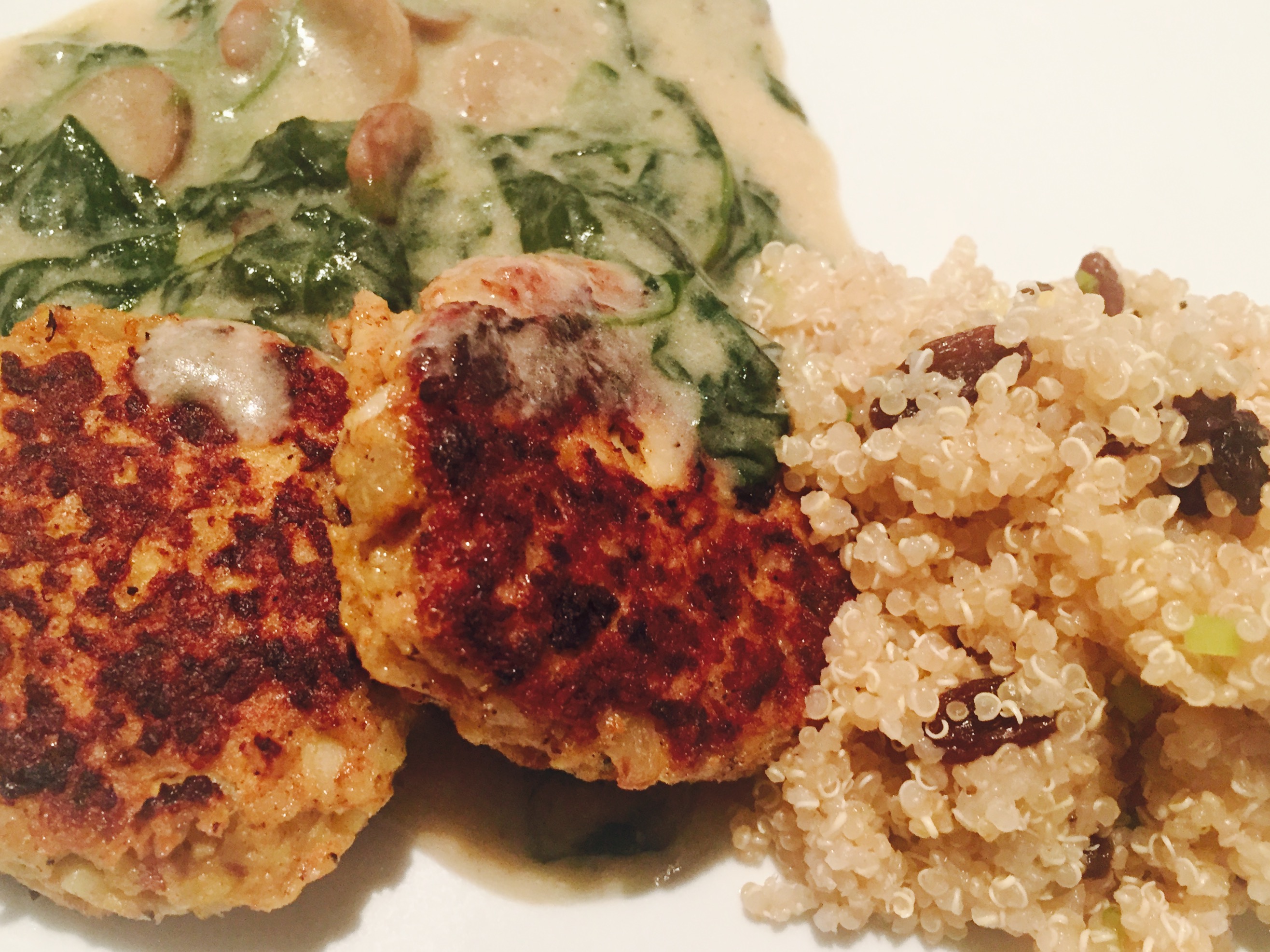 Overview …
My weekly menu plan for this Tuesday called for:
Protein: White Fish
Starchy Side: Quinoa
Vegetable: Kohlrabi
When I say white fish what I really mean is, on week 4 of the menu plan I had no idea what seafood to serve besides salmon, trout, tuna, shrimps or scallops. Grasping for straws I spent most of my drive home debating what pescatarian main would be worthy of the rest of the effort this menu plan had called for: I wasn't going to let the bar come down just because of a lack of imagination!
I remember back in the day when quinoa could never make an appearance on our dinner table for fear of inciting panic from our kids. These days I don't wait for their approval, instead we serve great sides like bright lemony quinoa and watch as they actually try, sometimes even like what dinner has to offer.
Saturday's fiddleheads were a no-show due to out of season shopping, and in the same visit my attempts to find kohlrabi were equally unsuccessful. Arriving at Tuesday's menu with yet another missing ingredient to compensate for I vaguely recalled picking up some baby spinach on the weekend as a possible replacement, no kohlrabi – no problem.
White Fish Croquettes
A few weeks before starting the new menu plan Liz had picked up some frozen white fish filets at Costco. On my drive home I thought for a long time about how I could turn those into something delicious. These particular frozen fillets are so thin they practically cook just by looking at them, and so it occurred to me that this could work to my advantage.
By sautéing an onion and some garlic over low heat and adding the thawed fish filets with a cover to help steam and simmer simultaneously, a lovely flavour-filled base was formed. All this in a bowl with some eggs, a bunch of gluten free bread crumbs, a hand-full of daiya white cheese and seasoning, and a lovely mix was ready. Small one-third-cup portions into a hot pan with melted butter and oil and my new lovely white fish croquettes were a delicious reality.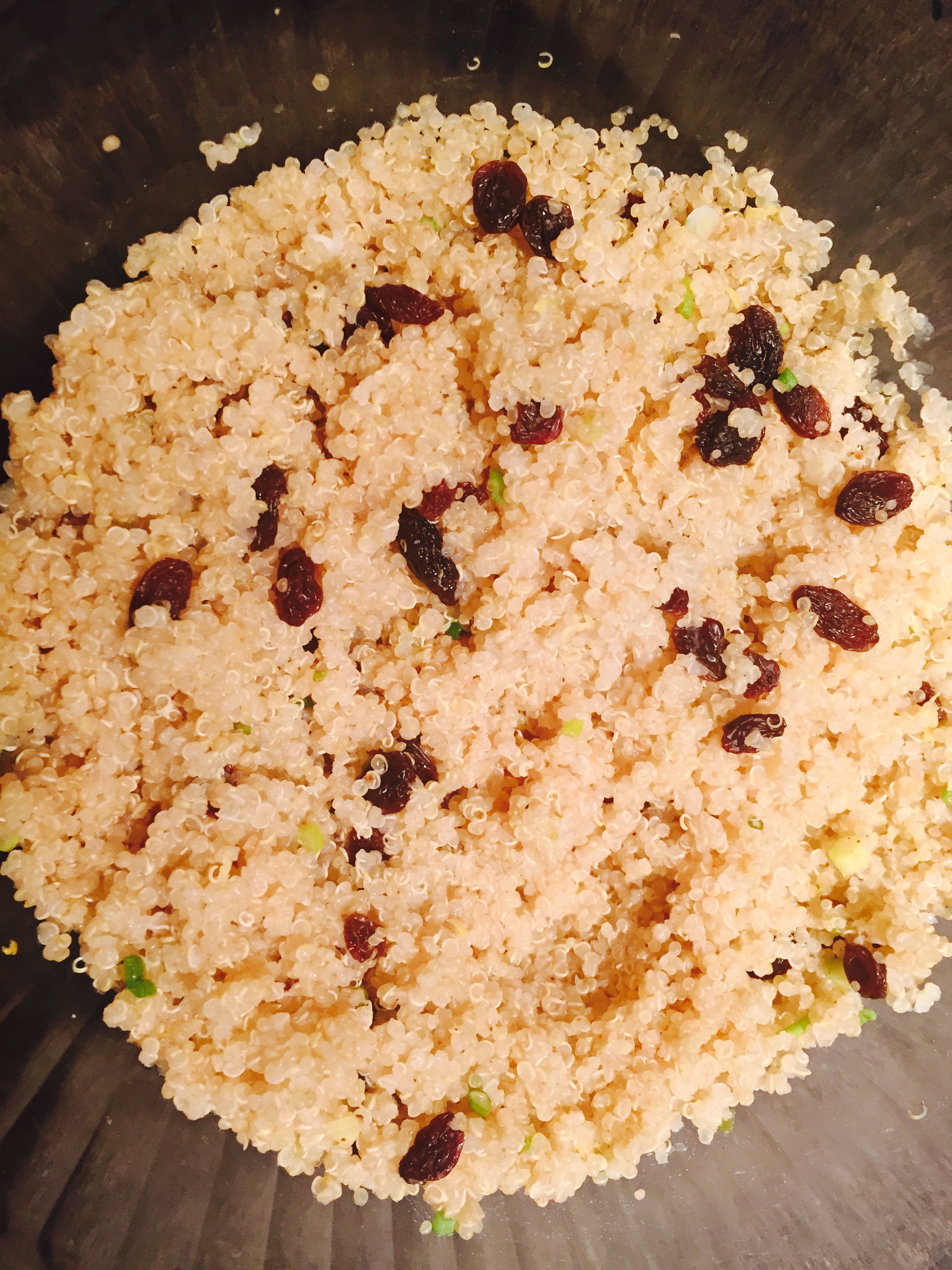 Lemon Quinoa
Sometimes you just have a craving for simplicity, and this Tuesday I really wanted a basic quinoa side with nothing more than the most essential flavours to make it memorable. I've made lots of hearty quinoa salads with cumin, garam masala, dried fruits of every kind, roasted nuts, grilled vegetables and more.
This night however, a cup of quinoa prepared in water, salt & pepper, grated lemon zest & juice, just a few raisins for sweetness and a chopped green onion. It was exactly what I was aspiring for.
Mushrooms & Spinach in Cheese Sauce
There was a feeling of confidence brewing in me with those unmistakably tantalizing croquettes, and I knew the quinoa was going to meet my expectations too, so I decided to take a risk on the spinach. I started with a white roux and gave it legs by adding butter, white wine and lots of coconut milk. This I let reduce for as long as I could afford on a Tuesday night.
In a separate pan went my peeled, coarsely cut mushrooms to sweat down and turn a nice nutty golden colour. In went some minced garlic and the baby spinach to wilt. Then came the moment when old me would have caved and only added half the coconut wine reduction, but instead I melted some white cheese in it and added the whole lot to my spinach and mushrooms.
By itself it was a soup, but left to simmer and reduce even longer right up until the very last possible minute before plating, a most impressive thick cheese sauce had developed; all while taking on the lovely flavour of my spinach and mushrooms. The resulting concoction was stellar and lent such a rich, voluptuous element to the meal that I was beside myself with pride … the wild bet actually paid off.
Full House
We all ate way too much, but thankfully we were able to hide 2 croquettes for Liz to take as lunch the next day. I snuck the last few tablespoons of spinach and cheese sauce into a container for later in the week, and what was left of the quinoa would be a perfect base for some leftover mix another night. Truly, we've never had so much fun trying new foods altogether as a family.