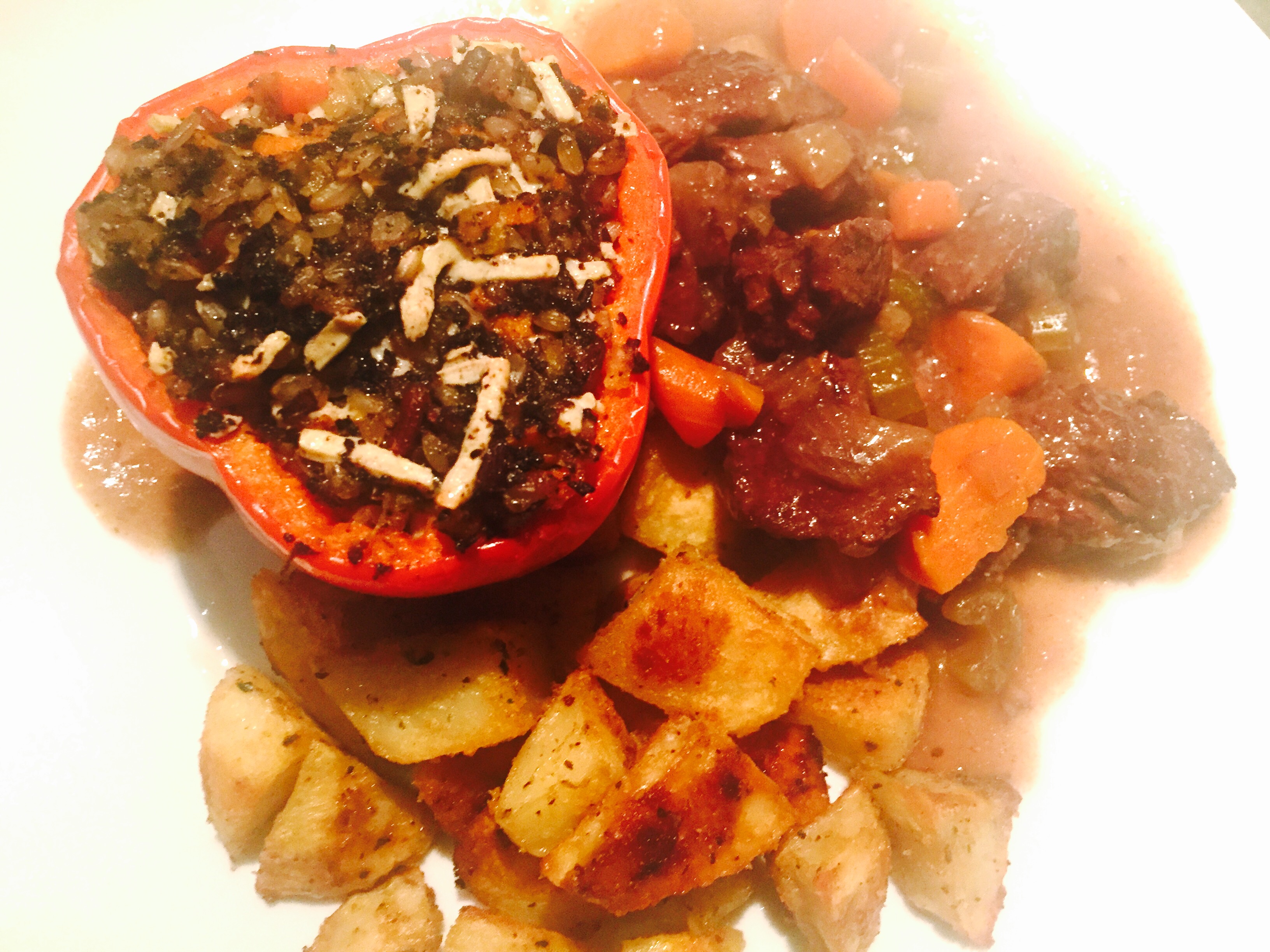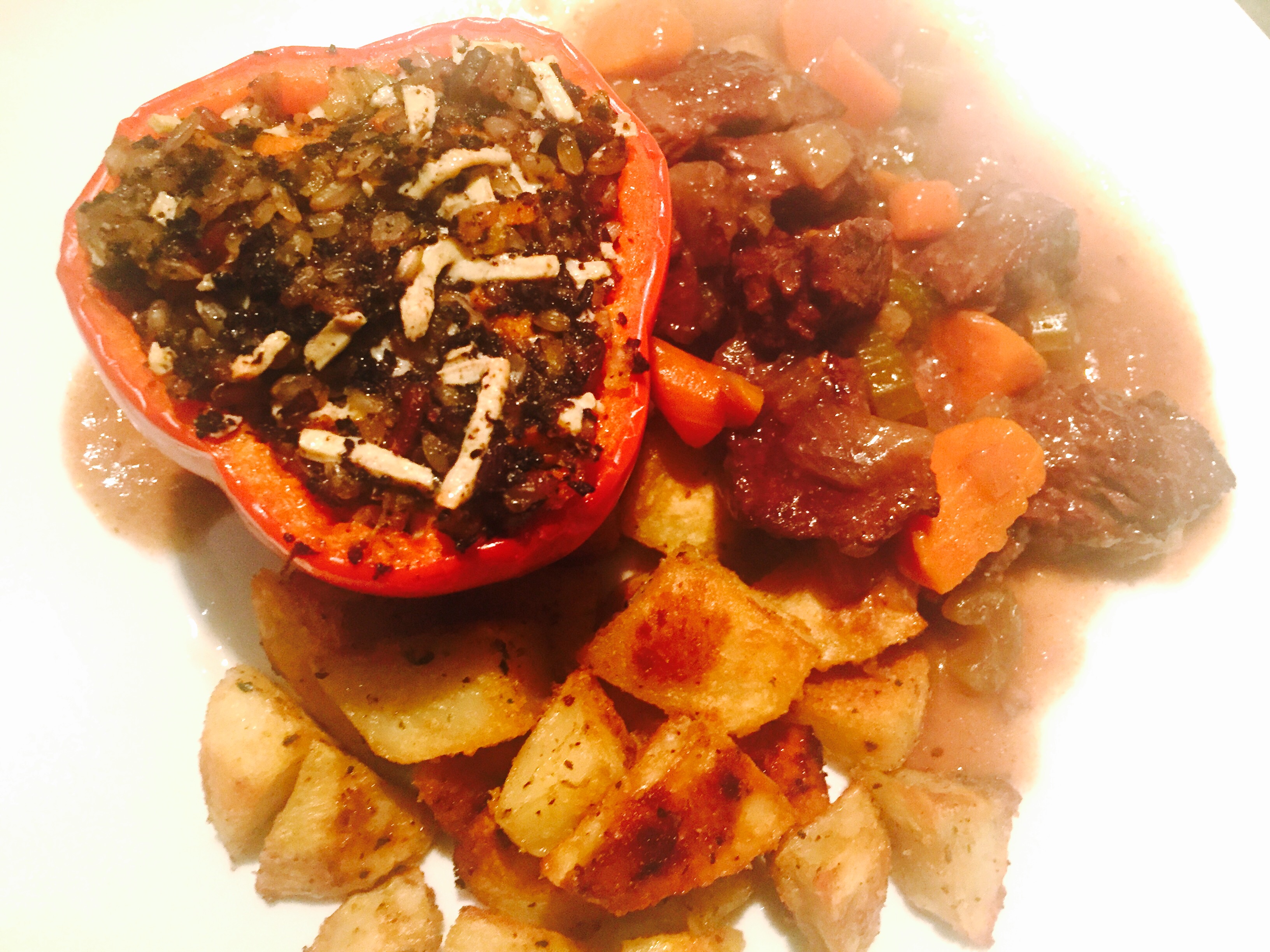 Overview …
My weekly menu plan for this Saturday called for:
Protein: Beef Shoulder
Starchy Side: Potatoes
Vegetable: Sweet Peppers
Weekends at our house almost always have a main dish that requires slow cooking of some sort, and beef chuck shoulder has to be one of my all time favourites in that category. Braising is a time-consuming method but truly rewarding on so many levels and I just love the traditional process it entails; not to mention the delicious results.
Unless there's something highly experimental going on in your kitchen, potatoes are always a safe accompaniment no matter what you're making. When it's Saturday though and there's braised beef on the menu, I can't possibly imagine anything better than rustic-cut oven-roasted potatoes … it's like a rule!
Sweet peppers are such a versatile ingredient, and normally I'm tempted to char them a bit to remove the skin and include them as a lovely sweet addition to something more substantial. This time however, I really wanted the peppers to literally stand-out … so I stuffed them and let them grab the attention they deserve all on their own.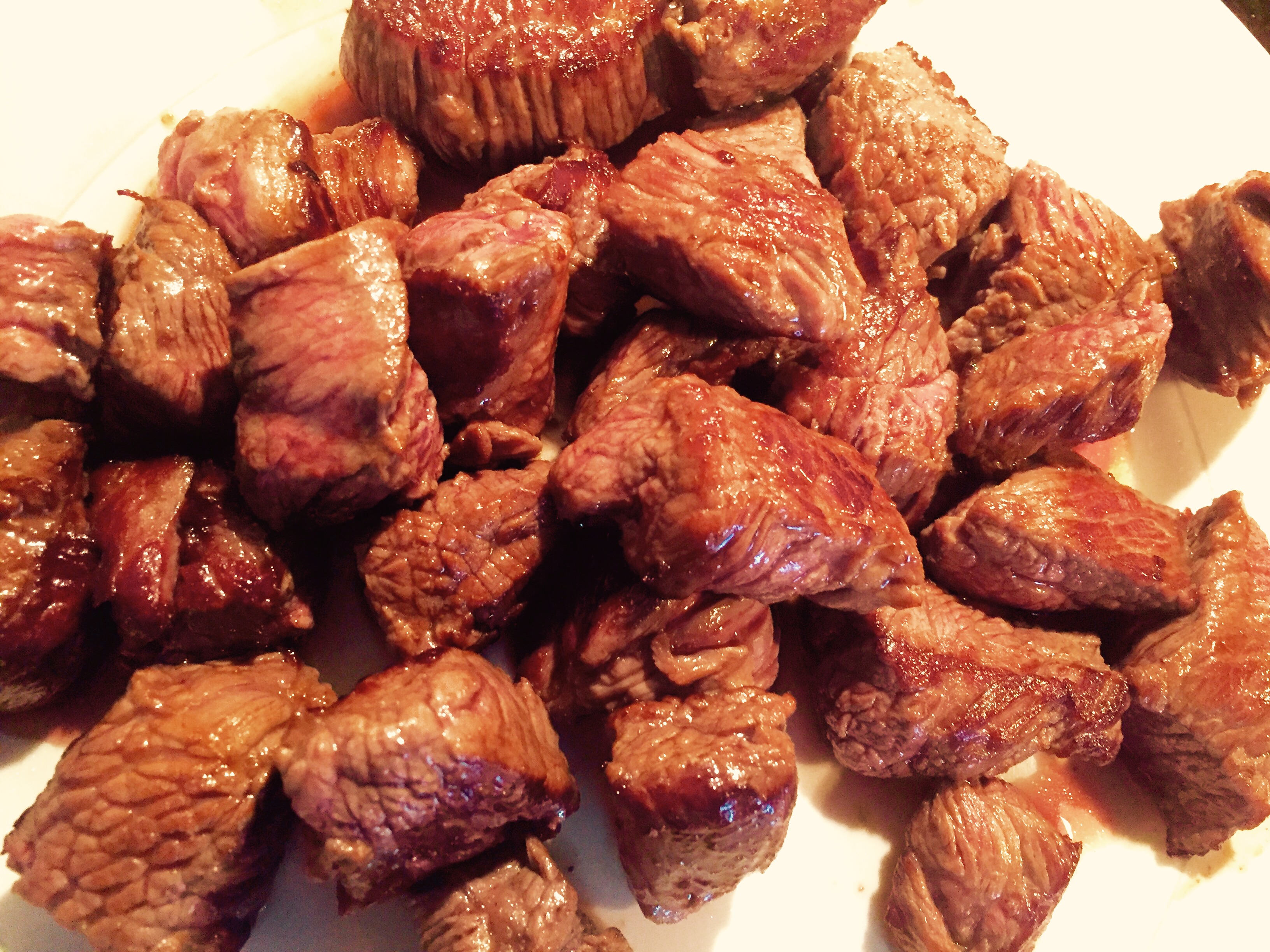 Braised Beef Stew
Very few dishes require you to pour half a bottle of wine into the pot, but there are also few dishes more deserving of the task than braised beef or boeuf bourguignon. I get excited every time I make them and every step of the process is just so deliciously rewarding, whether it's purely the aromatics, the traditional ingredients, or simply having an excuse to use my favourite dutch oven.
Browning the meat is such a wonderfully messy process; the hot oil kicking up a fuss at every new batch of yummy organic beef that goes into the pot. Taming that process with the introduction of classic vegetables like onions, celery & carrots, some home-made broth, a little thickener, and of course lots of red wine … I genuinely adore this kind of meal.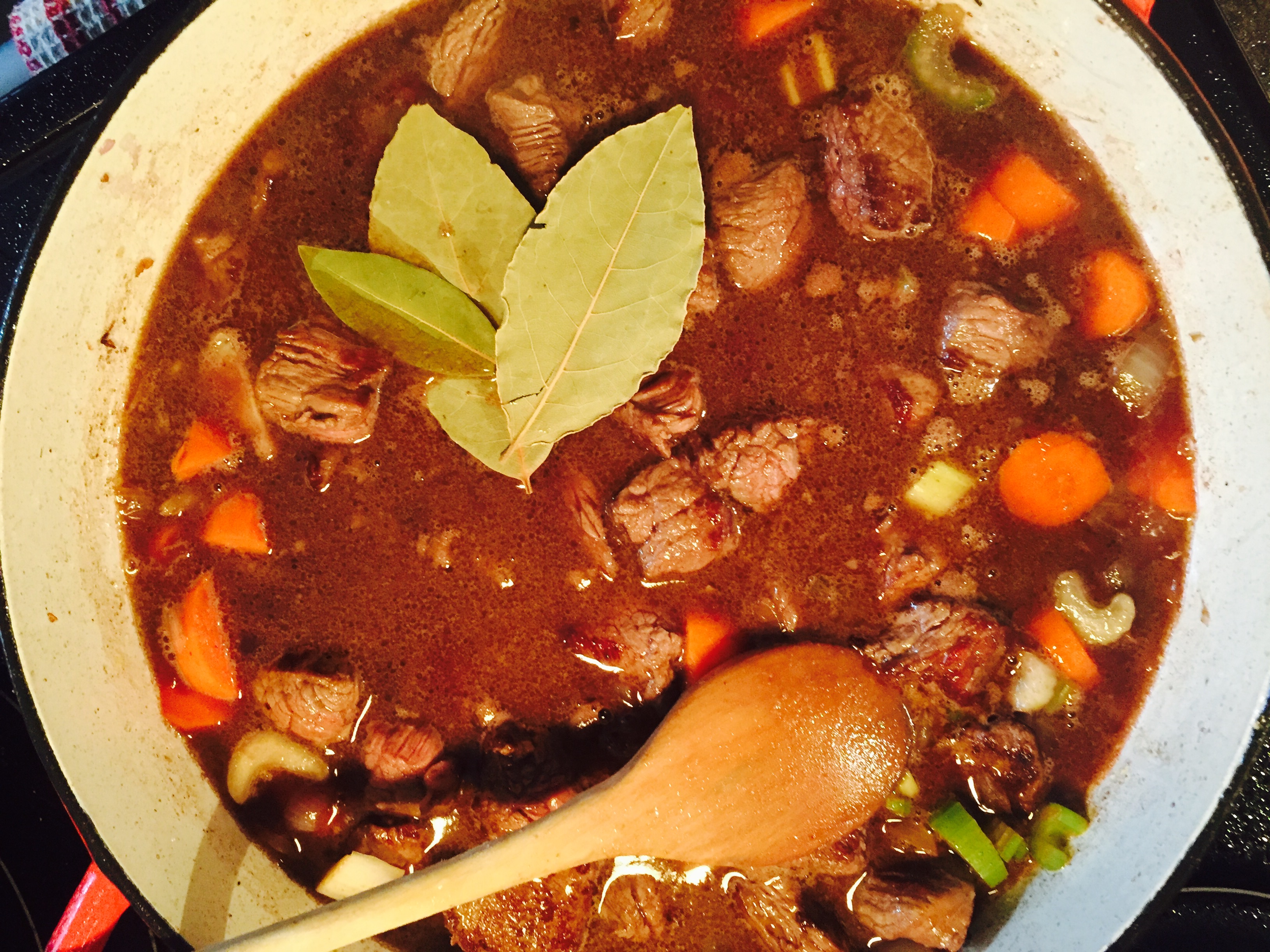 Oven-Roasted Potatoes
Peeled, washed and cut into big rustic chunks, potatoes on a weekend menu deserve the royal treatment with a handful of dry seasonings like onion & garlic powder, a dash of cajun spice, kosher salt, fresh ground pepper and some extra virgin olive oil. Introduce them to a piping-hot pre-heated oven, flipping them half way through for effect, and life really couldn't be better.
Keeping the peel on is a great way to add texture and flavour, and generally speaking I really do like that option. On the weekend though I enjoy being able to peel the potatoes entirely and clean them up really nice for that little extra touch; just makes it feel a bit like the holidays somehow.
Mushroom-Stuffed Peppers
Traditionally, stuffed peppers call for lots of ground beef or pork mixed with other tasty ingredients to great effect. With a rich meaty stew already on the menu, I decided to create a meat-less stuffed pepper by mincing and browning lots of delicious mushrooms as a base instead. These were mixed with some wonderfully textured organic wild rice, minced & sauteed carrots, onions and celery, all with a generous helping of dairy-free white daiya cheese.
To keep things interesting I prepared a couple large peppers along with a bunch of smaller ones to make them easy to include for lunches during the week. The end result was quite yummy, and the mini peppers were so handy to warm up and snack on at any time … like lunch, second lunch, pre-dinner, after-supper, midnight … you get the idea.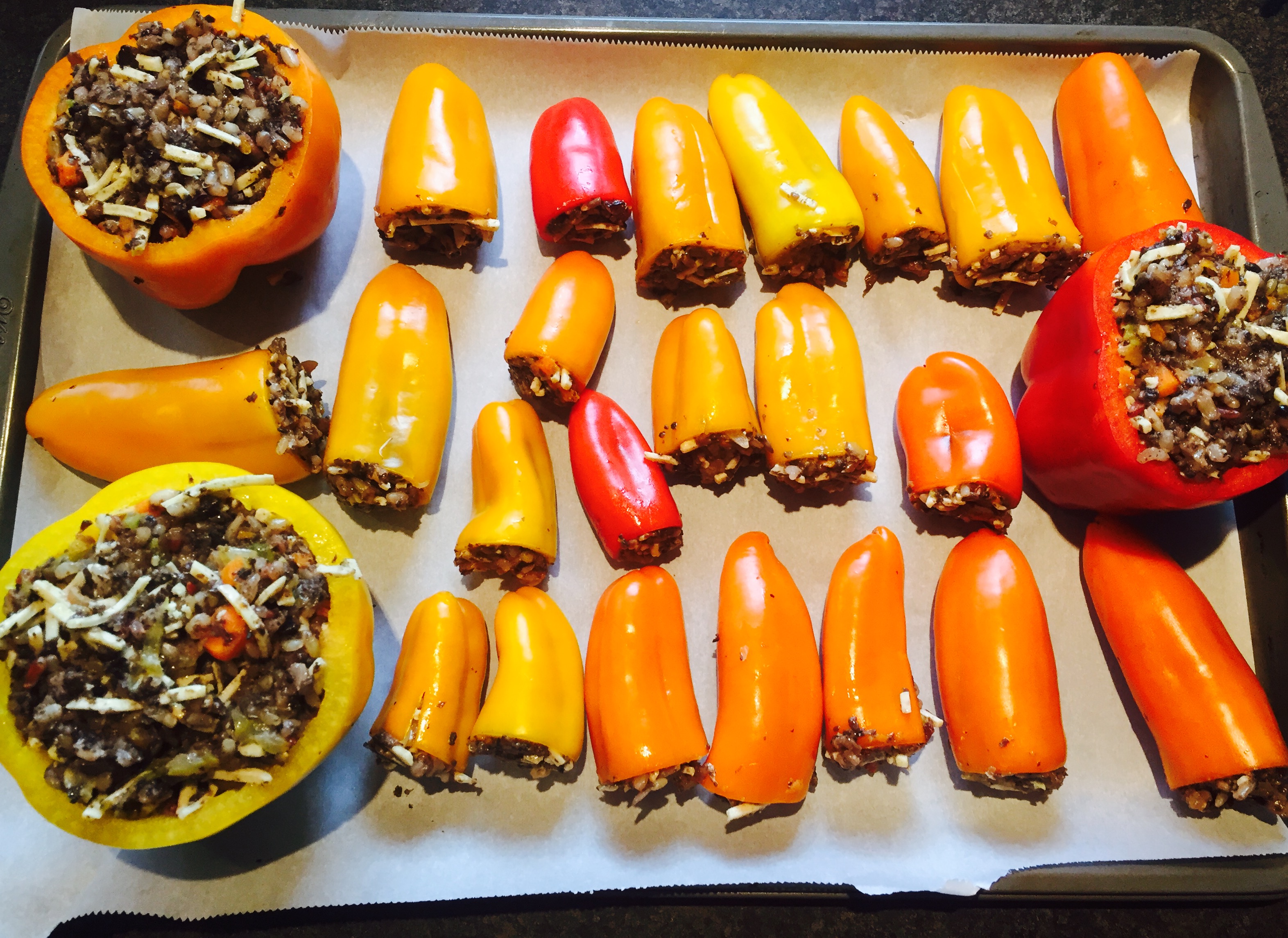 Saturdays are Special
Sleeping in on a Saturday, even for just an extra hour, is such a rewarding little victory when you have kids. Then, when all the chores are done and a carefully picked grocery list is all tucked away, getting started on a fun meal like this one really makes a house feel like home, and the whole work week seems totally worthwhile. Did I mention you get to pour a bunch of wine into a pot … so cool.