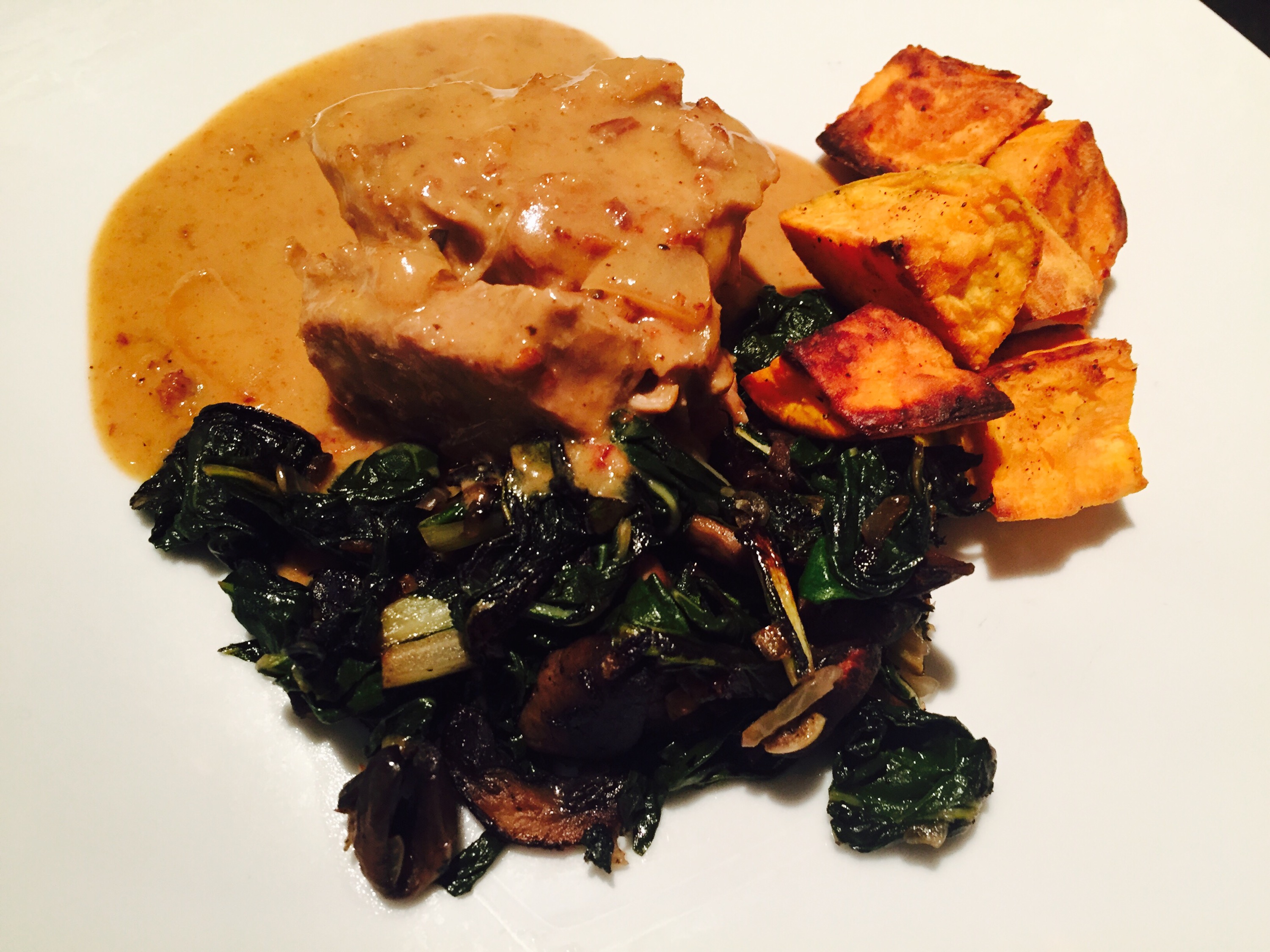 Overview …
This Wednesday my weekly menu plan called for:
Protein: Pork
Starchy Side: Sweet Potatoes
Vegetable: Swiss Chard
Of all the cuts of meat I've ever prepared, pork loin is definitely one of the most forgiving by far. Meals built around this versatile protein are almost effortless, and easily open to many tasty interpretations. Driving home this Wednesday I was relieved knowing I could spent very little time thinking about the details of my main ingredient; with pork tenderloin on the menu I'm always confident of the results … more about that later.
Speaking of forgiving foods, sweet potatoes are so fun to work with as they require very little time to convert into something memorable. This weeknight my taste buds were craving that wholesome texture of chunky, roasted sweet potatoes just a little browned along the edges of a rustic cut. As long as I could remember to prime the oven for 400 as soon as I got in the door everything would work out fine.
The swiss chard was actually supposed to be collard greens for this meal, but unfortunately my local grocer was not able to comply when groceries came around; just unlucky I guess. Some big, beautiful, leafy swiss chard however caught my eye and looked like a perfect substitute. Although slightly less flavourful it would cook a bit faster, so it turned into an excellent compromise for my Wednesday meal.
Honey Dijon Pork Tenderloin
Several weeks ago I stumbled on a hassle-free recipe for Pan-Fried Pork with Maple & Mustard Sauce by elusive food writer and teacher Mary Cadogan. The results were so memorable and delicious that it was an instant favourite and certainly a keeper for the recipe archives. When pork tenderloin came up in the menu plan I instantly avoided my regular temptation to try something new, simply because I couldn't wait to enjoy this recipe again it's that good.
With France very much on everyone's mind these days, it felt quite a propos to revisit Mary's succulent sweet mustard pork recipe given her devotion to French cuisine. Using dijon (of course) and favouring some organic honey instead of maple syrup, the whole lot came together seamlessly in my favourite noble-red dutch oven on the stove top. Merci Marie!
Sauteed Mushrooms and Swiss Chard
Stir fry and sautée dishes are essential for mid-week cooking. The goal for my swiss chard was to start the mushrooms first and let them give up their moisture then start to brown. At just the right moment some minced onion, a little garlic, and the roughly chopped swiss chard to finish. Well-salted and wilted with some white wine and this tasty side was be ready in a matter of minutes.
With more time I might have tried a white-wine reduction with some melted white cheese to add as a sauce for garnish, but even without this extravagant addition my veg component held up on it's own well enough; I'd certainly make it again even if the girls didn't care for it very much … adults be warned though, you'll probably really like this.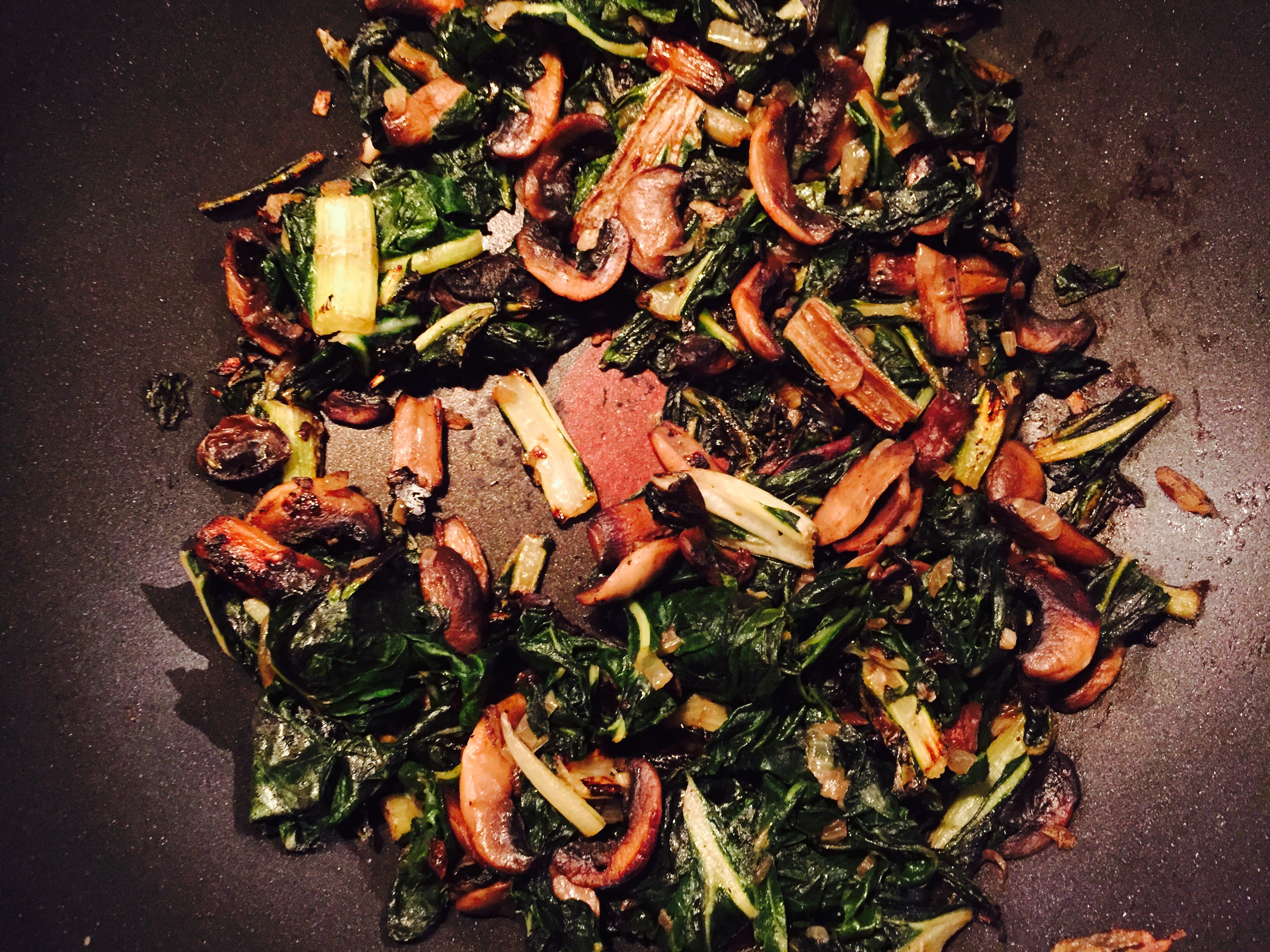 Roasted Sweet Potatoes
As soon as I walked in the door the oven got set to 400 (I actually remembered!), with a quick peel and a rough chop my two sweet potatoes were seasoned and ready to cook just as soon as the heat was right. With these lovely morsels cooking away I was free to prepare the swiss chard and pork in almost exactly the 40 minutes it took for roasting.
Each week in the menu plan is a wonderful new set of learning experiences for me, and my sweet potato lesson this night was: 2 spuds are not enough. Liz and I could have easily snacked on nearly all the finished bite-size cubes in the amount of time our girls took just to make it to the table; next time 3, maybe 4 sweet potatoes for sure.
Memorable Meals
The combination of flavours in this particular meal worked so well with one another. Roasted potatoes, especially the sweet variety, are always a favourite. Combining them with tender pork tenderloin in a sweet dijon sauce and the bold savoury taste of swiss chard with mushroom and hint of garlic; definitely one of my favourite nights on the menu plan so far.