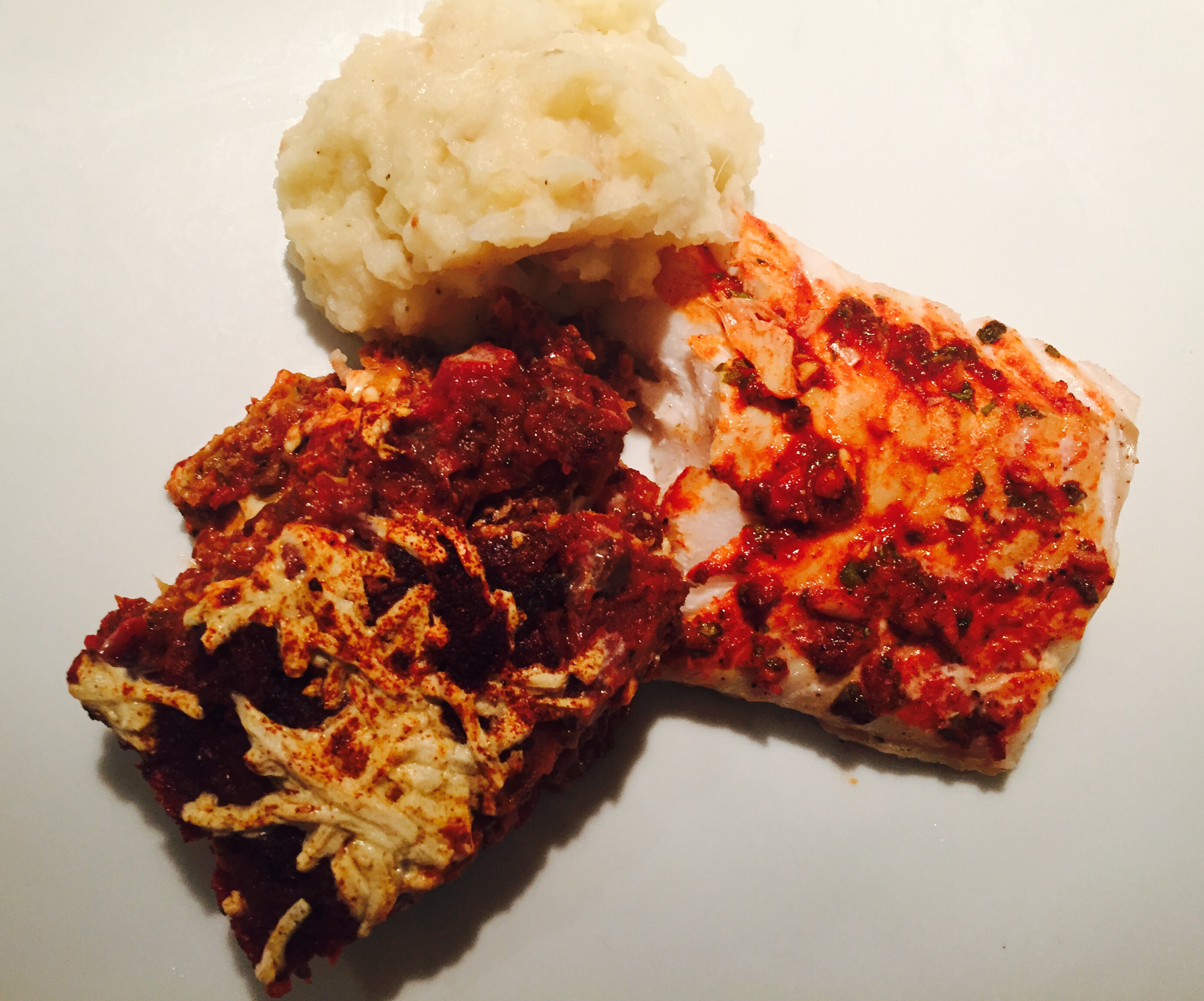 Overview …
This Sunday my weekly menu plan called for:
Protein: Cod Fish
Starchy Side: Potatoes
Vegetable: Eggplant
I must confess, the original menu plan called for haddock, but my local grocer actually had big beautiful cod loins available and I couldn't resist the opportunity. I felt bad not visiting my fishmonger but the loins looked amazing and they were priced to move … sorry Jimmy!
Yet another confession, it was my intention to make some nice roasted potatoes with herbs and sea salt to satisfy my potato craving, but unfortunately I quite honestly ran out of time and had to "settle" for some delicious garlic mashed potatoes instead.
Last but but not least, a long overdue foray into the world of eggplant; namely a gluten-free and dairy-free stab at rich and beautiful eggplant parmesan. I'd been looking forward to trying my hand at this for quite some time and was excited for the opportunity to impress my family with this classic main.
Lemon Baked Cod
Pleasantly surprised by my local grocer's selection of fish, I couldn't wait to put together a baked cod recipe that was worthy of these special loin cuts I had stumbled upon. Inspiration came from writer & recipe developer Sarah Walker Caron, editor of Sarah's Cucina Bella. Sarah's recipe for Baked Lemon Herb Cod seemed precisely the right starting point for my own fabulous fish filets and I couldn't wait to give it a spin.
With fresh lemon juice and zest, fresh-plucked basil, crushed garlic, spanish paprika and some good olive oil, the cod was well adorned and ready for baking. The oven however would have to wait until my other Sunday baked dish was done … did I mention, there was eggplant on the menu!?
Eggplant Parmesan … Dairy Free & Gluten Free!
With Liz a diagnosed celiac sufferer, and me with certified dairy "issues", we made the decision long ago to be a dairy free and gluten free family. Naturally we all miss out on many of the tasty virtues that real cheese brings to so many dishes. Gluten is easy to substitute, but rich and delicious cheeses like parmigiano reggiano are truly difficult to replace. Undaunted, I decided to take my lead from good old Martha Stewart and her stunning Baked Eggplant Parmesan recipe.
Martha's lovingly time-consuming approach to breading and baking the eggplant slices first truly spoke to me, and I knew this dish would be a winning accompaniment to the baked cod. Using my tried and true Udi's gluten free toasted white bread as fodder for the bread crumb mixture, it was a casual afternoon of preparing my home-made tomato sauce with mushrooms and onions, followed up with lovely layers of egglplant, sauce and daiya mozzarella to make this dish complete. For the record, I literally could have eaten the baked, breaded eggplant all on their own.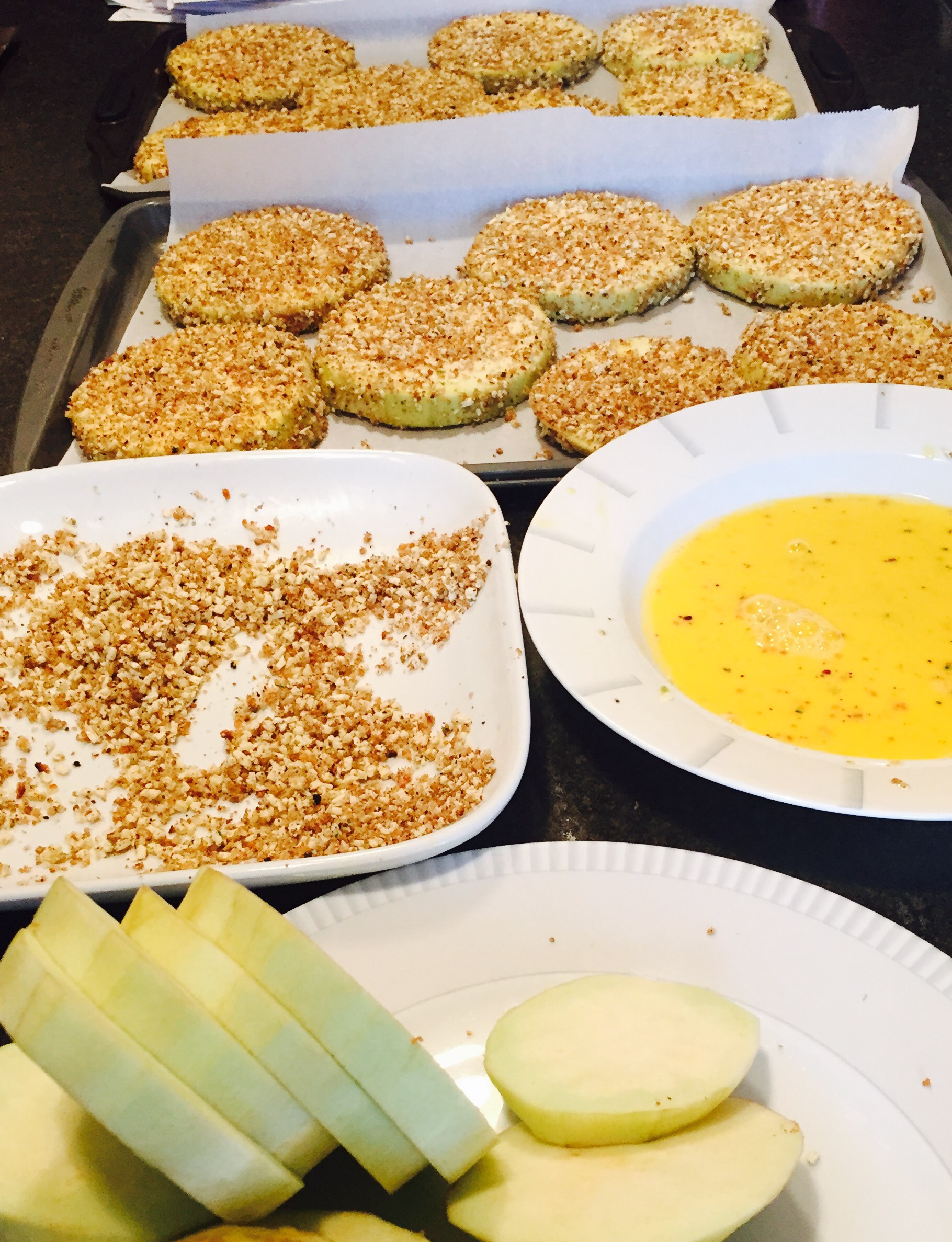 Garlic Mashed Potatoes
As mentioned above, I originally had my heart set on roasted potatoes but the oven simply had no room to spare and time got the best of me this Sunday. As a backup, I knew that garlic and onions slowly sauteed over low heat would help make the perfect compromise.
A trusty mash of organic russet spuds fluffed up with with some coconut/almond milk, a generous heap of soy-free margarine and just the right amount of seasoning … you simply can't go wrong. I've made this for unsuspecting dairy-eating folks who never once beat an eyelid at the allergen-freindliness of my recipe; because caramelized onions and garlic are your friends.
Taste Of Home
With two young girls growing faster than we could possibly imagine, it seems we spend more time creating new family traditions than simply enjoying old ones. Eggplant parmesan is just the kind of wholesome and comforting recipe that makes us feel like we're in a good place. When there's time for this kind of labour of love, it usually means safe surroundings, a happy hearth, and wonderful ingredients … peaceful, healthy cooking.