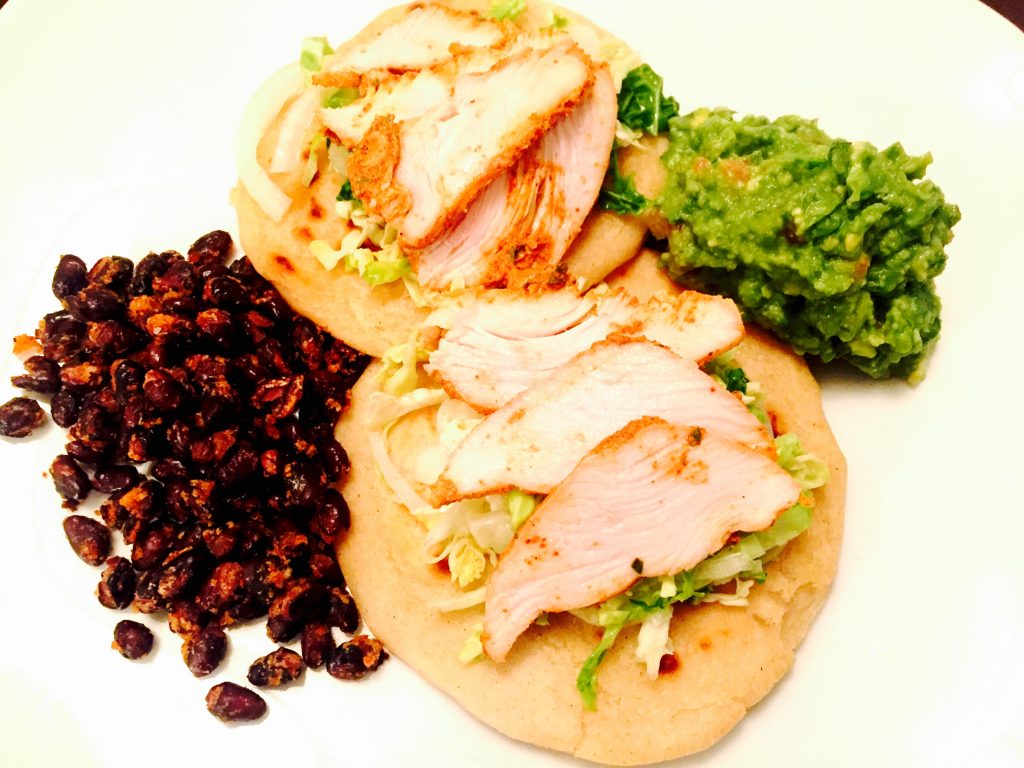 Our gluten free & dairy free world-wide weekly menu plan took a pit-stop in Central America for a taste of El Salvador. Our culinary journey took the form of these delicious cheese filled pupusas con curtido.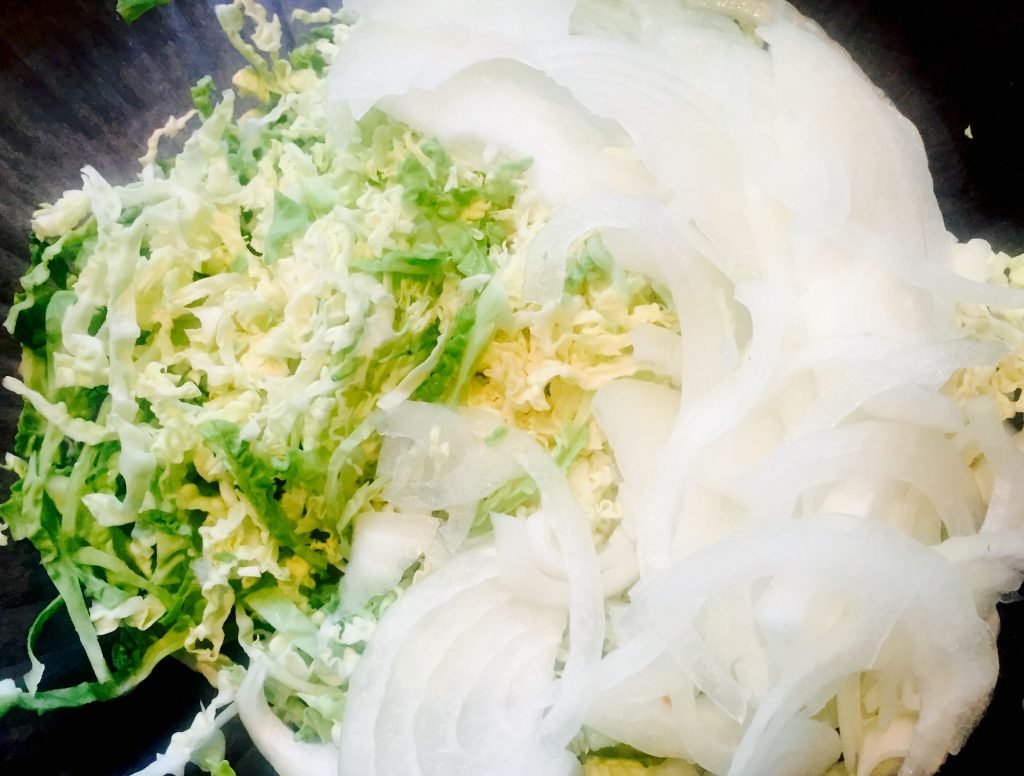 Not wanting to hide too much inside of these lovely flavour pockets, I opted to put some tasty meat right on top of the tangy curtido for the whole family to see. The added slices of roasted chicken were baked in a mild chili marinade the night before to be ready for our meal.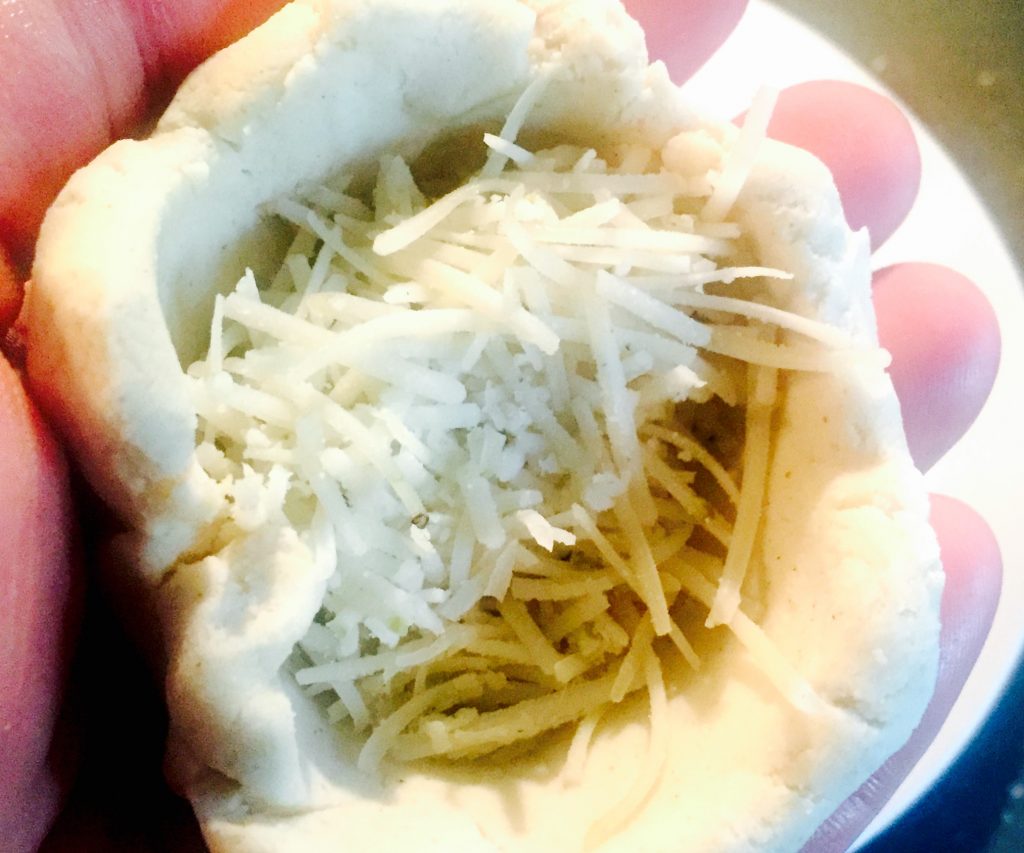 Pupusas Con Curtido: Best Comfort Food Ever
This dish was such a pleasure to make, and especially fun to eat! The roasted black beans and guacamole gave just the right amount of texture variety, and served warm the pupusas were completely irresistible. Even cold the next day they were super tasty, but nothing beats warm pupusas straight off the grill!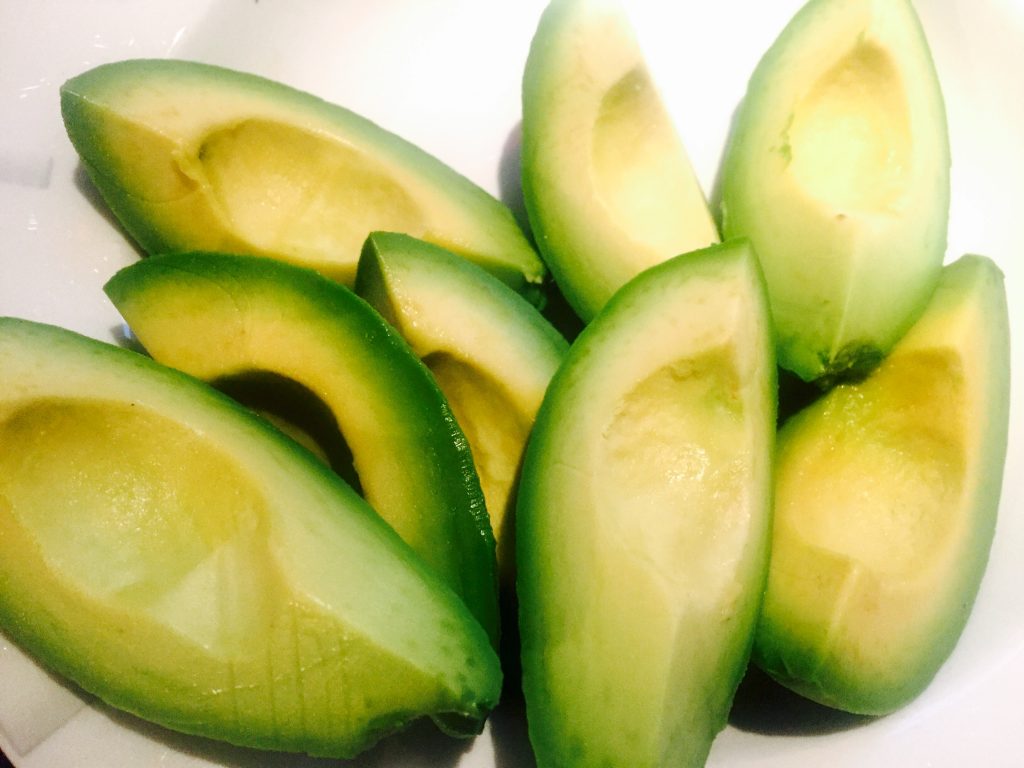 There is something I must confess, I only learned after it was too late that traditional Salvadoran guacamole is chopped instead of mashed. Despite this little oversight, it was still delicious but I learned my lesson for next time.
Impulsive Culinarian's Salvadoran Pupusas Con Curtido With Roast Chicken Breast Recipe
Roast Chicken Ingredients
1 lb boneless chicken or turkey breast
2 tbsp Dijon
2 tbsp white wine
1 tbsp fresh chopped oregano
1 tbsp chilli powder
1/2 tsp kosher salt
1/4 tsp fresh ground black pepper
Curtido Ingredients
1 1/2 cups thinly sliced cabbage
1/2 cup thinly sliced onion
1/4 cup white wine vinegar
1/4 cup carbonated water
1 tsp organic honey
1/2 tsp kosher salt
Pupusas Ingredients
2 cups masa harina flour
1 1/2 cups water
1 tsp salt
1 1/2 cups finely grated dairy free Daiya jalapeño havarti cheese
Instructions – Day Before
Preheat oven to 375.
Line a baking dish with tinfoil and place a cooling rack inside it to keep the chicken slightly above the pan while roasting.
Trim and clean the chicken and set aside.
Combine the Dijon, wine, oregano, chili powder, salt & pepper in a medium bowl and combine thoroughly.
Dip chicken in the sauce to coat generously and place on the roasting rack.
Bake for 20 minutes or until an instant-read thermometer reads 165F when inserted into the center.
Let the chicken cool and reserve the drippings.
Slice the breasts as thinly as you can and store in an air-tight container, coat the sliced chicken with all pan drippings before closing the container to refrigerate.
In a new, clean bowl, combine the cabbage, onions, vinegar, carbonated water, honey and salt, then mix well.
Cover and refrigerate over night.
Instructions – Pupusa Day
Combine the masa harina, water and salt in a mixing bowl and thoroughly combine.
Using your hands, knead the dough a bit to make sure everything is nice and smooth.
Form eight or nine equally sized balls of dough.
Form each ball into a small cup and fill them with one and a half tablespoons each of jalapeño cheese.
Seal the cups shut and carefully flatten them into disks around 5 to 6 inches wide, making sure to not let any of the cheese peek out.
Wrap up the pupusas in plastic wrap until you're ready to eat.
Just before serving, fry or grill the pupusas for three or four minutes per side over medium heat, load up the toppings and serve immediately.