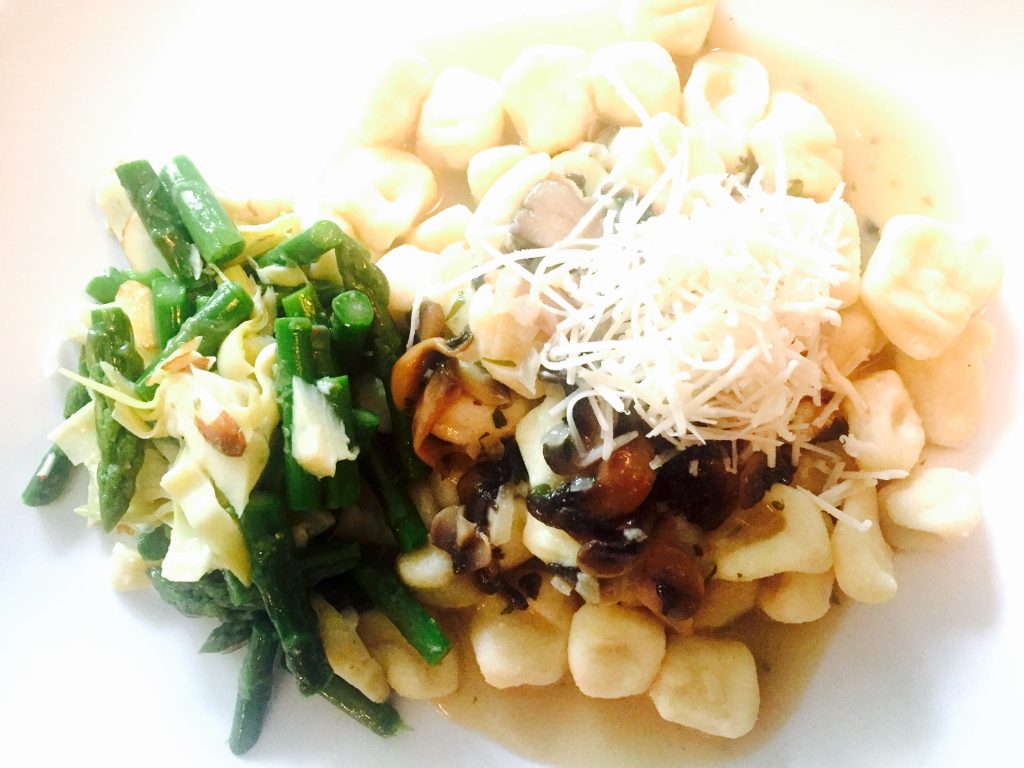 This Sunday our world-wide dairy & gluten free weekly menu plan brought us to the stylish "boot" of Southern Europe for an appetizing taste of Italy, namely some home-made gnocchi accompanied by refreshing artichoke & asparagus salad, delicioso!
Home-Made Gluten Free Gnocchi in Creamy Mushroom Sauce
One of our absolute favourite pastas of all time has to be the delicious texture of home-made gnocchi. Not only are they perfect little packages of chewy goodness, but they are so much fun to make, especially when kids are involved. Our girls always want to take part in the preparation of weekend meals, and gnocchi night was no exception. They took to it immediately, even taking over some of the more grown-up tasks while my back was turned momentarily; may just have some mini culinarians on our  hands here ;)
Choosing thinly sliced sautéed mushrooms in a creamy dairy free cheese sauce with daiya smoked gouda and white wine as our topping, the end result was an irresistable success with practically zero leftovers.
Refreshing Artichoke & Asparagus Salad
Omitting the traditional new potatoes from this classic, the gentle flavour of tender asparagus and marinated artichoke hearts were able to shine through without competing for texture alongside our hearty gluten free gnocchi. The slightly acidic but mild artichokes gave this meal a perfect contrast that everyone seemed to enjoy; will definitely make this again one day!