Broiled Ham Steak with Stovetop Chilli and Sauteed Brussel Sprouts
Overview …
My weekly menu plan for this Tuesday called for:
Protein: Ham
Starchy Side: Beans
Vegetable: Brussel sprouts
There aren't many proteins that can be served for breakfast, and lunch, and dinner too, and also be perfectly at home for each of them. Ham is one of those few exceptions that can proudly own such a delicious distinction no matter what time of day. This Tuesday, ham steak would take on dinner duty at our house with a little help from Jacques Pepin.
I've been having on ongoing battle with beans, and the fight would continue with yet another attempt preparing this wily legume. I've avoided beans for so many years of my life and I find it extra challenging to get into them for some reason. But you see, that's precisely why the menu plan is so important; it's forcing me to practice using all kinds of food, even the ones I'm not so crazy about.
Unlike beans, brussel sprouts and I are very good friends. Like most young kids, as a tyke I vaguely recall having had a hard time enjoying brussel sprouts. That animosity must have been short lived though because I definitely love them now and I can't seem to get enough of this delicious vegetable.
Broiled Ham Steaks
The unmistakeable taste of a slow-roasted honey-basted ham studded with cloves; by far my favourite way to enjoy this delicious meat. But we're trying new things, so I brought home a much smaller pre-cooked smoked ham instead with the intention of slicing it thick and broiling it. I remained hopeful and looked forward to seeing if this method would yield equally tasty results.
Since time is always a factor on weeknights I was fortunate to stumble on Nick Kindelsperger's post from back in 2007 at Seriouseats.com. In it, he shares a super simple recipe by Jacques Pepin that was perfect for my Tuesday menu.
Side note about Nick, if you've ever wanted some inspiration for your taco craving, you MUST visit Nick's Taco Blog. I've never seen so many tasty taco ideas in one convenient place before … you've been warned!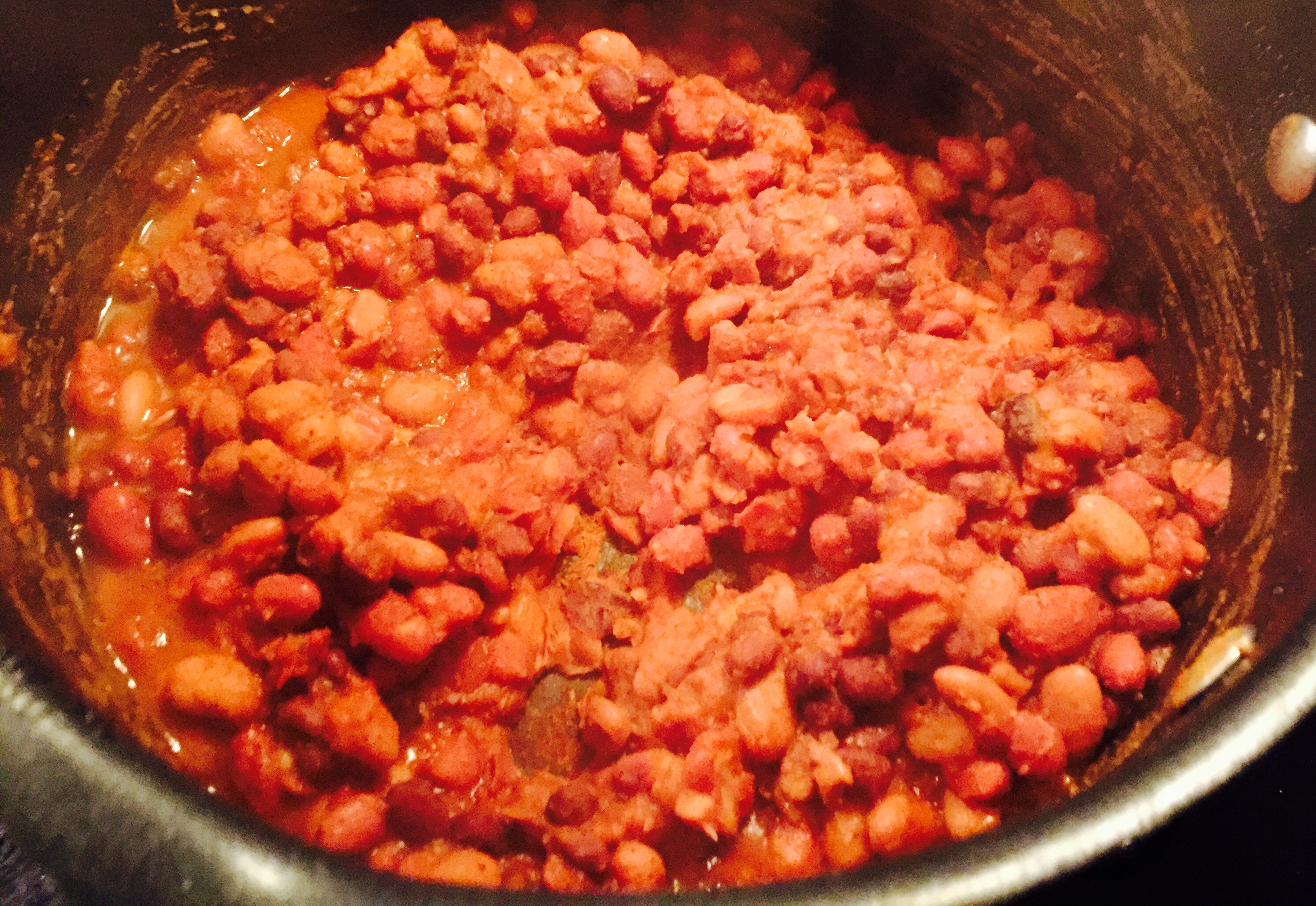 Quick Stovetop Chili
With a couple of cans of rinsed beans in the pot, chilli powder, minced garlic, some seasoning and lots of good intentions, I went looking for some crushed tomatoes in the pantry to finish the job … much to my chagrin however, there were none. Seems I used the last of my supply for spaghetti sauce and lasagna on the weekend. There I was left with a pot of ready ingredients simmering, but minus the final touch.
Undaunted, I tried my luck with a paltry tablespoon of tomato paste and some ketchup (Jacques Pepin might have liked that), but the end result certainly wasn't what I originally hoped for. Nonetheless, it completed the plate, and at least a few bites were taken … the moral is, always have extra tomatoes on hand, always!
Sauteed Brussel Sprouts
Oh sweet brussel sprouts, how we enjoy them so. I've steamed them, grilled them, roasted them and barbecued them in foil, but rarely sautée them. I've almost always prepared them with some other ingredient like onions, garlic or a second vegetable of some sort as well.
This Tuesday I took my lead from Martha Stewart and her marvelously simple and delicious Sauteed Brussel Sprouts recipe. Prepared entirely on the stovetop, this perfect preparation allows brussel sprouts to shine all on their own. Offering the best of both worlds, this process caramelizes first then steams/simmers to finish. My only regret: we all wished there was more of it, lots more … second moral of this story, always buy twice as many sprouts as you think you need, always!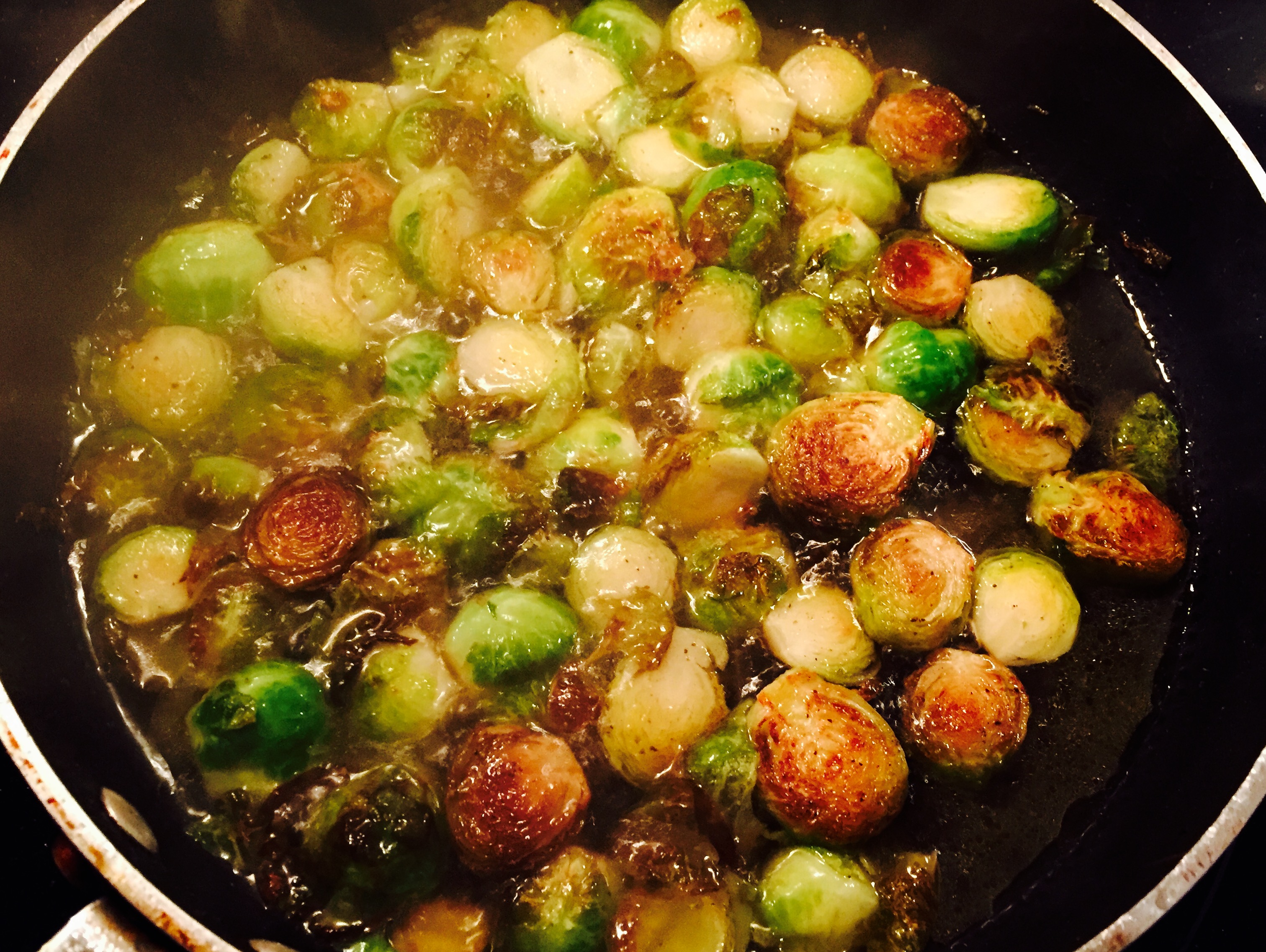 Win Some Lose Some
The ham steaks and chilli probably won't be repeated, but they were essential to the learning process. Martha constantly impresses me with her magical recipes, she truly makes excellent dishes and I'm a fan.
I'm so close now to the end of my first menu plan and I feel more motivated than ever by all the good AND the bad experiences to create a second menu plan, then a third … what an excellent culinary journey.
An embarrassingly humorous end-note … I actually had a small pack of vine-ripened tomatoes after all, who knows how that chilli could have turned out! Ah well, c'est la vie ;)