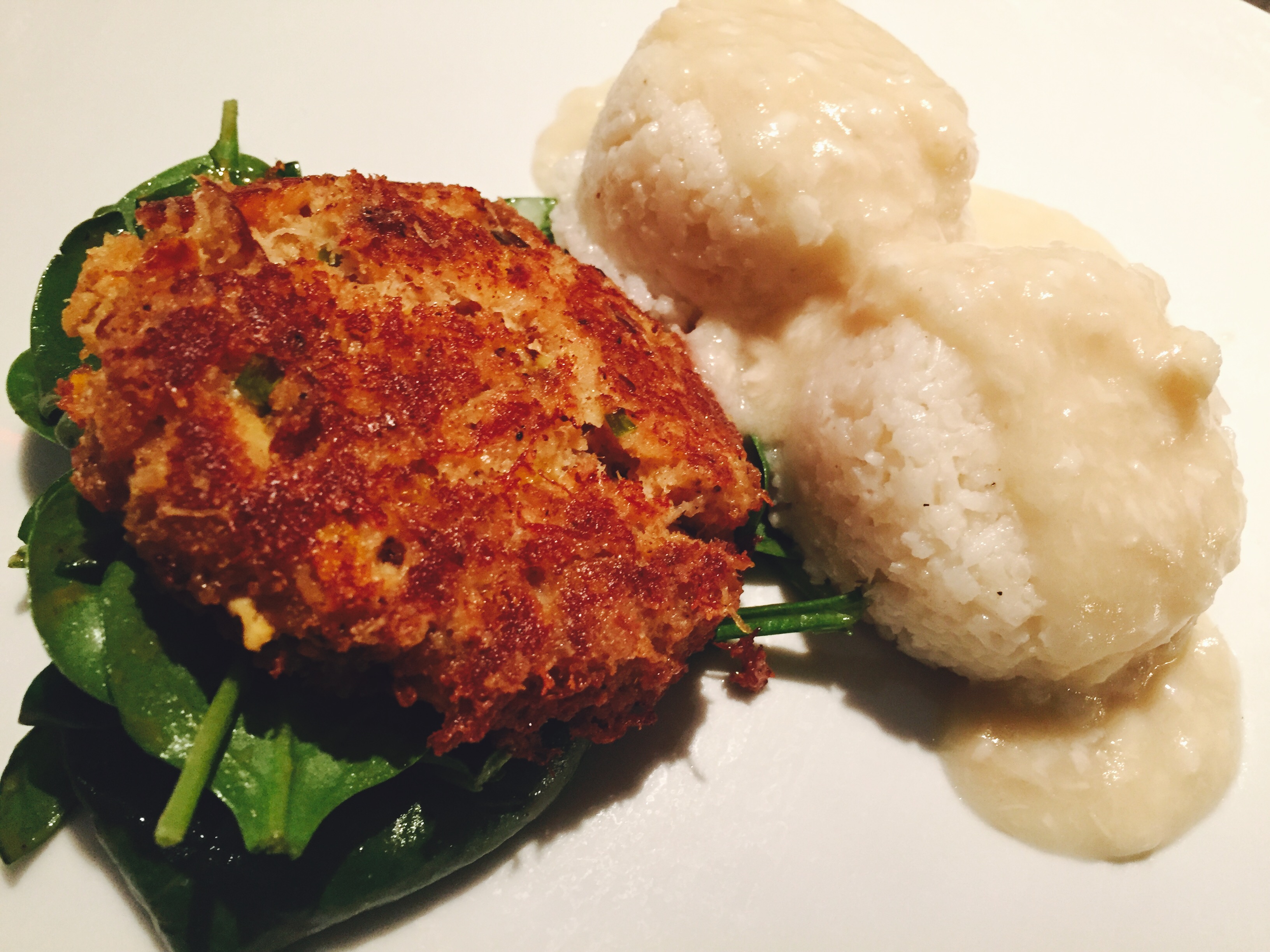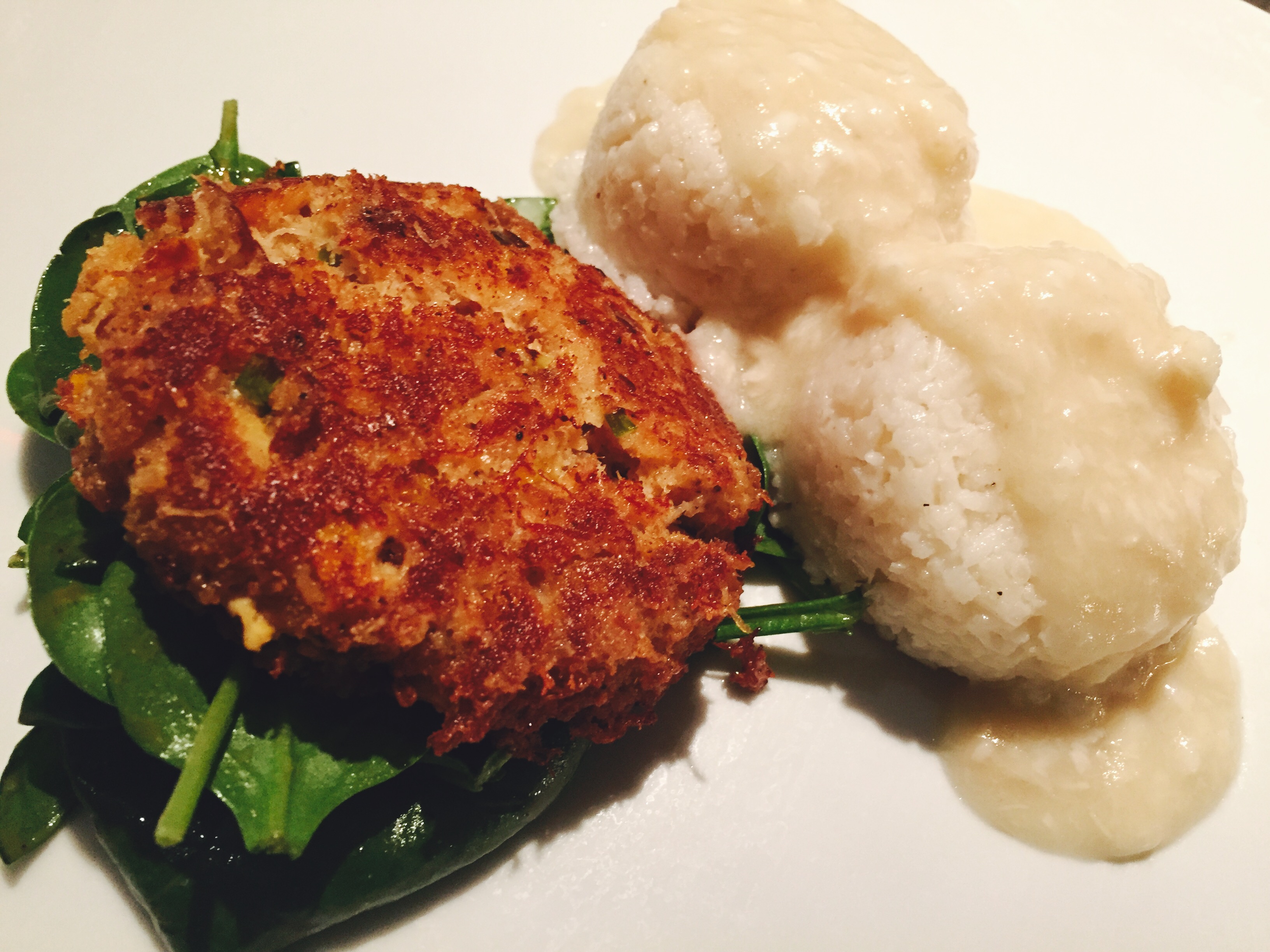 Overview …
My weekly menu plan for this Sunday called for:
Protein: Crab meat
Starchy Side: Rice
Vegetable: Spinach
When I visited my fishmonger Jimmy last week I turned up my nose at some VERY expensive frozen lobster meat, which I later regretted quite sincerely after trying frozen canned lobster from my local grocer instead. This past weekend I gave some of Jimmy's frozen crab meat a try at only slightly less expense and found it to be not too bad, but I think I'm finally learning; you buy fresh at the fishmonger … if it's expensive, just get a little less and be thankful for the chance to enjoy such delicious food.
With crab meat on the menu, I was inspired by the hearty flavours of New England and Chesapeake Bay. To help add substance to this theme I wanted to make a very simple white rice and slather it with some creamy sauce reminiscent of New England clam chowder, but minus the clams.
The unctuous goodness of crab, rice and cream fit perfectly with a robust green like baby spinach. I love building a side dish that stands up all on its own and using it as a base for something even more scrumptious. Layering tasty flavours this way always makes a meal so much more enjoyable and memorable.
Crab Cakes
Even though I've finally learned my lesson about buying expensive frozen seafood, I was still excited to try my hand at making great crab cakes. Ever since coming up with a concoction for white fish croquettes, I had high hopes that using a noticeably flavourful seafood like crab would actually take things to the next level.
When I saw Paula Deen's recipe for crab cakes I couldn't resist putting her long list of ingredients to work, Ms. Deen is not one to skimp on fun flavours. In the end this turned out well enough, and I enjoyed the opportunity to practice flipping such a fragile patty. In all honesty though, for the price, I would use frozen white fish instead of frozen crab any day. Next time crab appears on my menu, it's going to be fresh.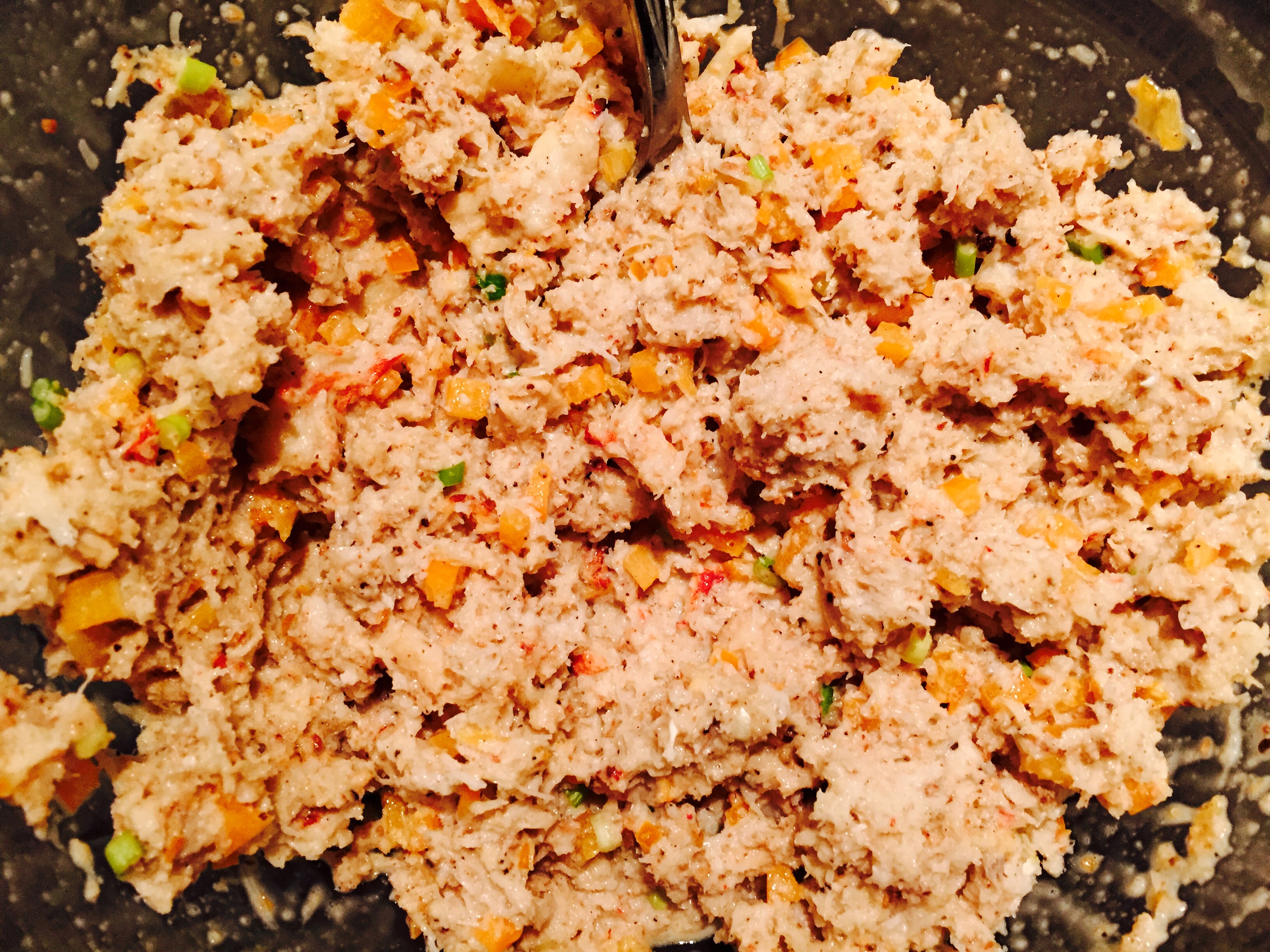 Jasmine Rice and New England Cream Sauce
For this side dish I really wanted my rice to provide simple texture without being over-powering, this would let my mild creamy and sauce have a chance to really shine by turning the whole thing into a lovely taste sensation. I boiled some jasmine rice with little else but water, concentrating instead on building a white sauce with depth to accompany it.
Starting my roux with rice flour, olive oil and margarine, I added white wine and coconut milk then let everything slowly reduce. We have some paper thin frozen white fish filets that we picked up at Costco a while back and I poached a couple of these in the simmering white sauce. When it was just cooked enough to flake, I used a fork to break up the filets in the sauce giving it the texture of a light chowder. A small handful of white cheese, margarine, lemon juice, a bit of honey and this sauce was ready to enjoy.
Baby Spinach Salad
One of my favourite leafy greens to be sure, baby spinach holds up so well all on it's own with very little extras required. Complimenting this would be a classic vinaigrette with good olive oil, balsamic vinegar, dijon, lemon juice, honey, salt & pepper, the whole lot tossed together and piled generously to prepare for a hearty crab cake topping.
More Rice Please
Our family has a thing for rice, we just can't seem to get enough. When I get it right, it doesn't seem to matter if I've prepared one cup or three, it somehow just magically disappears. That's not necessarily a bad thing, but I have to try and remember that more is better at least when rice is concerned. Frozen crab or lobster however is a different story altogether, and my next menu plan will right that wrong believe me. The crab cakes were in fact delicious, but that only proves to me that fresh ingredients would have been been exponentially more enjoyable.