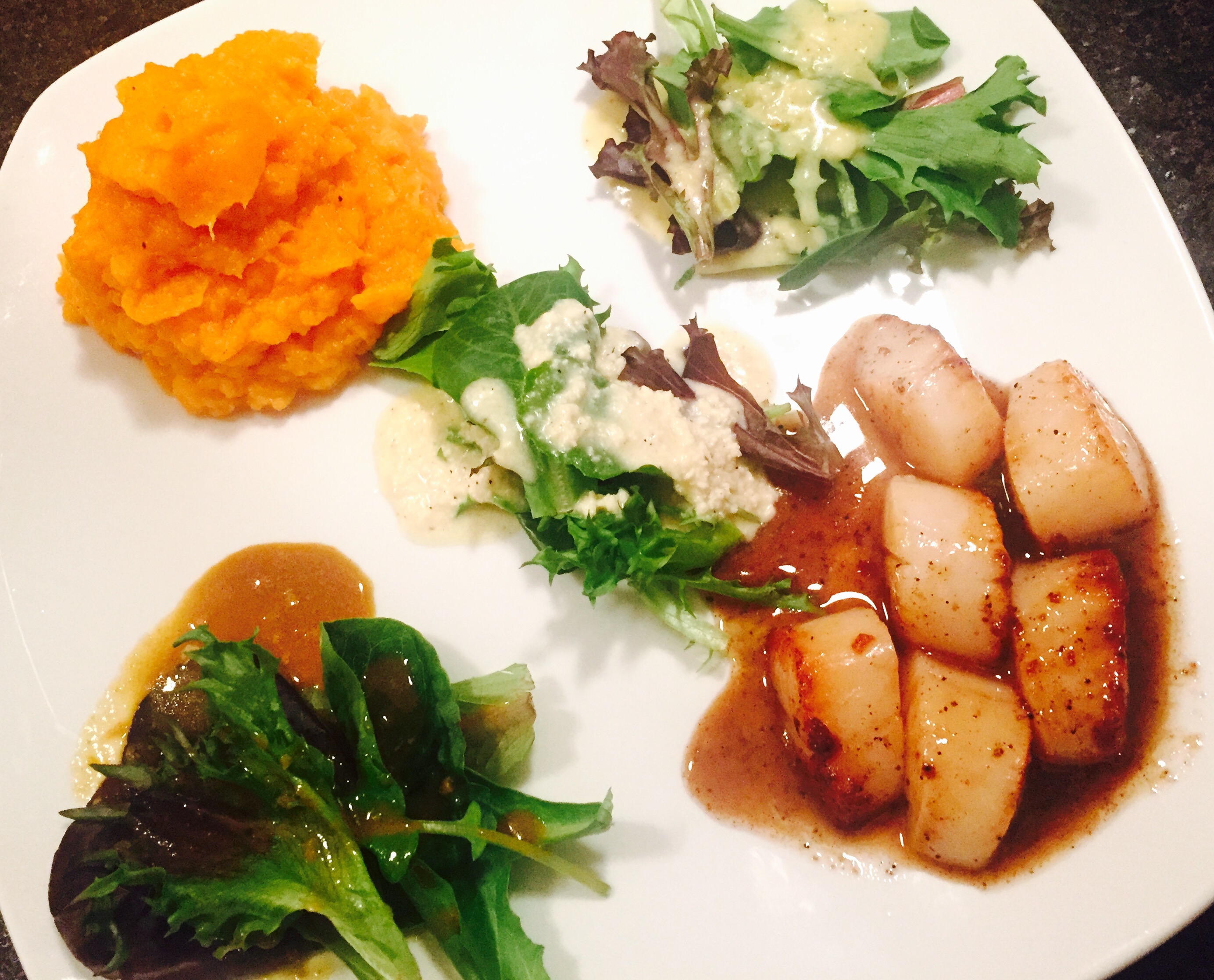 Overview …
My weekly menu plan for this Monday called for:
Protein: Scallops
Starchy Side: Sweet Potatoes
Vegetable: Lettuce
Some people might accuse me of being single-mindedly fixated on preparing scallops the same way every time I make them, and those people would be right. I can make no apologies however because the end result is just so perfect and delicious … but more on that later, let's talk a bit about the rest of this meal.
Not sure how or why, but driving home on Monday night I had a very clear moment of inspiration in regards to the sweet potato side dish for this menu. It had to be smooth, light and delicious without too much overbearing seasoning; just the natural sweetness and melt-in-your mouth appeal … challenge accepted.
When you put every common vegetable from A to Z on the menu plan, you can't very well skip lettuce now can you. Even though lettuce comes in so many beautiful varieties, I thought I'd concentrate on the dressings as a way of enhancing this vegetable's presence, not just once though, not even twice, but three times, just because.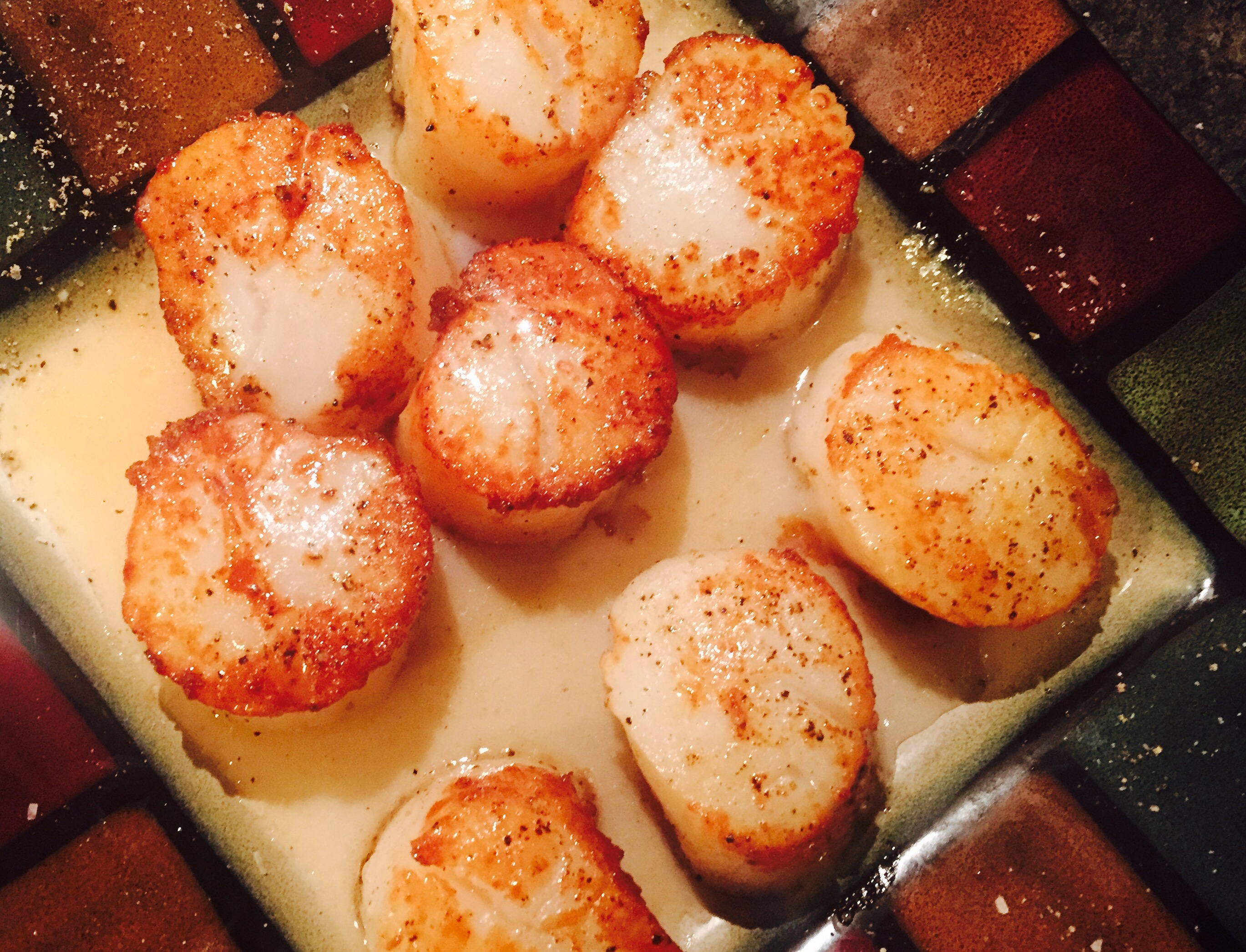 Seared Scallops
Every aspiring culinarian needs to own a trusty cast iron frying pan, learn how to season it and carefully maintain it. Sure it might seem ironic (get it, iron-ic?) to have to care for something so durable, but it's definitely part of the deal when handling something that can easily rust and deteriorate withoit proper care. All that maintenance of course is supposed to be during culinary down time, but when you're ready to blacken or sear at ludicrously high heat, your cast iron buddy is the only one for the job.
My gas BBQ has a side burner, which I basically use exclusively for my old cast iron grill. The seared scallops I so anxiously look forward to preparing in that skillet every few weeks or so come from my reliable fishmonger Jimmy. These jumbo scallops are expensive, but also giant-sized, fresh, delicious and worth every penny. These precious little gems get the best treatment every time: lightly seasoned, just under a minute on each side, and when it's time to deglaze the awesomeness continues.
One day, I'll try something new with those delicious jumbo scallops, just not today ;)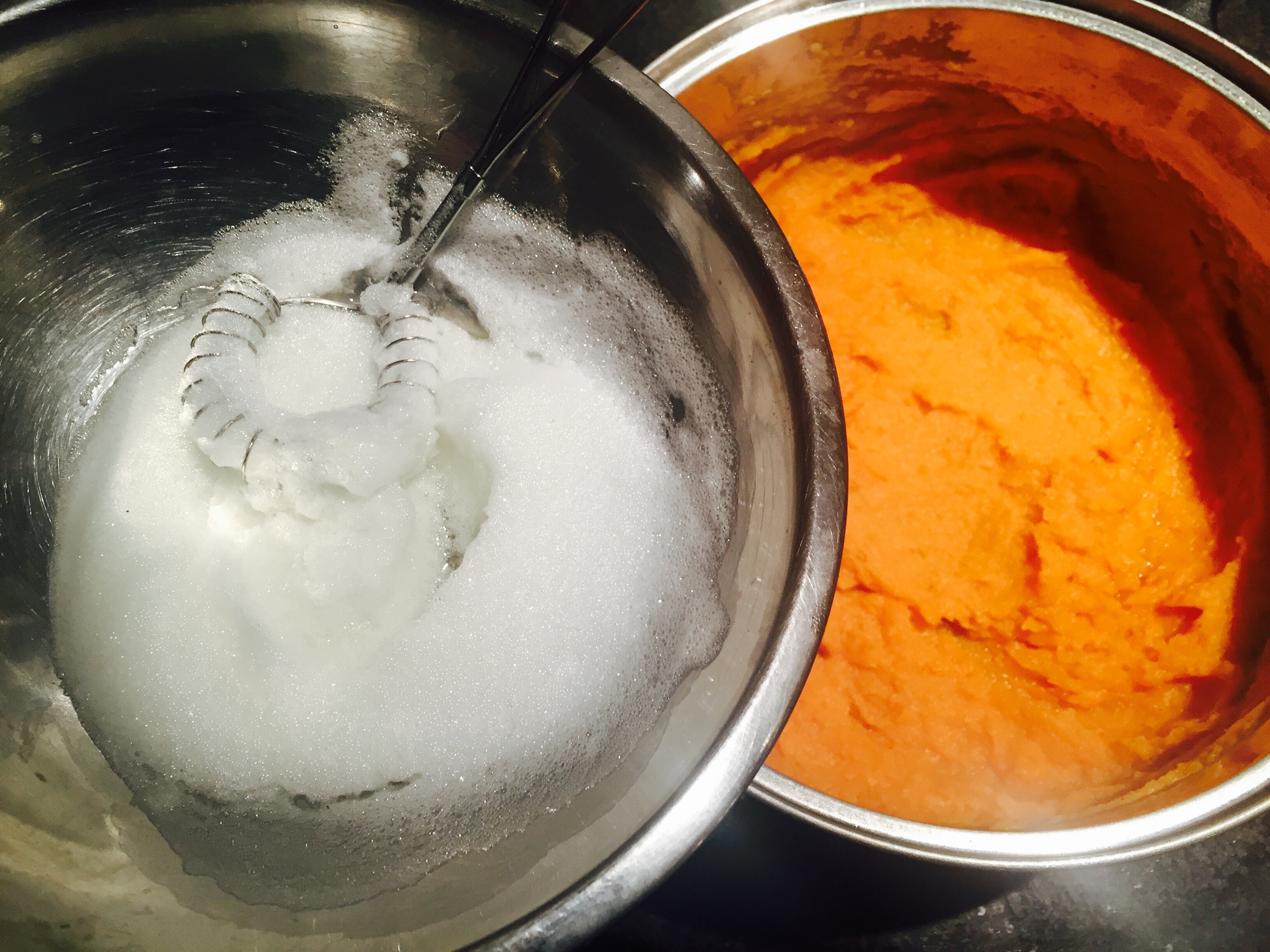 Whipped Sweet Potatoes
Mashing potatoes is always fun, especially when there are caramelized onions and garlic involved. The bold flavours that come with this kind of savoury side are unmistakably yummy but for our Monday meal I really wanted to create a smooth and subtle sweet potato side dish that could float on air.
Steaming the sweet potatoes allowed them to cook gently without browning; then mashed with unsweetened coconut milk, they took on a smooth and velvety texture without losing their own subtle flavour. To lighten them up even more I whisked an egg white in a heat-proof bowl over simmering hot water and folded them into the already smooth sweet potatoes. The end result was light, sultry and delicious.
Lettuce Salad Three Ways
There are lots of inventive creations that have been called salad, but when lettuce is the star, it forces you to bring it all back to basics. The simple pairing of fresh mixed lettuce leaves with a delicious vinaigrette seemed to me the best way to give lettuce the spotlight. The problem was I couldn't choose just one vinaigrette, but why serve just one anyway right?
For my three dressings I chose:
"Simple": Rice wine vinegar with good olive oil, some dijon mustard, salt & pepper, a minced half clove of garlic, and sweetened with a few pureed green grapes
"Creamy": Coconut milk with shredded white cheese, a splash of lemon juice and good olive oil, salt & pepper, and sweetened with a touch of organic honey
"Earthy": Balsamic vinegar with good olive oil, some sauteed garlic, ground cumin, warmed/whisked egg yolk, and sweetened with some pureed dates
Now that I've plated a three-way for one of the most basic ingredients ever, I'm motivated to try this with other kinds of foods as well, maybe seared scallops!
Nonexistent Leftovers
The menu plan is an excellent tool for keeping focused on nutrition while managing a budget as well. Something that doesn't always get taken into consideration however is the likelihood of having (or not having) leftovers. The pricey scallops disappeared quickly almost as soon as they were plated, and the salad varieties were fun but you can only fill up so much on lettuce no matter how great it tastes. Thankfully we had sweet potatoes, but they were so light and fluffy that we all felt a little hungry when the meal was over. Oh well, thanks to the weekly menu plan I learned a valuable lesson … it's obviously time to start making excellent desserts as well!