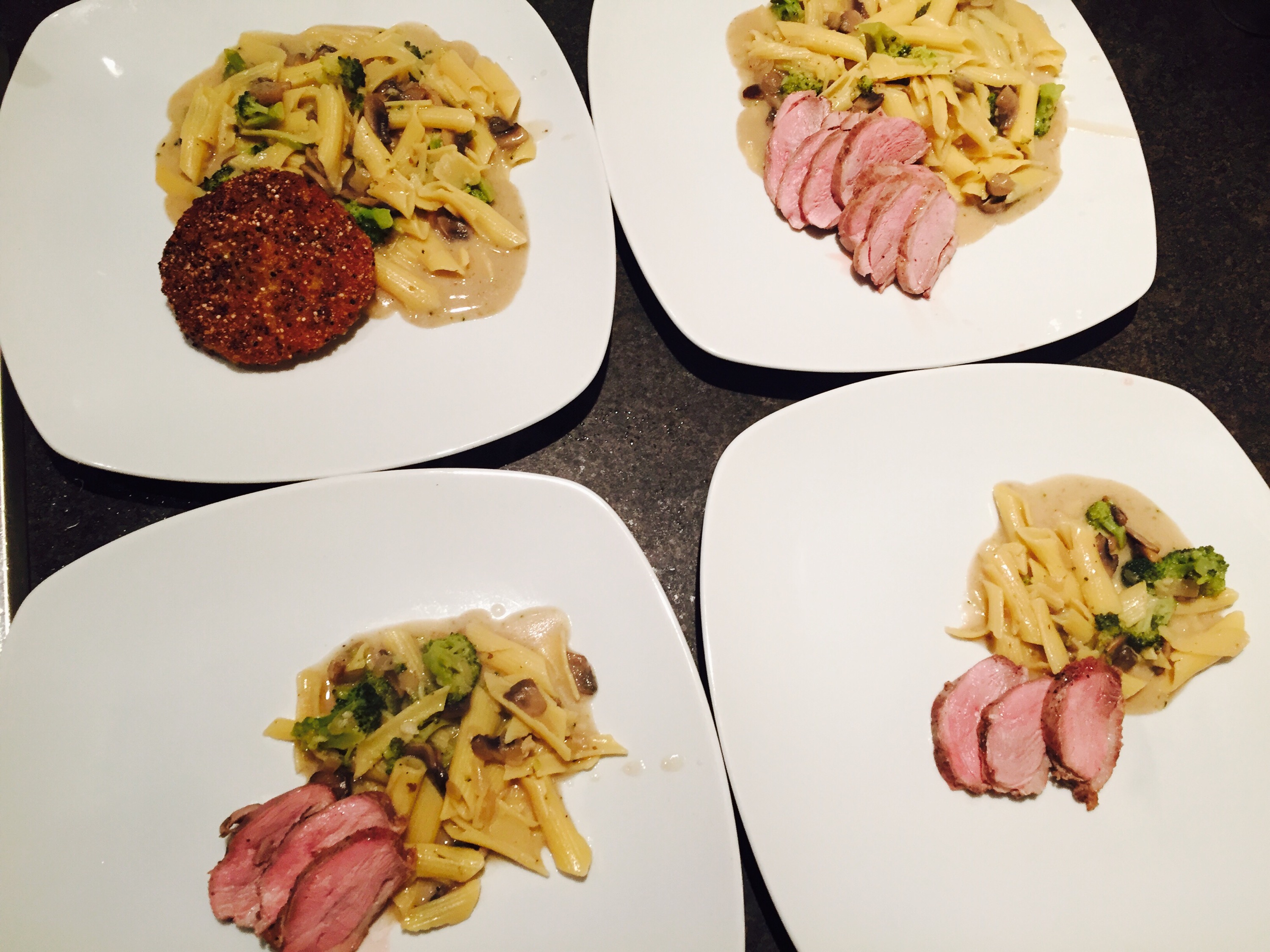 Overview …
This Wednesday my weekly menu plan called for:
Protein: Duck Breast
Starchy Side: Pasta
Vegetable: Broccoli
There is something magical about roasted duck breast, it can seem intimidating at first but it literally is one of the most delicious birds on the planet. I couldn't wait to practice one of my favourite methods of preparing this lovely fowl.
Pasta is such a chameleon of a side-dish and truly any type would do during the weekly menu given the time constraints. I was honestly limited only by the selection in our pantry but was thankful to see penne on the roster. Originally thinking of doing a broccoli salad, I opted to combine my vegetable with the pasta dish to help speed things along even further. The combo also helped avoid the culinary collision of two creamy dishes merging on the same plate.
Not one to over-simplify however, I thought it would be nice to bring mushrooms to the "plate" and hit a solid double with my pasta selection. Layering simple and delicious duck on a slightly busy pasta side just seemed right for this fall October Wednesday … you know, with some wine too of course!
Roasted Duck Breast
A few months back I made duck for the very first time as part of a menu for 20 hungry guests. I was a bit nervous at first but was pleasantly surprised to find that duck is really not that much more expensive than chicken on any given day. Add to this the fact that duck is such a flavourful ingredient, there is very little else to do but dive in and enjoy.
My beacon in the Thanksgiving rush not to long ago was this Gordon Ramsay video showing us in just under two minutes how to produce the most perfect duck breast you've ever enjoyed. Believe it or not, he doesn't even swear once in the video, so even younger family members can be in the room while you watch. It truly is a perfect recipe and quite nearly requires nothing else as accompaniment … but that wouldn't be right now would it!
 Creamy Mushroom & Broccoli Penne
As mentioned in my intro, the penne was a chance selection (thank goodness I had any gluten free pasta available at all!), but I was relieved that this sturdy noodle would be our foundation for Wednesday's meal. Resolving to use my trusty dutch oven, a gentle sautée of onions, garlic, mushrooms and broccoli florets led to a drizzle of white wine with vegetable broth and coconut/almond milk for the "cream" and a smattering of white cheese to thicken. Salt, pepper, deliciousness!
The end result contained nearly as much vegetable as pasta, which was exactly my intention. It's hard to season an overly starchy dish properly, so the natural flavour of the broccoli was able to shine through. The dairy free cheese in this dish was mainly there as a flavourful thickener, and one might not even have noticed it was there in the first place; I might have forgotten myself if I didn't write it down here in this post ;)
Wicked Wednesday Results
Both our girls loved the roasted duck breast, and although my pescatarian wife was not able to partake, she did however enjoy the pasta very much as did everyone at the table. I think it's important to make too much of a tasty pasta dish because it always tastes better the next day … and I think we're all packing a similar lunch tomorrow.