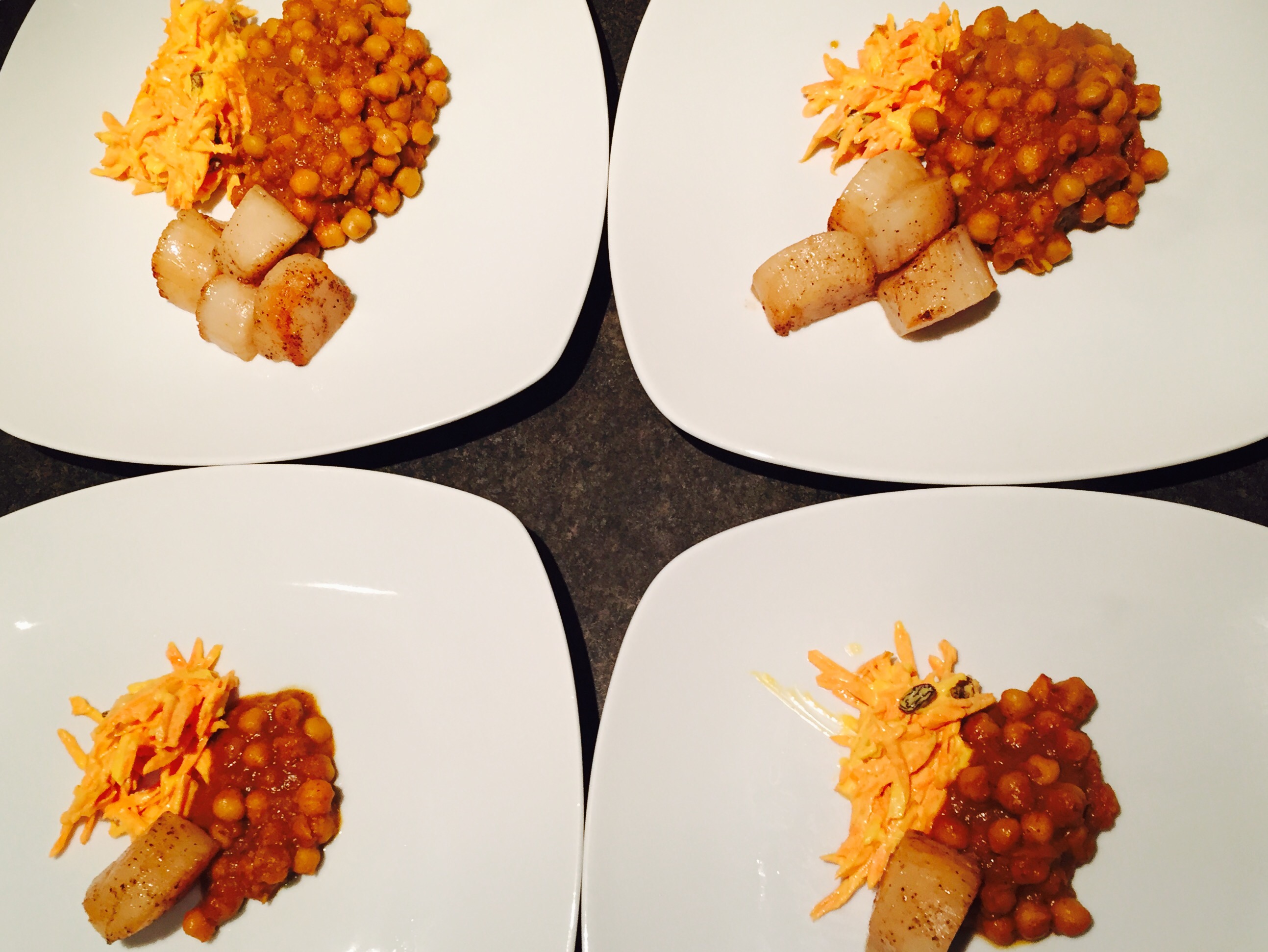 Overview …
This Monday evening the weekly menu plan calls for:
Protein: Scallops
Starchy Side: Chickpeas
Vegetable: Carrots
Letting the combination simmer in my mind for a moment I couldn't help but think of a beautiful dish from one of our favourite local Indian restaurants called Sahib's. Their chickpea chana masala is irresistible and was motivation enough for me to concoct a similar yet speedier version of their masterpiece.
Scallops, well I'm sorry but there's only one real way to eat scallops, more on this below but the choice should be searingly obvious to most.
Lastly, carrots which end up as part of most dishes by default, needed to take a more prominent role in my opinion for this meal; although not very Indian-inspired, my traditional carrot salad choice for Monday's menu had a subtle tie-in to the more robust flavours of the chana masala I had in mind.
Seared Scallops
I can't possibly recall ever uttering the words "wow that's too may scallops for me, I'm done". Of course I'm not talking about those little guys, we're talking about the beautiful, succulent giant scallop that comes from your friendly neighbourhood fish-monger. My favourite spot for delicious fish is a great local place called Pecheur du Marché, the kind of place where people are on a first name basis and it never smells like fish when you walk in … a true sign of fish freshness.
My fishmonger Jimmy was a little disappointed that the fresh jumbo scallops I was buying on Sunday wouldn't be eaten until the next day, but begrudgingly assured me that if I kept them nice and cold, sealed in a good tupperware, and let them breathe before cooking them, it would be … acceptable; good old Jimmy.
Salt, pepper, one minute per side in a very hot cast-iron skillet with a bit of olive oil on the side burner of my gas BBQ; that's all she wrote, pure deliciousness.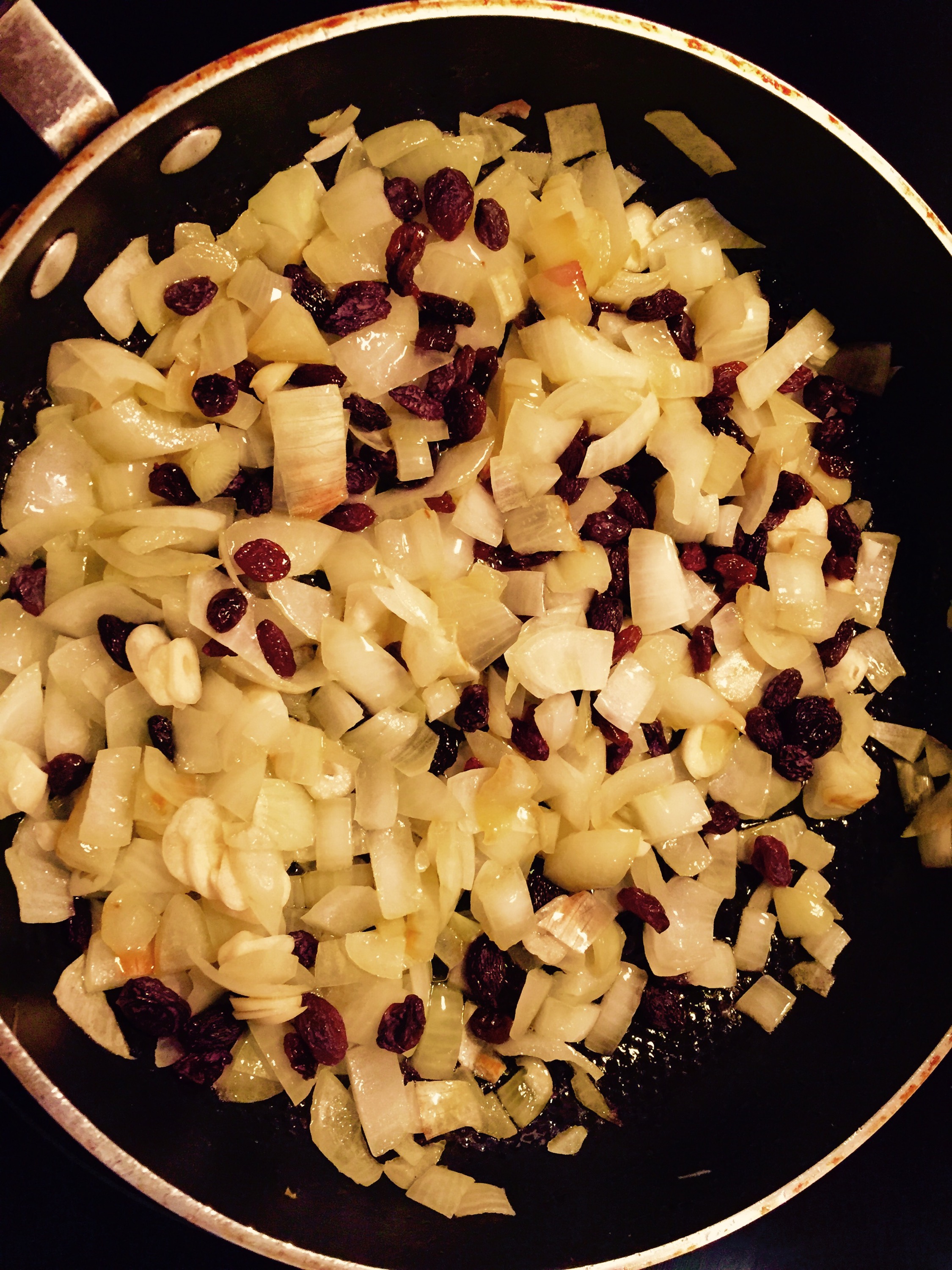 Chickpea Chana Masala
Although Sahib's can make perfect chana masala every night, doesn't mean I have time on a Monday after work to come up with such elegant results with traditional techniques. This forced me to come up with a fast-forward method, still I wanted a little advice on the traditional ingredients to inspire me. Enter food-blogger Vidya Lakshmi from Vidyascooking stage left, with her excellent rendition of Restaurant Style- Channa Bhatura. Vidya's authentic recipe with a twist inspired me to construct a speedy rendition of chana masala for our weeknight meal.
Sautéed onions and garlic into the food processor with some crushed tomatoes, raisins for sweetness and a little white wine and the paste was ready barely 10 minutes later. Using Vidya's techinque of cooking the dry spices in oil then adding the paste gave such fragrant and irresistable results I knew I was on the right track. A couple cans of rinsed chickpeas and some coconut/almond milk later, all simmering comfortably in a dutch oven on the stovetop and the menu was nearly complete.
Carrot Salad
Seared scallops can go with anything, and with such a fragrant Indian dish on the roster you may ask … why carrot salad? Well I was very excited to use those raisins in my chana masala puré, and like a good wine pairing, I was hopeful that a traditional carrot salad with raisins would match perfectly as a fresh counterpart to the rich flavours of my chickpea creation.
For this authentic carrot goodness I turned to food blogger Elise Bauer at Simplyrecipes.com. Elise's recipe for Classic Carrot Salad made me feel like the Monday night menu had come full circle. The simple combination of grated carrot and apple with just a small handful of raisins and mayonnaise made for a perfect compliment to the entire meal; thanks Elise!
Monday Night Magic
My favourite magic moment this Monday however, had nothing to do with the food at all. Doubtful that either of our girls would make it past two bites of anything on their plate, Liz and I were so pleasantly surprised to see both of them digging in with smiling faces. Both asked for seconds, then thirds of seared scallops, and Cassidy had my favourite comment of the night: "the chickpeas are warm and spicy, and leave a tingle in my nose!" … another weekly menu plan mission success.