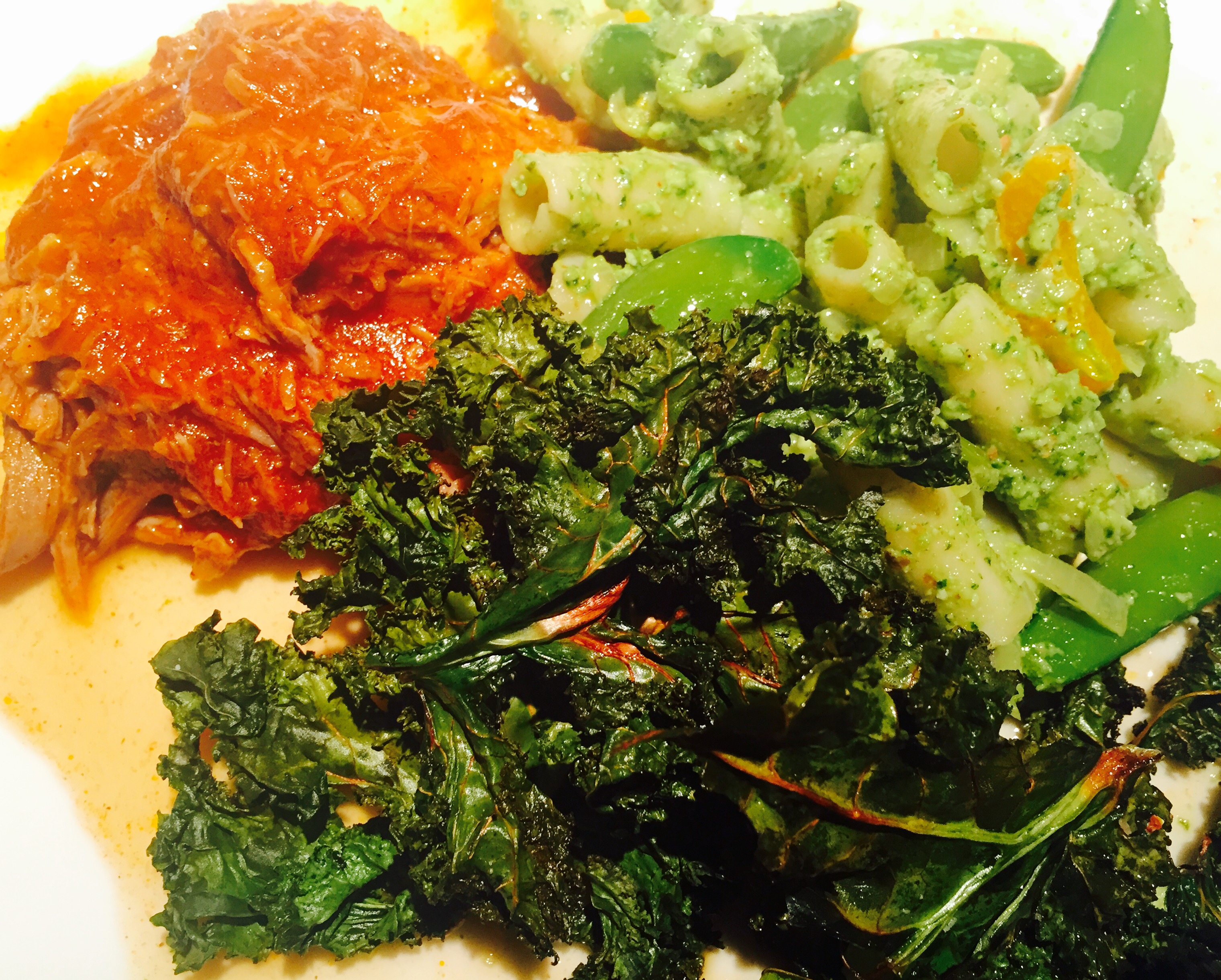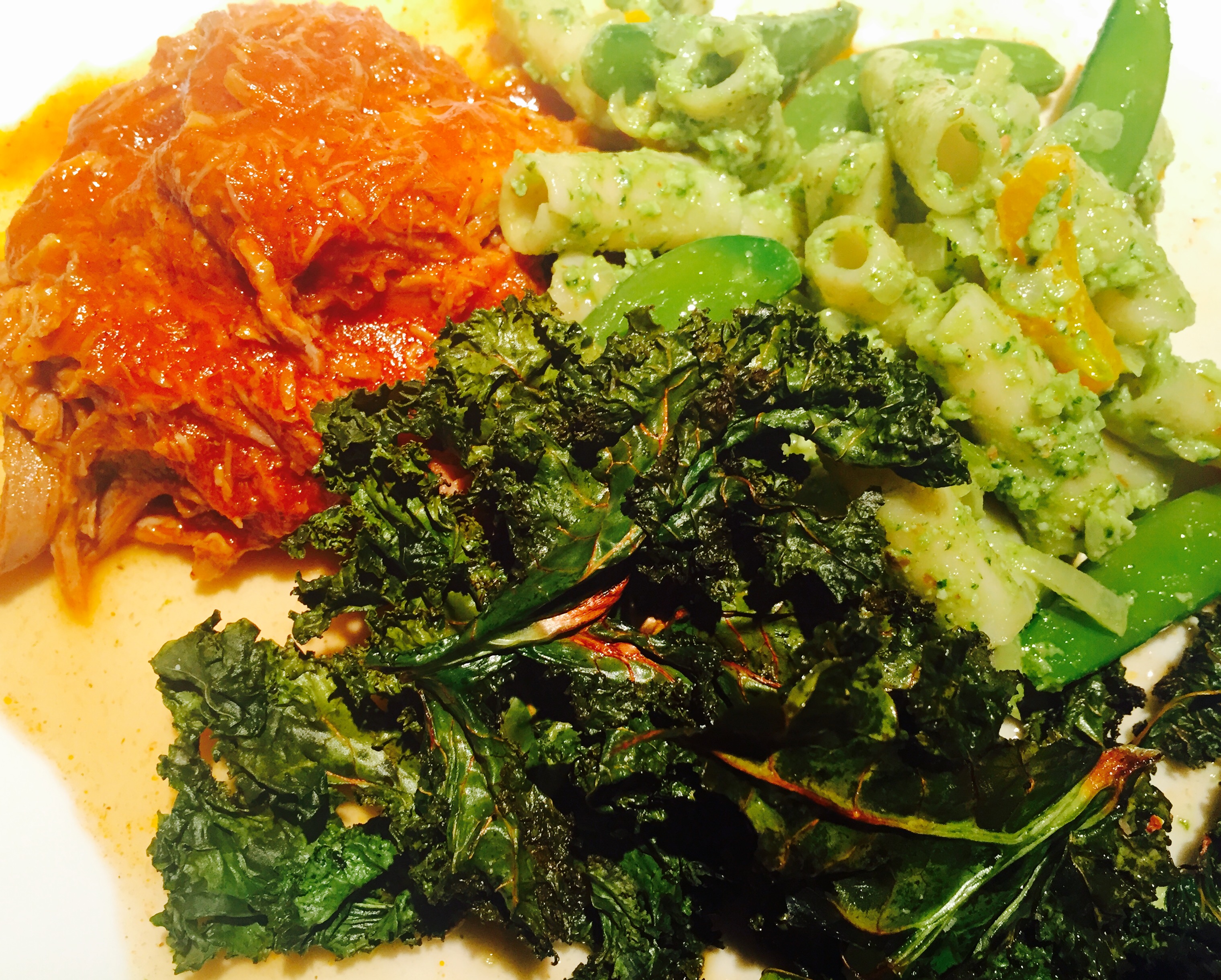 Overview …
My weekly menu plan for this Sunday called for the following:
Protein: Pork Shoulder
Starchy Side: Pasta Salad
Vegetable: Kale
Almost every pork shoulder recipe you'll ever see involves a slow-cook method ending in pulling the meat apart to be doused in sauce and enjoyed with a smile. No doubt I will want to break that stereotype in the future, but this Sunday was all about the tried and true pulled pork staple, but inspiration came from many sources as you will see.
Unlike pork shoulder, pasta salad easily has thousands of varieties to choose from, but thankfully I had a good idea of what I wanted as my starchy side this weekend. Pesto provides such a powerful flavour boost to any meal, and somehow it just felt right to have it become the star of this accompaniment.
Kale chips may not seem like the most elegant choice for a Sunday dinner, but with pulled pork and pesto pasta on the menu there was a comfort food theme taking shape. This inspired me to take a hearty vegetable like kale and turn it into healthy chips to go along with the laid back feel of my menu.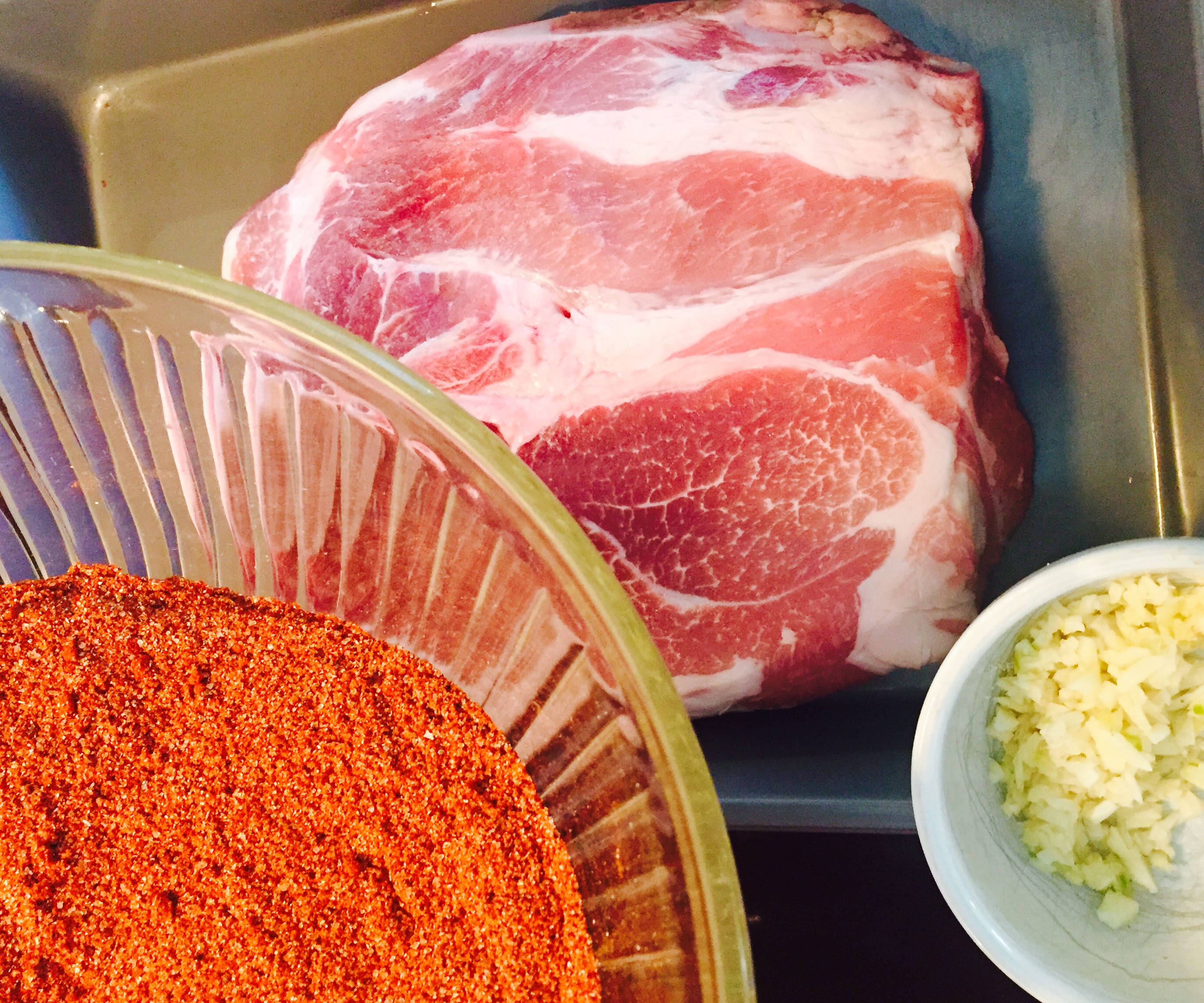 Pulled Pork with BBQ Sauce
My 5-year-old daughter thought it was absolutely hilarious to go out shopping for a pork butt, and even though she knew it was also called a pork shoulder, she couldn't get over the obvious … she's 5, what can you do. Ours was a 3-pounder, bone-in, and just the perfect size for a dutch oven.
I genuinely wish I could find out more about the author of this recipe for Big James' Pork Rub, until then he will remain simply 'mccabepurcell'. He did however get this menu started on the right foot, and a good amount of this excellent rub recipe is sealed in a tupperware for use again in the near future. In keeping with my Martha kick this weekend I couldn't wait to try her recipe for Southern Pulled Pork Sandwhiches, and wow it was perfect.
I couldn't resist making my own scratch BBQ sauce to go with it, and even as I write this I'm still tempted to go back and grab yet another bite of this excellent comfort food. Slow-cooked pulled pork with homemade BBQ sauce … right on! Do yourself a favour and make this some time so you can feel the same incredible satisfaction, definitely worth it.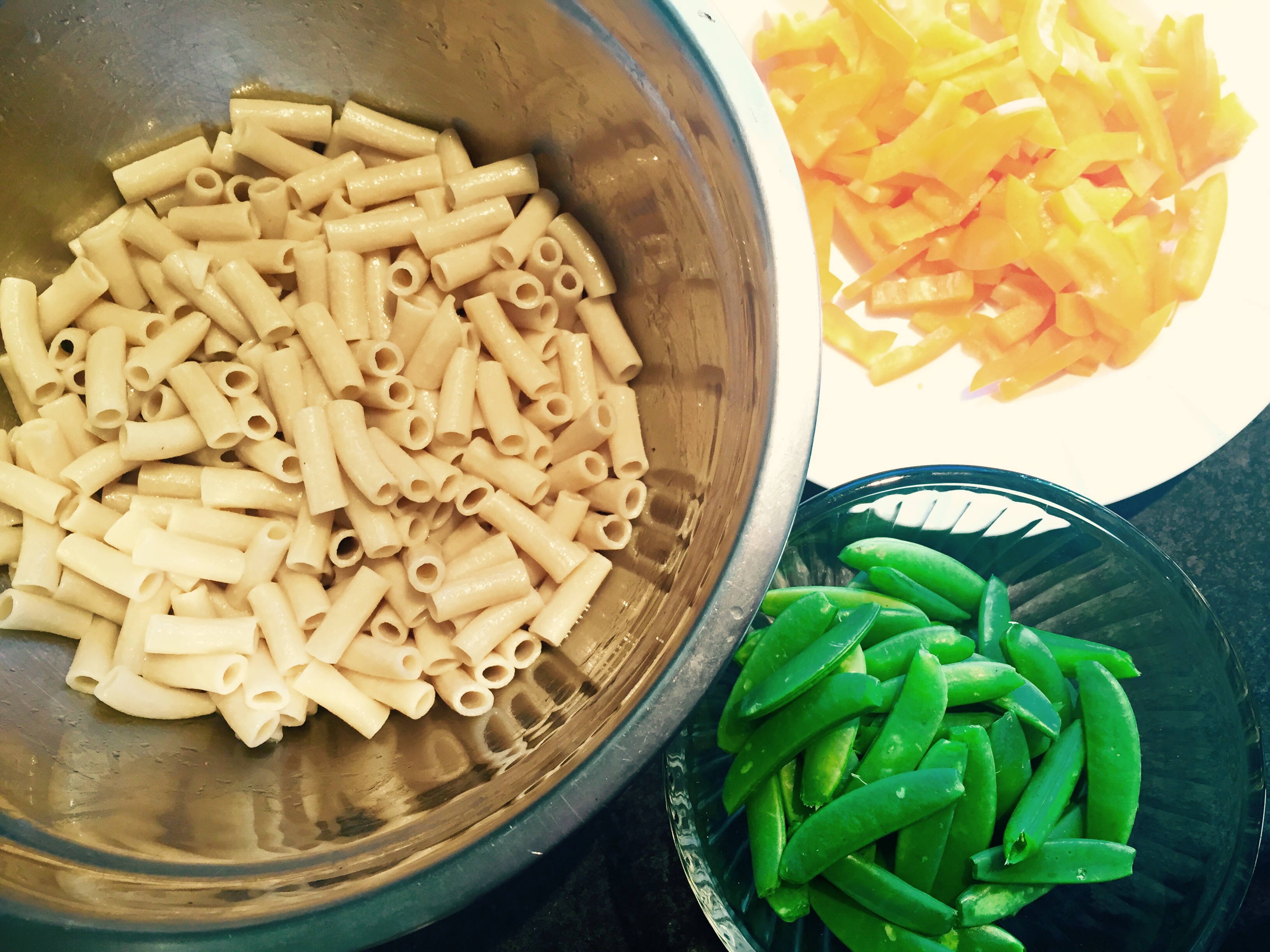 Pesto Pasta Salad
There really wasn't a recipe handy to help me with my pesto craving, I wanted snap peas, peppers, penne and pesto … not sure why, but it was a strong craving and I had to listen. Penne came in the form of a gluten free rice pasta that we enjoy from time to time, then snap peas and peppers joined in for the last bit of a low-heat sauté of diced onions.
We're lucky to have access to fresh basil all year long and a big bunch of it was introduced to our food processor with a handful of almonds, 2 cloves of garlic, some daiya dairy free cheese and a good dose of some nice olive oil. All of these combined to create a lovely pasta salad that could easily go with almost any main, but more importantly it was exactly what I was craving (phew).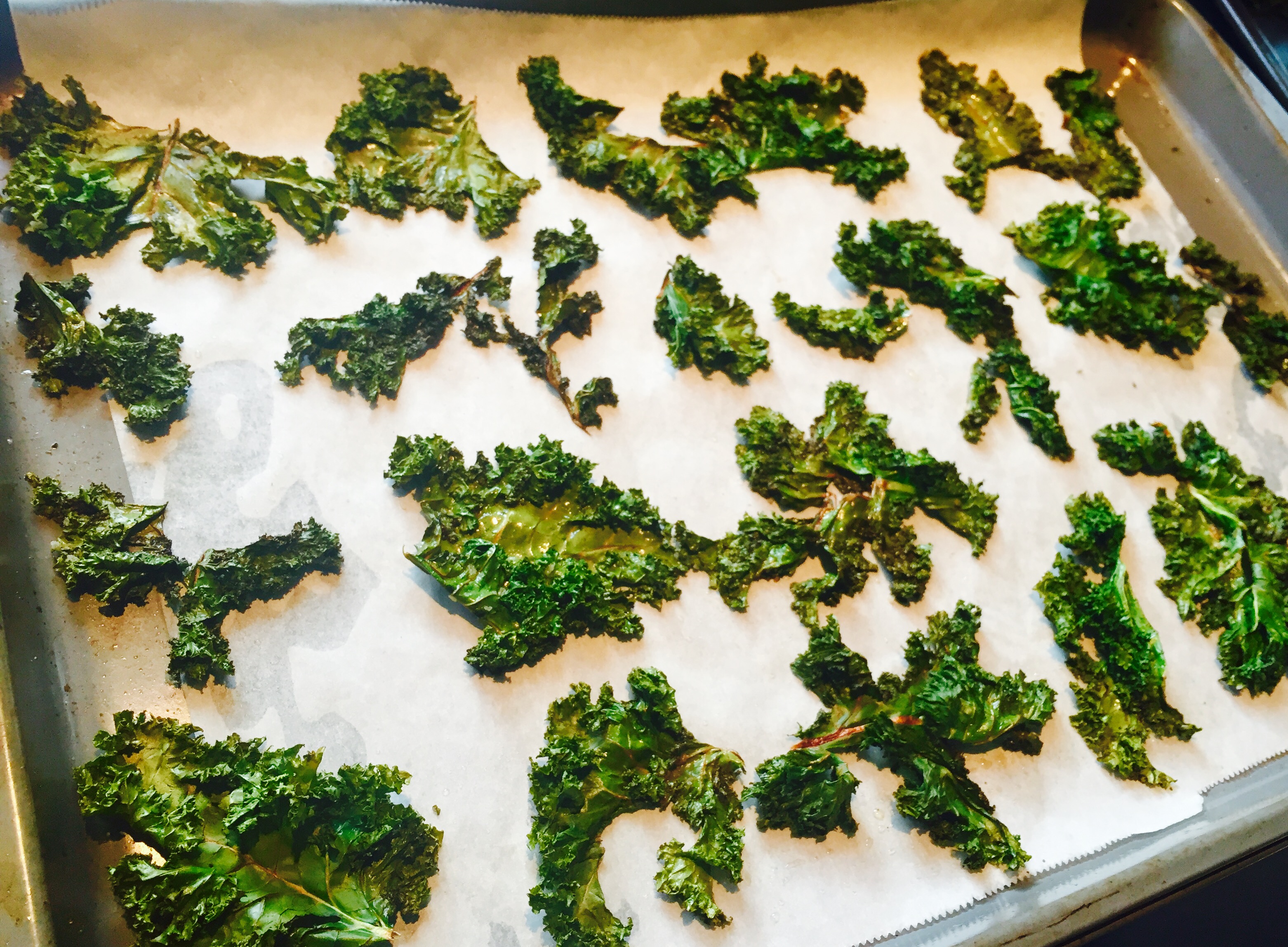 Kale Chips
Making kale chip is painfully simple but easy to ruin if you're not careful with your timing. When precision is important I always look to Ina Garten; famous for her excellent recipes but also for her attention to detail. Ina's simple but perfect recipe for Crispy Roasted Kale is an excellent starting point for anyone looking to try this for the first time.
NB: Kale chips are addictive, and you may want to hide them from sight if making them in advance.
Down-Home Sunday Dinner
Our young girls are always full of surprises and I almost never know anymore who is going to like what. One thing is certain, they always like something on their plate, and this is an amazing turn for the better. Now that we've finally moved away from the same handful of stale dishes, this culinary journey keeps getting more exciting every week … stay tuned!