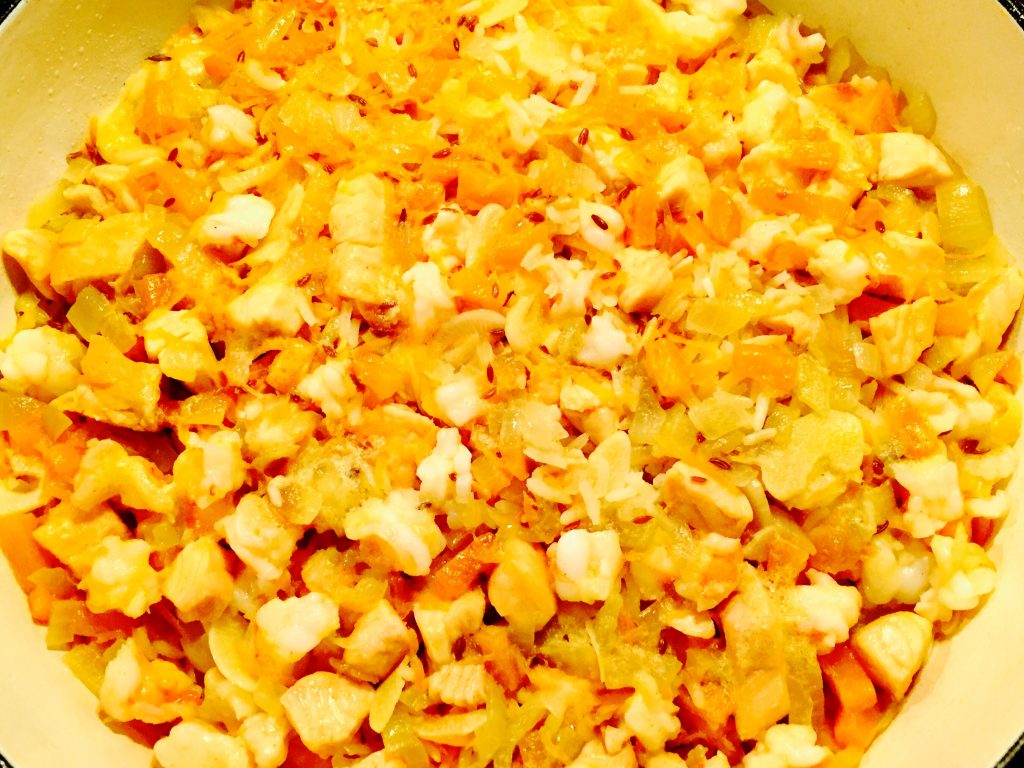 Our dairy & gluten free world-wide weekly menu plan brought us to the very heart of Central Asia, bringing us the sumptuous seafood variety of a traditional palov from Uzbekistan.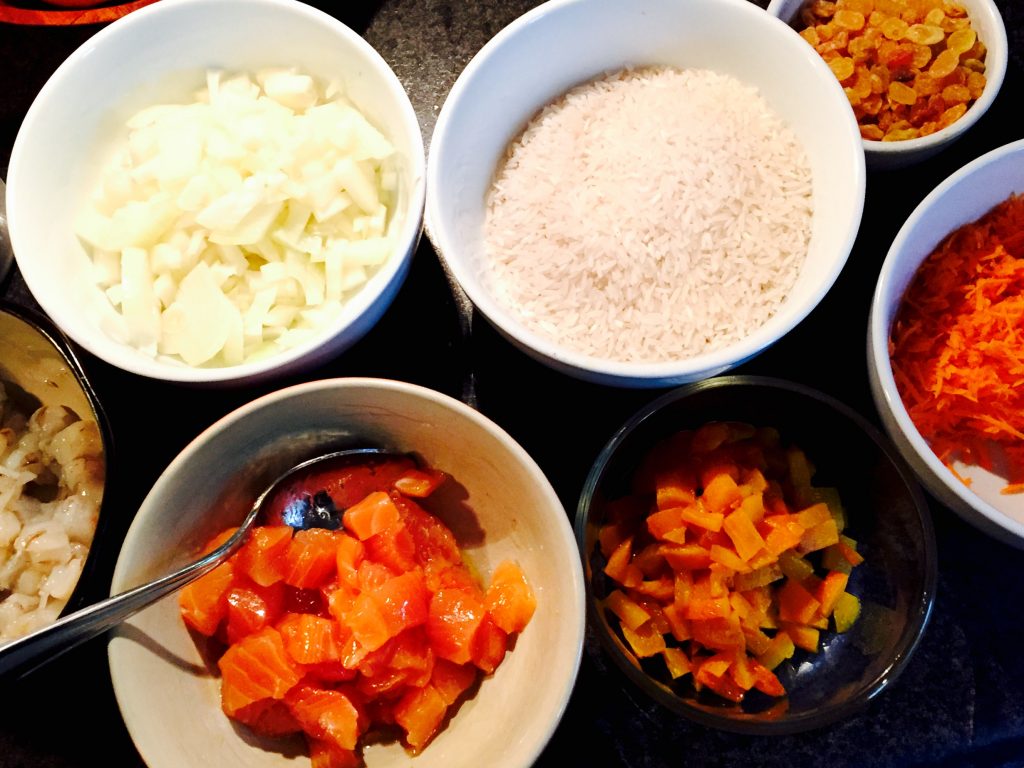 Never Heard Of Uzbek Plov?
To be perfectly honest, neither had I until my research shed new light. This is the absolute beauty of having a menu plan that forces you to think outside your culinary comfort zone. While many countries share a wide variety of techniques, there is always something new to be learned if we are willing to open our minds a little bit.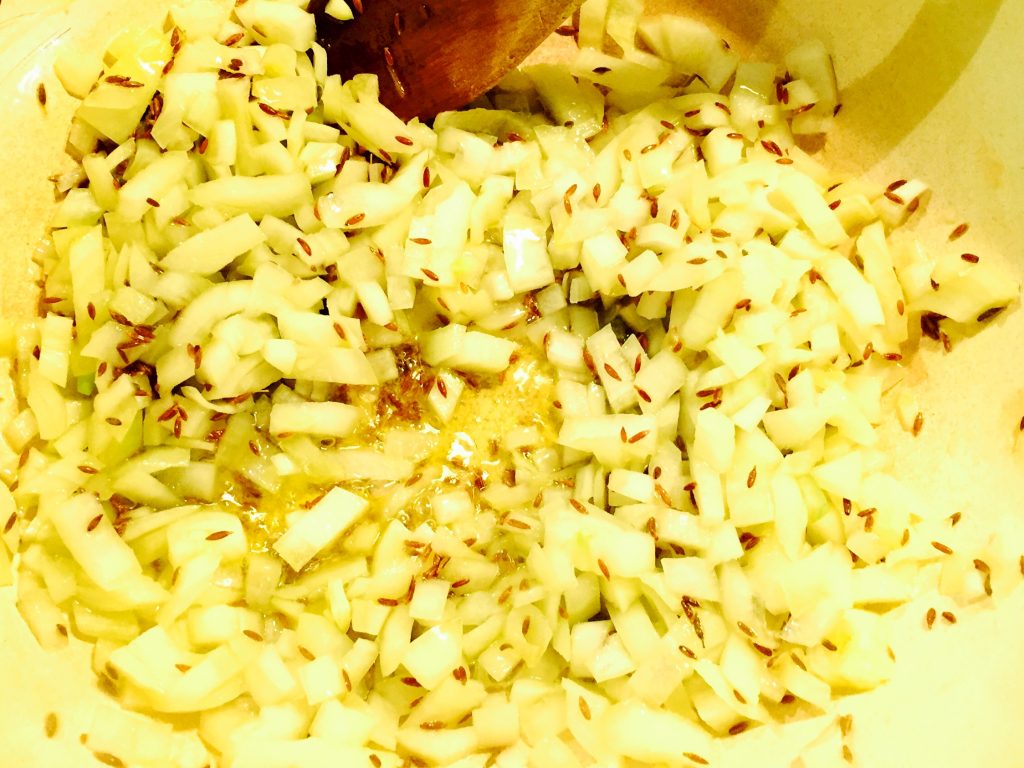 This one-dish meal is essentially a pilaf, but with subtle differences that make it characteristic all its own. Opting to make a seafood dish in honour of a land-locked country's cuisine isn't necessarily the path of least resistance, but wow am I glad to have stayed the course. This Uzbek plov was utterly delicious, chock full of tender chunks of salmon and plump pieces of shrimp cooked right in the pot, our entire meal was saturated with delicious flavour. I'm definitely making this again one day!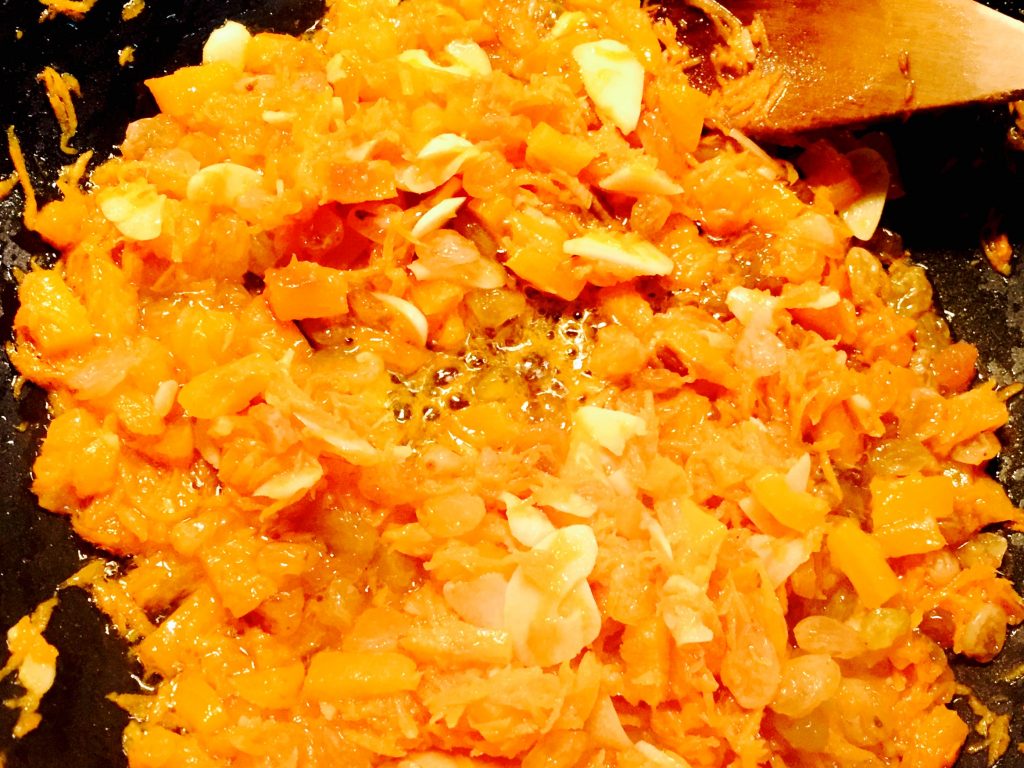 Impulsive Culinarian's Seafood Uzbek Plov
Ingredients
1 orange or yellow pepper
1 lb salmon, skin removed
1 lb raw shrimp, peeled & deveined
1/4 cup olive oil
1 heaping tbsp cumin seeds
1 large onion, chopped
1 1/2 cups jasmine rice
2 cups water
1 cup white wine
2 tbsp soy free & dairy free margarine
3 carrots, peeled & finely grated
3 garlic cloves, peeled & thinly sliced
1/3 cup golden raisins
Instructions
Core the yellow/orange pepper and cut into 4 or 5 flat pieces.
Carefully roast the pepper skin side up under a broiler until skin begins to blacken, then place the roasted pepper pieces in a sealed container and let cool.
Cut salmon into 1/2″ chunks and season with salt & pepper.
Cut shrimp into 1/2″ chunks and season with salt & pepper.
Begin warming a dutch oven on the stovetop over medium heat.
Peel the roasted peppers and chop them into 1/4″ pieces.
In a separate non stick pan, add 1 tbsp of margarine and sauté the salmon over high heat until almost cooked, about 2 minutes, then remove from the pan and set aside.
Using the same non-stick pan, reduce heat to medium and add the remaining tbsp of margarine.
Sauté grated carrots and roasted peppers in the non-stick pan until tender, approximately 5 minutes.
Add sliced garlic and raisins to the carrots & peppers and sauté for another 5 to 10 minutes.
Using the dutch oven now, add olive oil & cumin seeds and toast until fragrant, around 2 minutes.
Add chopped onions to the cumin seeds and sauté until translucent, around 5 minutes.
Add  dry rice to the cumin and onions and stir often until rice becomes fragrant, approximately 5 minutes.
Add all other ingredients including the carrot mixture, salmon, raw shrimp, water & wine to the dutch oven.
Stir gently to mix everything together, then cover and reduce heat to minimum, let simmer for 25 minutes.
Season with salt & pepper to taste.