Christmas Inspiration …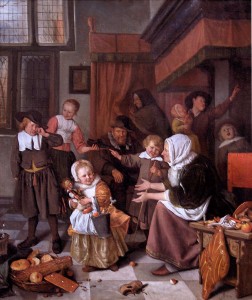 Special occasions call for special food, and a fancy Christmas menu is one of the best occasions of all for eating fantastic fare. This year I got inspiration from a couple sources, like the Dutch tradition of Sinterklaas, and the impact of writings by Washington Irving on the culture of Christmas back in the 1800's … all of these stories got me thinking about how to best pay tribute to the holidays with a Christmas menu of my own. Beyond tradition, I also try to stay within the framework of a certain country's culinary traditions … you know, so that we don't have sauerkraut and gnocchi all in the same sitting, it just wouldn't be right.
No Bones About The Main Course
Armed with a mind full of contemporary Christmas menu traditions, I was determined to design the perfect roster for our dinner … one celiac pescatarian, 2 dairy intolerant, and the rest carnivorous with no notion for compromising their meat-loving, carb-laden love of holiday fun … game on! With a few new personal cooking challenges on the list, I decided that my biggest obstacle would be the clock. With only one free night before Christmas Eve to prepare anything, I was left with just one full day to cook and serve at 5:30 the same night. It became clear that committing the oven entirely to a large bird for the bulk of my day would not be a viable option … boneless chicken breasts to the rescue.
Stuffing, Gravy, Cranberries … Essential
With a free oven and a world of options available, I quickly decided that removing one tradition (the whole bird) would compel me to maintain other traditional items to counter-balance … namely, a succulent gravy, a home-made cranberry sauce, and of course a hearty stuffing. The stuffing would be a challenge, because everyone has high expectations for stuffing, but mine would have to be vegetarian, gluten free … and super yummy! No problem, because I do like a good challenge.
The Pescatarian Connection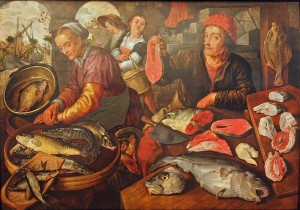 With a main chicken course on the block, I wanted to appeal to the pescatarian at our table (my wife). It bothers me, for instance, when one or two isolated vegans or vegetarians are left out of the mix as every main on the table is geared to carnivores, and some lonely side dish is made available out of sympathetic "courtesy". I prefer to embrace the situation and focus brightly on the wealth of variety available, which prompted me to include a strong seafood dish as the alternate main (the final menu will be revealed below).
Big Finish
Lastly, dessert must be well represented. It shows that the whole menu has been completely thought through and the chef didn't give up half way. As a guest I always appreciate when our host has just served up an incredible meal AND made that final extra effort to indulge us with a luxurious dessert. It's literally the icing on the cake, which often can be the hardest part of the entire meal, but what a treat when it's pulled off without a hitch and the true colours of your culinary host can shine through … you want to be that host, and I certainly wanted to follow through myself with such an important meal on such a special family occasion.
Our Christmas Menu This Year:
Pancetta-wrapped Chicken Breasts with Fig Stuffing (based on a fun valentine's-day recipe courtesy of Chef John, swapped the prosciutto for pancetta and the cherries for figs, splendid!)
Salmon Tartare (based on Ina Garten's lovely fresh salmon tartare recipe, and using my favourite fishmonger's home-smoked salmon and some sushi-grade King Salmon with a little English cucumber and mayo added for texture)
Cod Croquettes (based on Daniel Boulud`s rustic and simple Salt Cod Croquette recipe, although the time constraint prevented me from using actual salt cod, I did find a lovely fresh filet of regular cod at the same fishmonger above that served me perfectly well in half the time)
Gluten Free Parsnip & Apple Stuffing (Jamie Oliver came to rescue here with his gluten free stuffing recipe, in which I swapped out sausage for sauteed mushrooms and added celery and slivered almonds for kicks … turned out deliciously!)
Roasted Potatoes (you may have roasted some potatoes in your day, but I'll wager none of them are as epic as these Ultimate Roast Potatoes by the elusive Angela Nilsen)
Roasted Sweet Potatoes (because one kind of potato at Christmas is never enough … no special credit here, just big chunky roasted sweet potatoes basically)
Homemade Gravy (in the absence of a big roasted bird and the pan drippings that come with it, the next best thing was Ina Garten's lovely Homemade Gravy recipe with a corn flour substitute to allow for some gluten-freedom)
Drunken Cranberry Sauce (recipe courtesy of a good friend with great culinary sense, I`ll wait until she gives us permission to share, but it was delicious)
Fruit Tarts (With single-serving gluten-free pie crust shells inspired by a recipe from Carol Kicinski, and a dairy-free version of some lovely sweet tart filling imagined by Rheanna Kish, a scrumptious berry tart dessert was born … and enjoyed by kids and adults alike)
Yule Log (could it really be Christmas without a good old-fashioned Yule Log, thanks to Nigella Lawson for her excellent and super easy recipe for this traditional treat)