Impulsive Culinarian's Vietnamese Vegetarian Pho Chay Recipe
Broth Ingredients
4 large Parsnips
2 large Russet Potatoes
1 large Rutabaga
3 medium Yellow Onions
2 Leeks
4 liters Water
Spice Ingredients
1 large chunk (2″ to 3″) Fresh Ginger
2 tbsp Coriander Seeds
1 tbsp Fennel Seeds
4 Star Anise
4 Whole CLoves
3 Cardamom Pods
2 Cinnamon Sticks
Soup Ingredients
1 pound Dry Flat Rice Noodles
Condiments
Bean Sprouts
Enokitake Mushrooms
Lime Wedges
Fresh Coriander, trimmed
Green Onions, chopped
Sriracha Sauce
Thai Chilies, chopped
Shallots, thinly sliced
Instructions
Preheat oven to 450°
Wash the parsnips, potatoes & rutabagas thoroughly, but do not peel!
Chop the parsnips, potatoes & rutabagas into large, equal sized chunks (around 2″)
Toss them in a large mixing bowl with 3 tbsp olive oil and a generous amount of salt & pepper
Transfer the seasoned vegetables onto a large parchment-lined baking sheet
Roast in the center rack for 20 minutes
Flip and roast for an additional 15 minutes
Fill a large stock pot with 4 to 4.5 liters of warm water and set over maximum heat
Add roasted vegetables to to the stock pot
Turn off oven and set the broiler to maximum
Halve the yellow onions, trim off the ends, and remove any stray peels
Trim and cut the leeks in half lengthwise and rinse them thoroughly to completely remove any trace dirt, discarding outer layers as needed
Slice the chunk of ginger in half length-wise to create 2 wide flat pieces
Lay the onions, leeks & ginger on a foil-lined baking sheet
Brush lightly with olive oil and season with salt & pepper
Broil in the upper-most rack for 7 to 8 minutes until they start to char slightly
Flip them over, lightly brush with an additional amount of olive oil, and broil for an extra 2 to 3 minutes
Set the ginger aside for later
Add the charred onions and leeks to your stock pot
Bring the broth to a gentle boil, reduce heat to low, then cover and let simmer for 2 to 3 hours
Using a colander, transfer the broth to a new medium-sized stock pot, discarding the vegetables
Place the strained broth back over medium-high heat
Place a dry skillet over medium-high heat
Toast all of the dry spices in the hot skillet, stirring occasionally until fragrant and just starting to brown, around 3 minutes
Transfer the toasted spices into your stock pot
Add the roasted ginger to your stock pot
Once the broth comes to a boil, reduce heat to low, cover and simmer for 30 minutes
Using a large strainer lined with cheesecloth, transfer the broth to a new medium-sized stock pot
Cover the strained broth and set over medium-low heat to keep warm
Prepare noodles according to package instructions
Once cooked, drain the noodles and transfer to a large bowl of warm water until ready to serve
Prepare condiments
Ladle warm broth into serving bowls, add a portion of cooked noodles, squeeze lime juice into serving bowl if desired, them top with condiments of your choosing and enjoy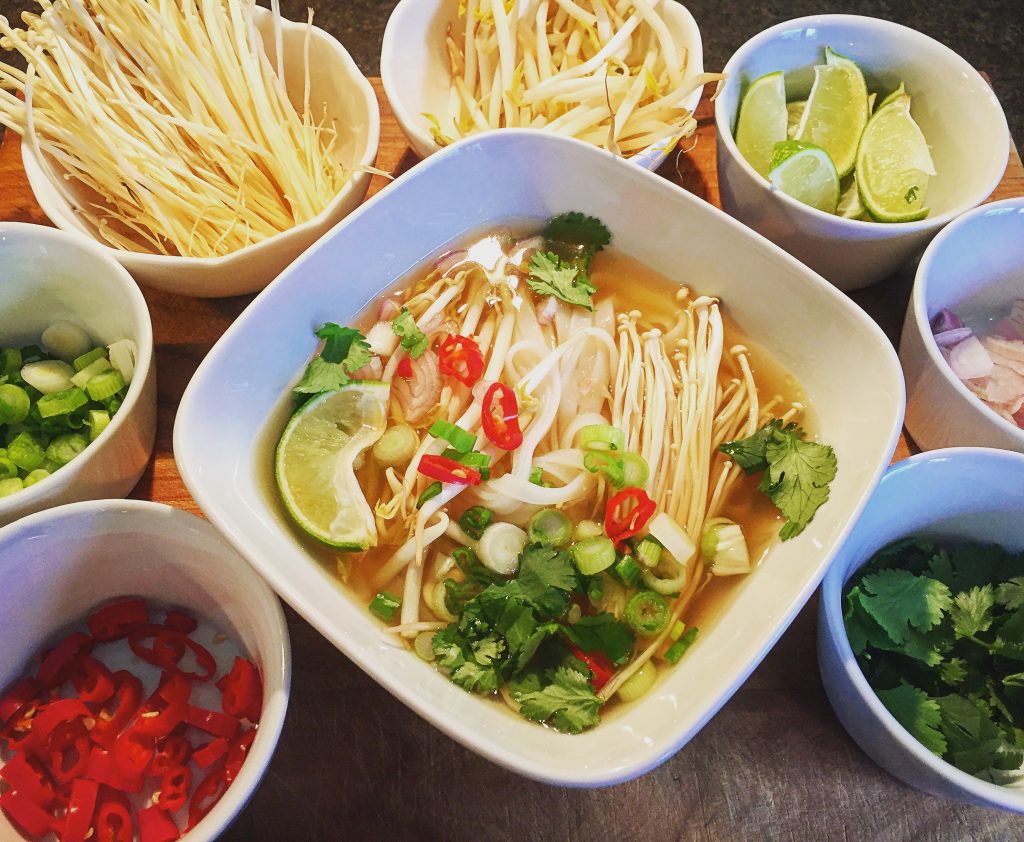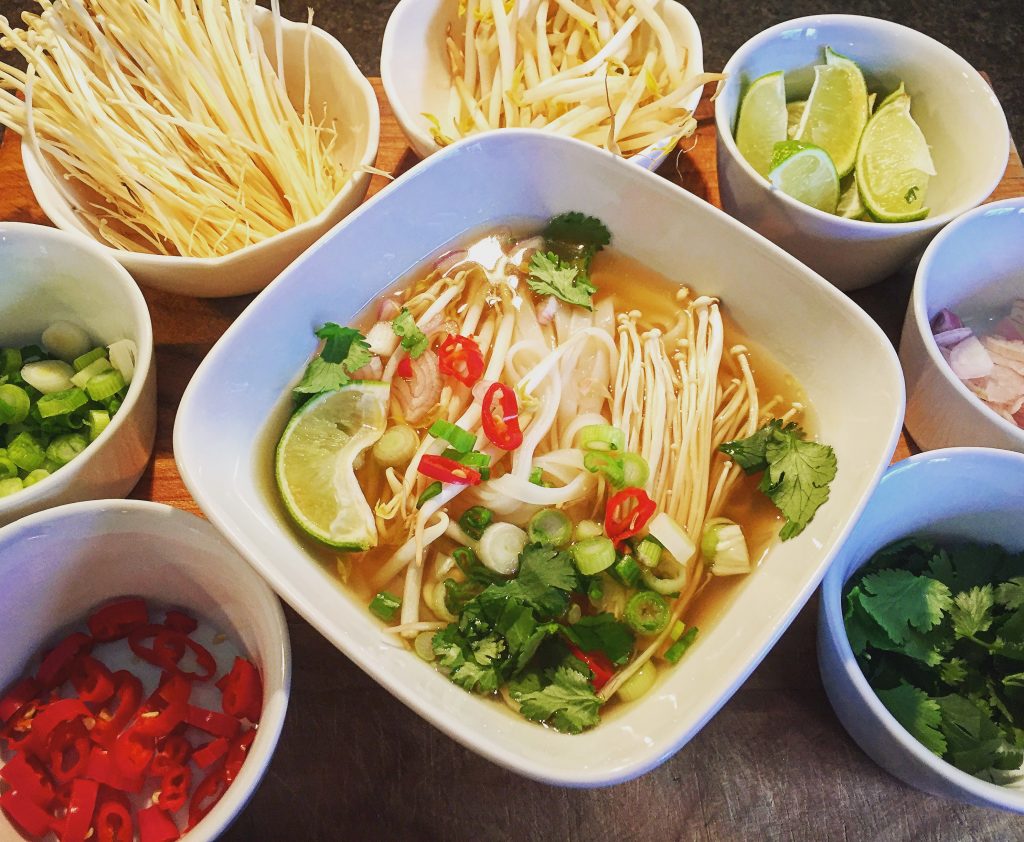 Paying Tribute To Vietnam's National Dish
This vegetarian Pho Chay recipe is my own personal tribute to a essential Vietnamese classic. Pho is an important culinary experience that must be savoured at least once to fully appreciate it's beautiful complexity. I strongly recommend visiting a Pho restaurant to experience the atmosphere and aromas first hand, then try your hand at making a delicious home-made variant of your own. Ngon miệng!
Be sure to drop us a line at your favourite social hangout with any new Filipino recipe suggestions you'd like to see here on IC. Wishing you much delicious success in all of your culinary adventures.
About me: My name is Paul Thibault, an impulsive home chef developing delicious gluten free recipes for family and friends regardless of their allergen restrictions or dietary limitations, visit the About Page to learn more.