Impulsive Culinarian's Succulent Maple Mustard Pork Tenderloin Recipe
Rub Ingredients
1 tbsp Fresh Thyme, finely chopped
1 tbsp Fresh Oregano, finely chopped
1/2 tsp Kosher Salt
1 tsp Garlic Powder
1 tsp Onion Powder
1 tsp Dry Mustard Powder
1/2 tsp Freshly Ground Black Pepper
Remaining Ingredients
1 lb Pork Tenderloin, trimmed
2 tbsp Olive Oil
2 tbsp Dairy Free Margarine
1 Shallot, finely chopped
1 Garlic Clove, finely minced
1/4 cup White Wine
2 tbsp Real Maple Syrup
1 tbsp Dijon Mustard
Instructions
Preheat oven to 400°F
Take out a 12″ cast-iron skillet with an oven-safe cover

If you have no oven-safe cover, prepare a piece of tinfoil that is just big enough to cover the skillet and set it aside

Place the skillet over medium-high heat
Combine rub ingredients in a medium-sized plate or shallow bowl
Cut the trimmed tenderloin in half to make 2 equally-sized 1/2 pound pieces
Coat both pieces completely with the rub mixture
Add olive oil to the hot skillet
Sear the tenderloin on one side for no more than 2 minutes
Flip the tenderloins over, cover, and place in the oven to finish cooking for exactly 10 minutes
Remove the skillet from the oven
Set tenderloins aside in a medium dish and cover, then set aside to rest
Reserve the skillet juices in a heat-safe bowl and set aside
Place skillet over medium heat
Add margarine to the skillet
Add chopped shallot to the skillet and saute until transparent (around 1 to 2 minutes)
Add minced garlic to the skillet and saute until fragrant (around 20 to 30 seconds)
Add white wine to the skillet and reduce by half (around 2 minutes)
Add maple syrup and mustard to the skillet and whisk with a fork to combine, stirring while it reduces slightly (2 minutes)
Add pork juices from rested tenderloin to the skillet
Add reserved pan drippings to the skillet
Whisk together well and continue stirring while the sauce reduces (2 minutes)
When the sauce is just thickened enough, remove skillet from the heat and set aside
Season with salt & pepper to taste
Slice tenderloins into nice 1/2 inch slices and arrange on a serving platter
Pour maple mustard sauce over the pork slices
Garnish with fresh sprigs of thyme / oregano and serve immediately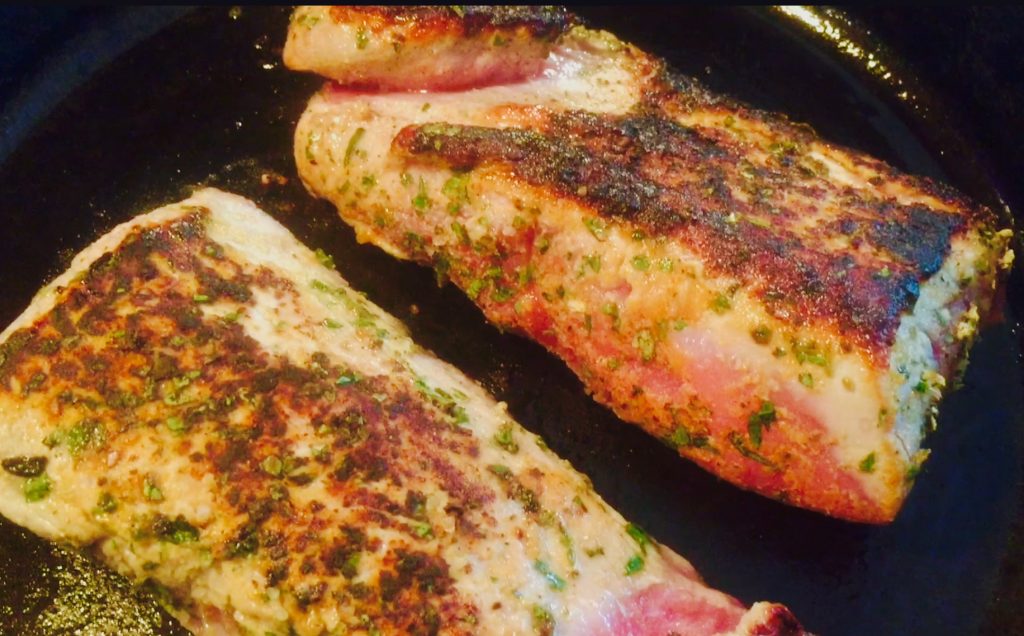 True Canadians Must Make This Recipe At Least Once In Their Lives
Enjoying moist pork tenderloin smothered in a richly satisfying maple mustard sauce is simply a rite of passage for any true Canadian home chef. This succulent main dish is an instant crowd-pleaser and conversation piece that is sure to impress your guests at any special occasion.
As a welcome change of pace from the standard chicken or ham main course, oven-roasted pork tenderloin in a fragrant savoury herb rub is a comforting and memorable dish that I sincerely hope you will try for yourself!
About me: My name is Paul Thibault, an impulsive home chef developing delicious gluten free recipes for family and friends regardless of their allergen restrictions or dietary limitations, visit the About Page to learn more.