Impulsive Culinarian's French Vegetable Tian With Gluten Free Breadcrumb Topping Recipe
Ingredients
1 tsp Dairy Free Margarine
4 Shallots, thinly sliced
3 Garlic Cloves, thinly sliced
Salt & Pepper
3 skinny Roma Tomatoes
1 short Green Zucchini
1 large Carrot
1 short Yellow Zucchini
3 Fingerling Potatoes
2 tbsp Olive Oil
Juice of 1 Lemkon
1/3 cup Gluten Free Bread Crumbs
1 tbsp chopped Fresh Thyme
2 ounces Dairy Free White Cheese, finely grated
Instructions
Preheat oven to 425°
Grease a shallow 2 liter casserole dish with the dairy free margarine
Add sliced shallots and garlic to the greased casserole and toss together to combine
Season the shallots & garlic with kosher salt and freshly ground black pepper
Slice the Roma tomatoes, green zucchini & yellow zucchini into thin slices
Peel the carrot and cut diagonally into thin slices
Peel the potatoes and slice them into very thin slices
Arrange the vegetable slices in a pattern around the edge of your casserole, filling in the middle with more of the same pattern arrangement
Drizzle olive oil over the vegetables
Season generously with more kosher salt and freshly ground black pepper
Bake uncovered in the center rack for 20 minutes
Lightly toast the gluten free bread
Transfer the toast, grated cheese & fresh thyme to a food processor
Blitz until thoroughly ground and combined
Transfer the breadcrumb topping to a clean bowl and set aside
After baking the tian for 20 minutes, remove from the oven and pour lemon juice over the vegetables
Return to the oven uncovered for another 15 minutes
After baking for 15 minutes remove from the oven and spread your bread crumb mixture evenly across the top of your tian
Return to the oven uncovered for an additional 10 minutes
Let the tian cool for around 10 minutes before serving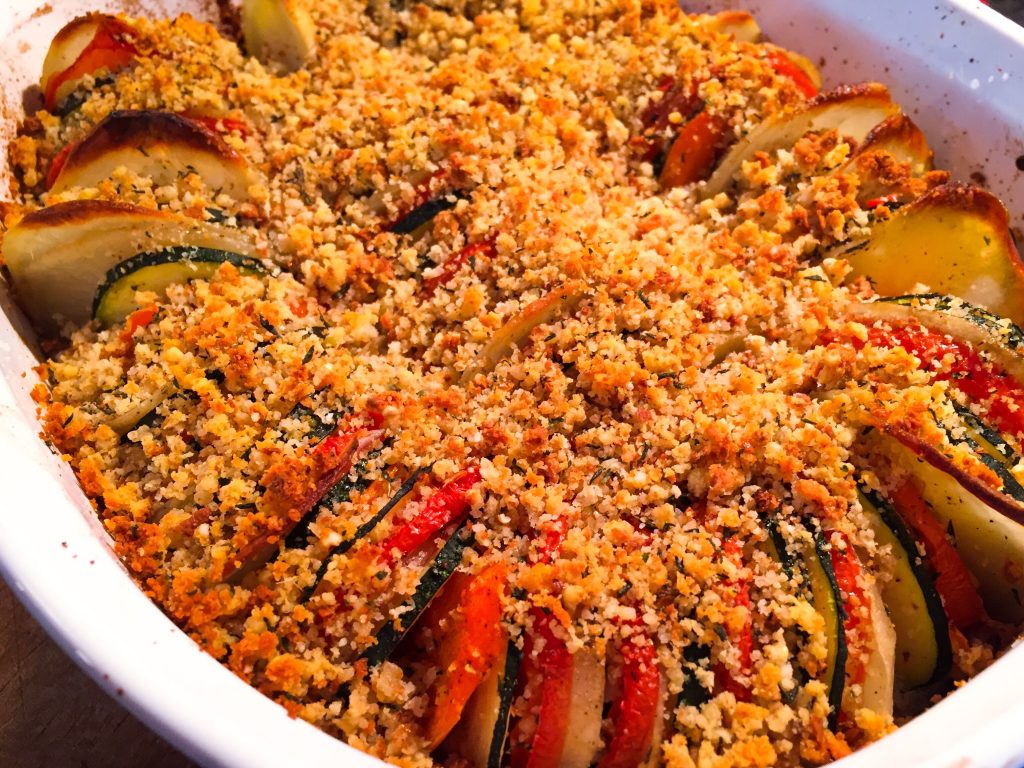 Vegetables Never Looked So Amazing!
Some might say this dish is almost too beautiful to demolish, however one bite of this delicious spring vegetable casserole and you too will be anxiously awaiting the opportunity to dig in. Not only pleasing to the eye, but very appealing to the taste buds as well with lovely roasted shallots & garlic at it's base, this gorgeous French classic will have all your guests coming back for more.
About me: My name is Paul Thibault, an impulsive home chef developing delicious gluten free recipes for family and friends regardless of their allergen restrictions or dietary limitations, visit the About Page to learn more.