Impulsive Culinarian's Hungarian Cabbage Rolls Recipe … aka: Töltött Káposzta
Filling Ingredients
1 Medium/Large Yellow Onion, chopped
3 tbsp Dairy Free Margarine
2 Garlic Cloves, finely chopped
1/2 pound Medium Ground Beef
1/2 pound Ground Pork
2/3 cup Basmati or Jasmine Rice
1 Egg
2 tbsp Paprika
1 tsp Kosher Salt
Freshly Ground Black Pepper
Remaining Ingredients
2 cups Pre-Made Tomato Sauce
1 cup White Wine
10 Savoy Cabbage Leaves
Instructions
If you've made spaghetti or tomato sauce in advance and frozen it, put it in a sauce pan over low heat to warm it up while preparing the rest of the recipe
Warm a non-stick skillet over medium heat
Add margarine and chopped onions to the skillet and saute until translucent (around 5 minutes)
Add finely chopped garlic to the onions and saute for another minute or two
Transfer onions and garlic to a large mixing bowl and set aside to cool
Preheat oven to 350°
Once the onions are cooled, add beef, pork, rice, egg, paprika, salt & pepper to the bowl

Be sure your rice is NOT cooked when you add it to the filling mixture, it will cook in the casserole dish once it's in the oven :)

Mix the filling ingredients together well until thoroughly combined
Add white wine to your tomato/spaghetti sauce and mix together well
Coat the bottom of a 3 liter (3 quart) casserole dish with 1/2 (1 cup) of the sauce & wine mixture
Trim the ribs off your 10 cabbage roll leaves
Lay each cabbage leaf seam side down, fill each one with 1/3 cup of the filling mixture
Roll the bottom of the leaf over the mixture, tuck in sides and finish rolling

Avoid rolling too tightly to leave a bit of room for the rice to expand

Place each roll seam side down in the casserole dish
Pour remaining sauce and wine mixture on top of the cabbage rolls
Cover with a tight fitting oven-safe lid and cook in the center rack for 90 minutes
Serve soon after cooking is done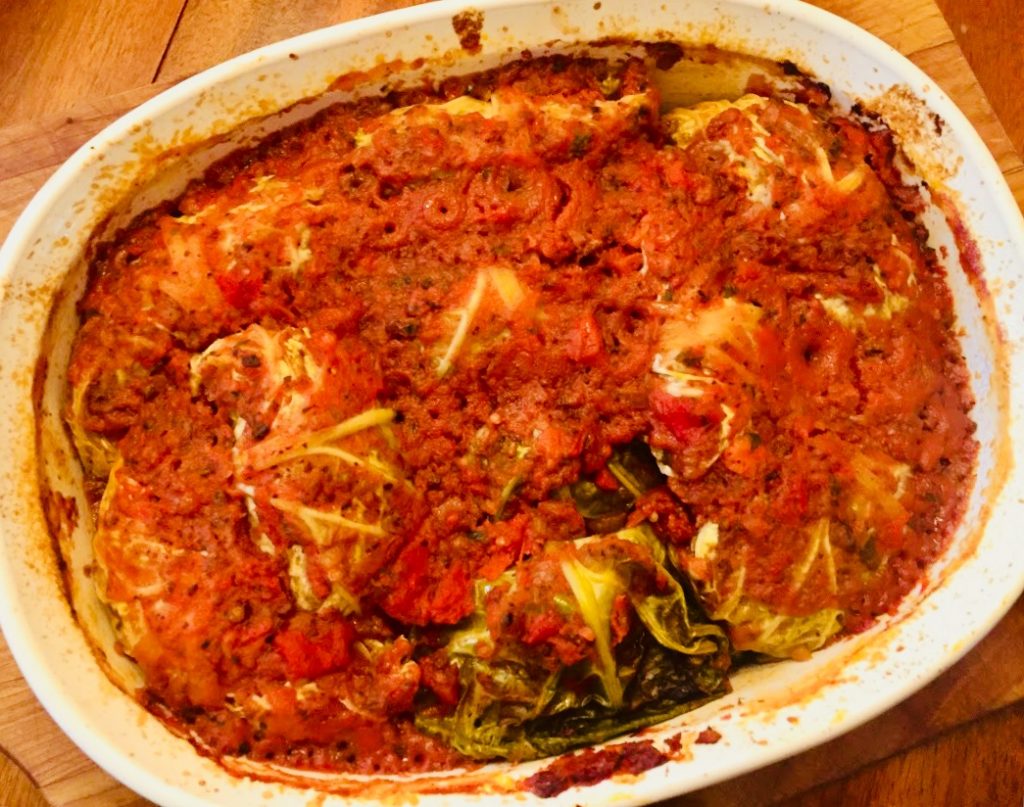 This Delicious Hungarian Comfort Food Is So Simple And Delicious
By adding uncooked rice to the filing mixture, it allows these scrumptious cabbage rolls to cook up so nice and plump, making this dish even more satisfying to the eyes as well as the palate. It's strongly recommended to use a home-made tomato sauce of some kind rather than sauce from a jar, and also be sure to add white wine that you would actually drink; the combination of these two delicious ingredients will definitely make the difference in your final cabbage rolls.
Jó étvágyat, here's hoping you enjoy this delicious Töltött Káposzta recipe as much as we do!
About me: My name is Paul Thibault, an impulsive home chef developing delicious gluten free recipes for family and friends regardless of their allergen restrictions or dietary limitations, visit the About Page to learn more.