Impulsive Culinarian's Thai Fried Rice with Prawns Recipe – aka: Khao Pad Goong
Thai Fried Rice Ingredients
1 pound Raw Shrimp, size 26-30, peeled & thoroughly cleaned
3 tbsp Coconut Oil
4 Shallots, peeled & thinly sliced
4 Garlic Cloves, peeled & thinly sliced
2 Organic Eggs
4 Baby Bok Choy, cleaned, cored & thinly sliced
1/4 cup White Wine
4 cups of day-old Cooked Jasmine or Basmati Rice
1/4 cup Fish Sauce
2 tbsp Sugar
1 tbsp Sriracha Sauce
1 tbsp Kosher Salt
5 Green Onions, thinly sliced
Prik Nam Pla Ingredients
1/4 cup Fish Sauce
6 Thai Chillies, chopped
Juice of 1 Lime
2 tsp Sugar
1 Farlic Clove, minced
Instructions
Peel & thoroughly clean the raw shrimp
Rinse in cold water, pat them dry with paper towel, then season generously with salt & pepper, cover & refrigerate until needed
Warm a large wok or wok-style skillet over medium-high heat
Add coconut oil to the hot pan
Add sliced shallots to the pan and saute for around 1 minute, stirring frequently
Add sliced garlic to the pan and saute for an additional 30 seconds, stirring frequently
Add shrimp to the pan and saute for another minute and a half, stirring constantly until the shrimp is just cooked through
Remove pan from the heat
Transfer the cooked shrimp to a clean bowl, leaving as much of the shallots, garlic and oil as possible in the hot pan, then set the shrimp aside
In a small clean bowl, lightly scramble the eggs
Return your pan to the medium-high heat, push onions & garlic to one side and add eggs to the pan
Stir constantly until the eggs are just cooked, around 1 minute
Add sliced bok choy to the pan and saute for around 3 minutes stirring frequently
When the bok choy has wilted and reduced in volume, add white wine to the pan
Let the wine reduce for around 2 minutes
While wine is reducing, combine fish sauce, sugar, sriracha and salt in a small bowl, mixing it with a fork to combine
When the wine has reduce, add half of the cooked rice to the pan along with the fish sauce mixture
Fold together until thoroughly combined
Add remaining rice, stir frequently for around 6 to 7 minutes until rice is heated through and starts to fry to a light golden brown
Remove pan from heat
Return shrimp along with any drippings back to the pan and gently fold together
Combine all of the prik nam pla in a small mixing bowl and whisk together with a fork
Serve the Thai fried rice immediately with additional lime wedges and chopped green onions for garnish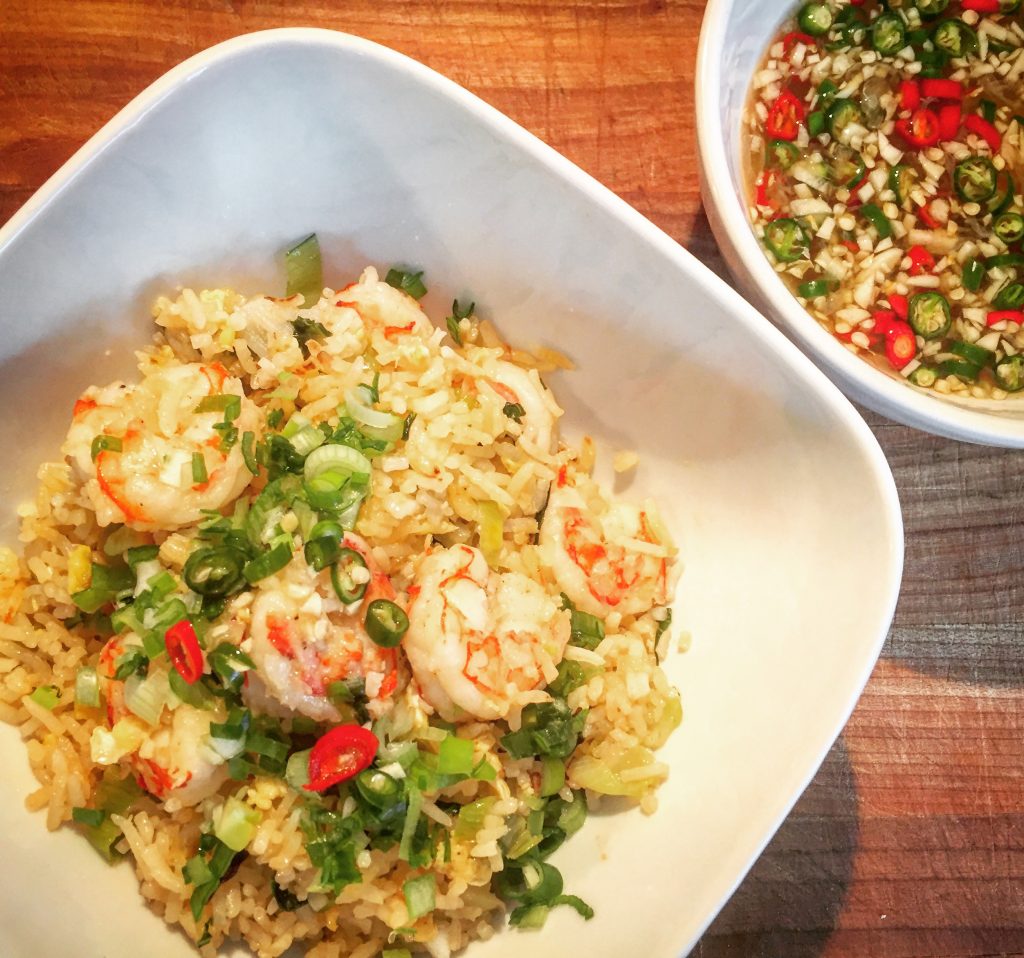 Beware – This Dish Is Completely Addictive!
It's a well known fact that Thai fried rice with prawns is one of the most addictive foods on the planet. Be wary when making this dish for a set number of people as you may very well run out of food long before the meal begins!
Be sure to drop us a line at your favourite social hangout with any new Filipino recipe suggestions you'd like to see here on IC. Wishing you much delicious success in all of your culinary adventures.
About me: My name is Paul Thibault, an impulsive home chef developing delicious gluten free recipes for family and friends regardless of their allergen restrictions or dietary limitations, visit the About Page to learn more.