Impulsive Culinarian's French Canadian Gluten Free Tourtiere Recipe
Savoury Pie Crust Ingredients
1/2 cup Brown Rice Flour
1/2 cup Masa Harina Flour
1/2 cup Sweet White Rice Flour
1/2 cup Tapioca Flour
1/2 cup Potato Starch
1 tsp Guar Gum
2/3 cup Coconut Oil
4 tbsp Dairy Free Margarine
2 Eggs
2 tbsp Cold Water
Tourtiere Filling Ingredients
​1 head Garlic Cloves
1 pound Russet Potato, peeled, large dice
1/2 pound Sweet Potato, peeled, large dice
2 tbsp Dairy Free Margarine
1 medium Yellow Onion, peeled
2 sticks Celery
1 Large Carrot, peeled
1 tbsp Finely Chopped Fresh Rosemary
1 1/2 pounds ground pork
1/2 pound ground beef
3/4 cup Vegetable Broth
1/2 tsp Ground Cinnamon
1/2 tsp Ground Nutmeg
1/2 tsp Ground Cloves
1 tbsp Kosher Salt
Freshly Ground Black Pepper
2/3 cup Toasted Breadcrumbs
Instructions
​Prepare a DOUBLE BATCH of my Gluten Free Pie Crust recipe using the ingredients above which replaces the honey with an equal amount of dairy free margarine to make it a savoury pie
Use 1 batch of the pie dough to line the bottom of a pie plate, roll out the other half in cling wrap to use as the topping\
Refrigerate both until needed
Preheat oven to 400°
Line an 8″ cake pan with tinfoil, long enough so that it can fold over, as well as a small square of parchment paper to prevent it from touching the foil if desired
Trim off the top of the entire head of garlic, exposing each of the cloves inside
Place the head of garlic in the lined pan cut side up
Brush the cloves with a generous amount of olive oil
Fold the parchment paper and over the head of garlic, then cover and seal with the excess tinfoil
Roast garlic in the center rack for 1 hour
Add 8 cups of warm water to a large pot over high heat, generously salted with 2 to 3 tbsp of salt
Peel and chop potatoes and sweet potatoes, adding to the pot as you go while the water is warming up
Once the potatoes are boiling, reduce heat to medium and simmer until potatoes are very soft, around 15 to 20 minutes
Warm another large pot or dutch oven over medium-low heat
Roughly chop the onion, celery & carrot and place them in a food processor, pulse until finely minced throughout
Add margarine, onions, celery & carrots to the skillet and cook, stirring occasionally until mixture is softened, around 15 minutes
Add finely chopped rosemary and sauté for another minute until fragrant
Add pork & beef to the skillet, increase heat to medium-high
Stirring frequently, cook until the meat is browned, around 5 minutes
Temporarily remove meat mixture from heat
Drain excess fat if required
Drain the potatoes and return them to their original pot (not the meat pot)
Add vegetable broth to the potatoes and mash together until very smooth
Add mashed potato, cinnamon, nutmeg & ground cloves to the meat mixture
Stir vigorously until thoroughly combined
Return to the stove top over low heat and bring to a simmer
Simmer for 30 minutes, stirring occasionally to make sure nothing burns or sticks
Set aside and let cool for 15 minutes
Add toasted bread to food processor and blitz into crumbs
Transfer roasted garlic cloves to food processor and blitz until thoroughly combined with the bread crumbs
Transfer filling to a large mixing bowl
Fold in garlic bread crumbs, salt & pepper, cover bowl and refrigerate for 1 hour
Preheat oven to 375 and remove the top pie crust so it warms to room temperature when needed
Fill the refrigerated pie shell with your chilled meat filling
Dab the edge of the pie shell with some water in preparation for your top layer to create a nice seal
Cover with the second rolled out pastry and seal the edges by pressing a fork gently into the dough
Cut a small 'X' (or some fancy design) in the center of the covering pastry
Bake in the center rack for 1 hour and 15 minutes, wrapping the edge with tinfoil at around 50 or 60 minutes to avoid burning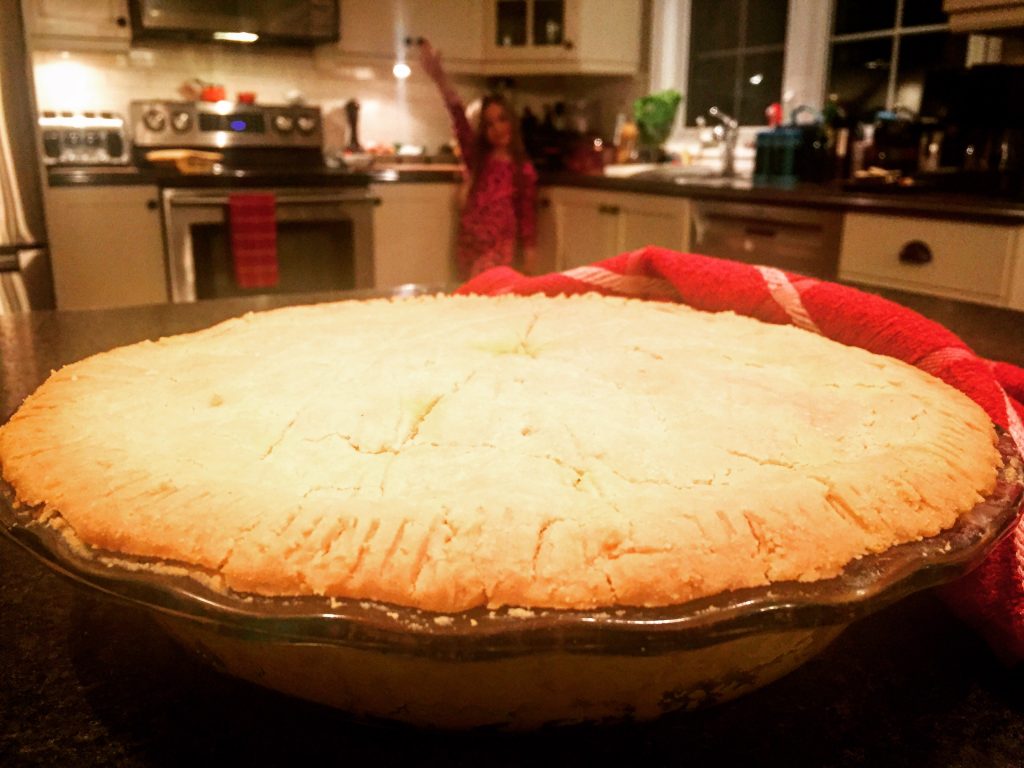 Home Made Tourtiere – A True French Canadian Classic!
There are very few traditional holiday dishes that define French Canadian culture as deeply as tourtiere. With so many closely guarded family spins on this delicious classic, there are many ways to get it just right by tailoring to your whims. It is with great pleasure that I share with you the recipe above, prepared with move love and delight, and as always remaining completely gluten free and dairy free for all to enjoy. Merry Christmas!
About me: My name is Paul Thibault, an impulsive home chef developing delicious gluten free recipes for family and friends regardless of their allergen restrictions or dietary limitations, visit the About Page to learn more.