Impulsive Culinarian's Deliciously Dairy Free & Gluten Free Pesto Pasta Salad Recipe
Ingredients
Pesto
1 clove Garlic, peeled & chopped
1/4 cup Toasted Sunflower Seeds
3 cups Packed Fresh Basil Leaves
1/2 cup Good Extra Virgin Olive Oil
1/3 cup Freshly Grated Dairy Free Cheese
Salt & Pepper to taste
Salad
1 pound Gluten Free Pasta (Fusilli is my personal fav)
1/4 cup Good Olive Oil (or your favourite Flavoured Oil if possible)
Juice of 1 Lemon
1/2 cup Mayonnaise (whatever kind your family prefers)
1 can Pitted Black Olives, chopped
Instructions
Bring a large pot of heavily salted water to a boil (approximately 7 liters of water and 2 generous tablespoons of salt)
Prepare the pesto

Snip fresh basil leaves and place them in a food processor, then pulse a few times to get them roughly chopped
Add sunflower seeds, grated cheese and chopped garlic to the food processor
Pulse well until all ingredients are thoroughly combined
Scrape down the sides with a cake spatula
With the processor running, slowly drizzle the 1/2 cup of oil into your food processor and let it run until the pesto has the consistency of a smooth paste
Add salt & pepper to taste

Boil pasta according to package directions
Drain pasta and place in a large mixing bowl
Add pesto to the warm pasta and mix to prevent the pasta from sticking
Add mayonnaise, lemon juice, 1/4 of flavoured oil and chopped black olives to the salad mixture
Mix well and serve at room temperature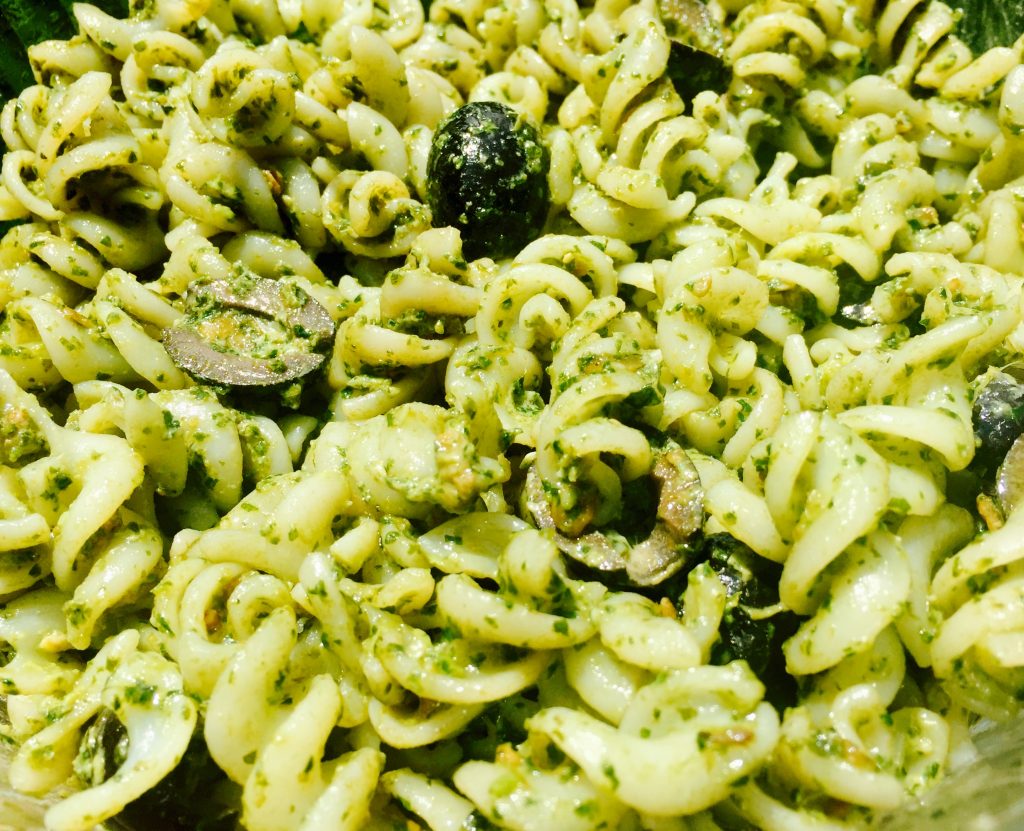 Pesto-Licious Goodness
Among the many types of pasta salad recipes that can be enjoyed, this pesto pasta salad with black olives is most certainly in my top ten. Fresh pesto is always a treat to enjoy, but the addition of black olives and a dollop of creamy mayo brings this already excellent salad to the next level.
Sincerely hoping you enjoy this recipe as much as we do, and as always … happy cooking!
About me: My name is Paul Thibault, an impulsive home chef developing delicious gluten free recipes for family and friends regardless of their allergen restrictions or dietary limitations, visit the About Page to learn more.