Impulsive Culinarian's Indonesian Beef Rendang Recipe
Spice Ingredients
12 Thai Peppers, stem removed

Remove the seeds for a slightly milder dish or keep them in for a very spicy treat!

5 large Garlic Cloves
4 Shallots, peeled
2 ounces Fresh Galangal, peeled, thinly sliced
2 ounces Fresh Ginger, peeled
2 tbsp Coconut Oil, melted
1 tbsp Cumin Seeds
Beef Curry Ingredients
2 tbsp Olive Oil
2 pounds Chuck Beef, cut into rustic 2″ chunks
2 cups Unsweetened Coconut Milk
1 cup Vegetable Broth
3 stalks Lemongrass, trimmed, peeled & smashed
6 Kaffir Lime Leaves, washed & chopped
1 Cinnamon Stick
2 tbsp Organic Honey
1/2 tbsp Salt
Instructions
Add all of the spice ingredients into a food processor
Puree completely until thoroughly combined into a chunky paste, scraping down the sides a few times to combine all ingredients
Warm a Dutch Oven over medium-high heat
In a separate medium sauce pan, begin warming your vegetable broth
Season the rustic chunks of chuck beef with a generous amount of kosher salt & freshly ground black pepper
Add olive oil to the warm Dutch oven
Brown the beef in small batches
Transfer the browned beef to a medium-sized bowl and set aside
Remove Dutch oven from the heat momentarily to let it cool, then return it back over medium heat and add 1 tbsp of olive oil
Transfer spice mixture to the warn Dutch oven and cook, stirring constantly, for 3 minutes until almost all the moisture has evaporated
Add the coconut milk and warm vegetable broth to the Dutch oven, stirring gently to mix well
Return the beef and any drippings back to the Dutch oven
Add all remaining ingredients to the Dutch oven
Bring the mixture to a gentle boil
Reduce the heat to low, gently push down all the beef cubes so they are completely submerged in the broth
Cover and let simmer for three hours
After 3 hours, skim off the film that has accumulated on top of the broth and discard
Using tongs, remove the lemongrass stalks and cinnamon stick
Using a slotted spoon, transfer all of the beef cubes to a separate bowl, cover and set aside
Increase the heat under your Dutch oven to medium-high
Reduce the broth until it starts to form a very thick sauce, around 25 minutes
Once the sauce is almost completely thickened, add the beef and any drippings back into the Dutch oven
Gently fold the beef and sauce together over medium-high heat to complete the thickening process, around 5 more minutes
Remove from the heat and let stand for around 5 minutes
Serve immediately over coconut rice if you can't wait, but to get the full effect of this recipe's incredible flavour … transfer the beef rendang to an air-tight container and refrigerate for 24 hours
To reconstitute after refrigerating, add 1 or 2 tbsp of water to a shallow non-stick skillet, add the beef rendang, cover and simmer over low heat for arounds 15 minutes until warmed through and tender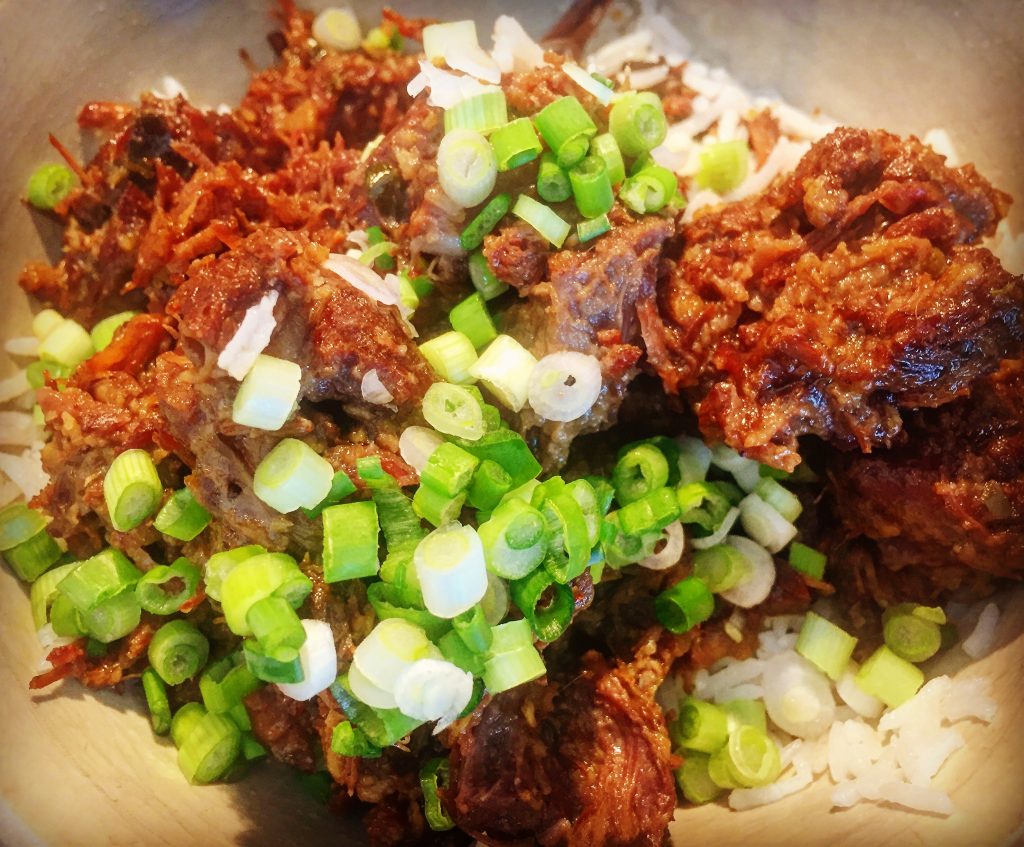 Indonesian Cuisine At It's Very Best
If like me you have heard been curious to make this exquisite Indonesian classic from scratch, I can attest to the fact that it is one of the most rewarding culinary experiences for lovers of spicy Asian food. The unmistakably delicious and intriguing flavours of this Sumatran delight are so satisfying I wholeheartedly encourage you to try it at least once in your life, for doing so will almost certainly transform you into a dedicated fan of Indonesian cooking.
Be sure to drop us a line at your favourite social hangout with any new Filipino recipe suggestions you'd like to see here on IC. Wishing you much delicious success in all of your culinary adventures.
About me: My name is Paul Thibault, an impulsive home chef developing delicious gluten free recipes for family and friends regardless of their allergen restrictions or dietary limitations, visit the About Page to learn more.