Impulsive Culinarian's Gluten Free Fish And Chips With Dairy Free Tartar Sauce Recipe
Potato Ingredients
2 pounds Potatoes, peeled, rustic fry cut
3 tbsp Olive Oil
1 tbsp Kosher Salt
1 tbsp Sugar
1/2 tsp Onion Powder
1/2 tsp Garlic Powder
1 to 3 tsp Cajun Spice (optional)
Fish Ingredients
3 to 4 cups Oil for frying
1 pound Fresh Cod or Haddock
1/4 cup Corn Flour
1/4 cup Tapioca Flour
1/4 Sweet White Rice Flour
1 1/2 tbsp Baking Powder
1/2 tsp Fine Sea Salt
3/4 cup Carbonated Water
Tartar Sauce Ingredients
1/2 cup Dairy Free Mayo
2 tbsp Sweet Gherkins, finely chopped
2 tbsp Capers
Juice of 1/2 Lemon
1/2 tsp Kosher Salt
Freshly Ground Black Pepper to taste
Instructions
Preheat oven to 400
Peel & cut potatoes into large rustic fries
Thoroughly combine all potato ingredients in a large mixing bowl
Spread seasoned potatoes evenly on a parchment-lined baking sheet
Roast in the center rack of your oven for 25 minutes, then flip the potatoes and cook for an additional 15 minutes
While potatoes are roasting, heat the oil for frying over medium-high heat in a large pot with high sides
Season the fish with salt & pepper on both sides
In a large mixing bowl, combine the flours, baking powder and salt, then whisk together well
Add the carbonated water to your dry ingredients and whisk again until thoroughly combined, then let sit for around 5 minutes
When the oil reaches around 375°, give the batter another quick whisk
Dredge each piece of fish in the gluten free batter and start frying the fish in small batches
Transfer each piece to a large plate lined with paper-towel to drain once cooked to a nice golden brown
In a separate medium-sized bowl, combine all tartar sauce ingredients together and mix well
Serve immediately and enjoy!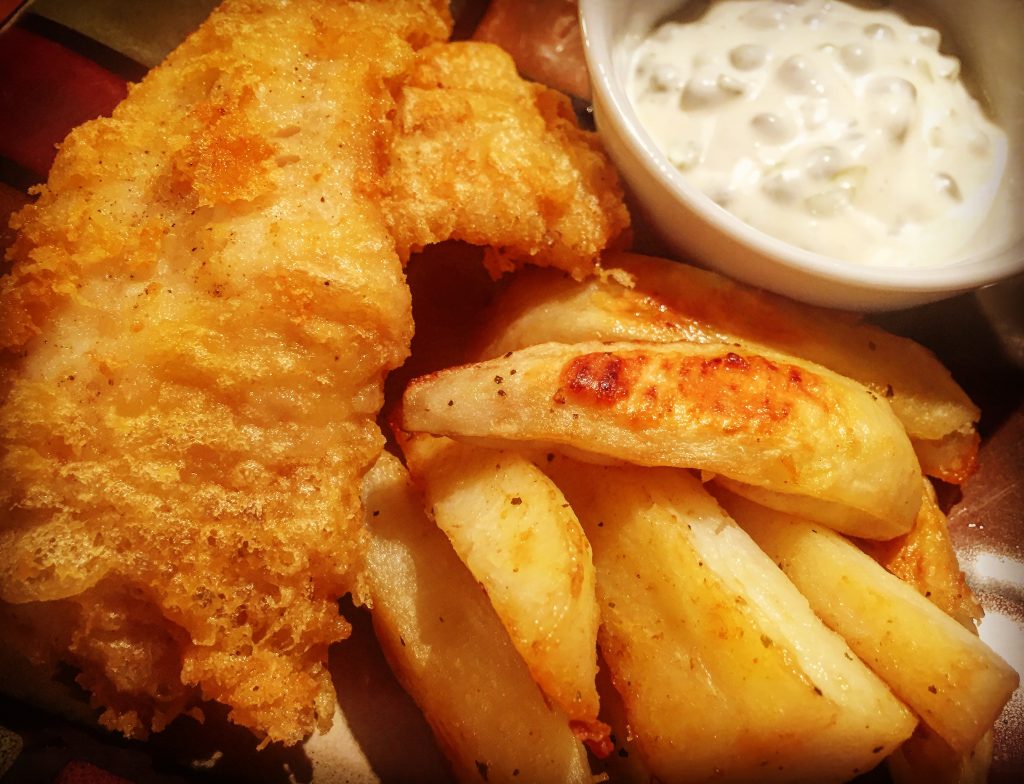 Indulge In Deliciously Crispy Gluten Free Pub Fare!
One of the absolute best dishes served in any respectable Irish Pub is that unmistakably addictive flavour of deep-fried crispy fish over a bed of warm home-cut fries with a side of tartar sauce. Why deny yourself this guilty pleasure when you can enjoy the exact same thing at home with this gluten free & dairy free version that is guaranteed to satisfy all your guests. I've spent a LOT of time in Irish pubs over the decades and enjoying this recipe is just like being back at the pub with my buds all over again. Try for yourself and let me know what you think, slainte!
About me: My name is Paul Thibault, an impulsive home chef developing delicious gluten free recipes for family and friends regardless of their allergen restrictions or dietary limitations, visit the About Page to learn more.