Sous Chef Sam's Moist & Delicious Gluten Free Chocolate Cupcake Recipe
Ingredients
Wet Ingredients
1/2 cup freshly brewed Black Coffee
1/2 cup Dairy Free Milk
2 tsp Pure Vanilla Extract
Dry Ingredients
1/2 cup Cocoa Powder
1/3 cup Corn Flour
1/3 cup Millet Flour
1/3 cup Sweet White Rice Flour
1/3 cup Tapioca Flour
1/3 cup Potato Starch
1/2 tsp Guar Gum
1/2 tsp Baking Soda
1/4 tsp Salt
"Butter" Mixture
3/4 cup Dairy Free Margarine
1 1/4 cup Sugar
2 Eggs
Instructions
Preheat oven to 350 degrees and line a 12 muffin tin with cupcake liners.
In a medium-sized bowl, combine the coffee, dairy-free milk and vanilla extract; whisk briefly and set aside.
In a large mixing bowl, whisk together all the dry ingredients and set aside.
Soften the margarine in a another, separate large mixing bowl until smooth.
Add the sugar to your softened margarine and mix until thoroughly combined.
Add eggs to the sugar mixture and mix well.
Add the chocolate & coffee mixture to the egg batter and gently whisk together until smooth.
Add flour mixture to the egg batter in 2 equal portions, stirring gently after each addition until thoroughly combined.
Using a large egg whisk, give the mixture one last vigorous mix to make sure there are no dry lumps left in the batter.
Carefully pour all the batter evenly into each compartment of the muffin tin
Bake for 30 minutes in the center rack.
Let the cupcakes cool for 5 minutes then decorate with your topping of choice.
Store in an air-tight container to retain the moist and delicious texture.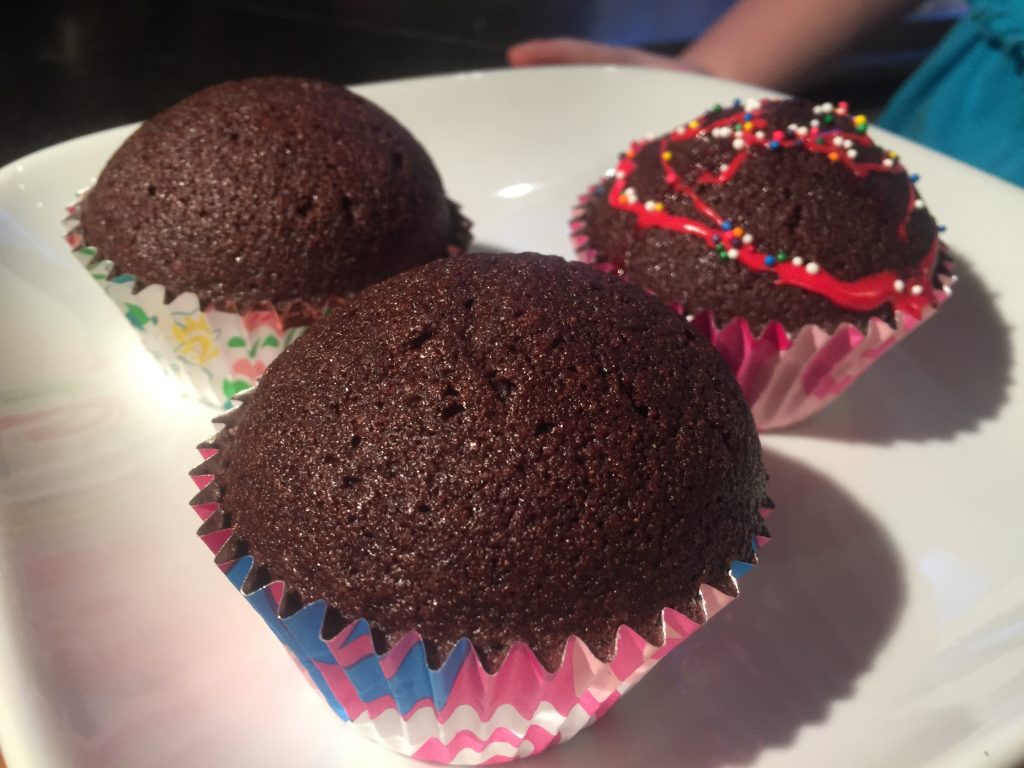 Life Is So Much Better With Perfect Gluten Chocolate Cupcakes!
My young sous-chef Sam was so excited to host this episode, and at only 5 years old I honestly believe she did an amazing job. Her older sister even complimented her on doing so well … does it get any better than this? In fact it does, since the end result of Sam's hard work was a delicious batch of moist and yummy chocolate cupcakes that both the girls could decorate and enjoy together. Another beautiful day on the IC kitchen!
About me: My name is Paul Thibault, an impulsive home chef developing delicious gluten free recipes for family and friends regardless of their allergen restrictions or dietary limitations, visit the About Page to learn more.