Impulsive Culinarian's Gluten Free Traditional Irish Barmbrack Recipe
Soaking Ingredients
2 cups Freshly Brewed Black Tea
1/4 cup Golden Raisins
1/4 cup Sultana Raisins
1/4 cup Dried Cherries
1/4 cup Dried Currants
1/4 cup Other Dried Fruit
Yeast Mixture Ingredients
3/4 cup Warm Water (max 100°)
1 tbsp Traditional Active Dry Yeast
2 tsp Sugar
Dry Ingredients
1 1/3 cups Tapioca Flour
2/3 cup Potato Starch
2/3 cup Corn Starch
2/3 cup Corn Flour
2/3 cup Sweet White Rice Flour
1/4 cup Sugar
1 tbsp Baking Powder
1 tsp Guar Gum
1 tsp Fine Sea Salt
1 tsp Ground Cinnamon
1/2 tsp Ground Nutmeg
Wet Ingredients
1/2 cup Warm Water
1/2 cup Warm Dairy Free Milk
1 Organic Egg
1/3 cup Dairy Free Margarine, melted
Additional Ingredients
1/3 cup Marmalade
1 generous tbsp Orange Zest (zest of 1 orange)
2 tbsp Organic Honey
Instructions
Preheat oven to 375°
Bring a pot or kettle of water to boil
Line a 9″ x 2″ cake pan or spring form pan with a round of parchment paper … make sure your pan has a minimum of 2″ high sides!
Steep a generous 2 tbsp of black tea in 2 cups or more of the boiling water, let steep for around 5 minutes
Combine the yeast mixture inn a medium sized bowl, i.e.: the 3/4 cup warm water (max 100°), yeast and sugar
Whisk the yeast mixture together well until yeast & sugar are completely dissolved,m then set aside in a warm area to proof
Add all the dried fruit to a separate medium bowl, then cover with the freshly brewed tea and set aside for 10 minutes to soak
Whisk all of the dry ingredients together in a large mixing bowl
In a separate medium bowl whisk together the melted margarine, and all remaining wet ingredients
Zest a large orange and sett the shavings aside
Once the dried fruits are nice and plump, add both the yeast mixture and the wet mixture to the dry mixture, then combine thoroughly with a cake spatula
Switch to a large whisk and combine vigorously until nice and smooth
Discard the tea and add the drained, dry fruits to the large mixing bowl
Add the marmalade and orange zest and fold everything together
Pour the dough into your 9″ x 2″ parchment-lined pan
Set aside in warm place to rise for 15 minutes
Once thee dough has risen, put it in the oven right away and bake in the center rack for 40 minutes
Remove from the oven and let cool for 5 minutes, then carefully transfer to a cooling rack
Let cool for around 15 minutes more then transfer too a cutting board
Cut into generous wedges and serve immediately drizzled organic honey and a side of home-made preserves!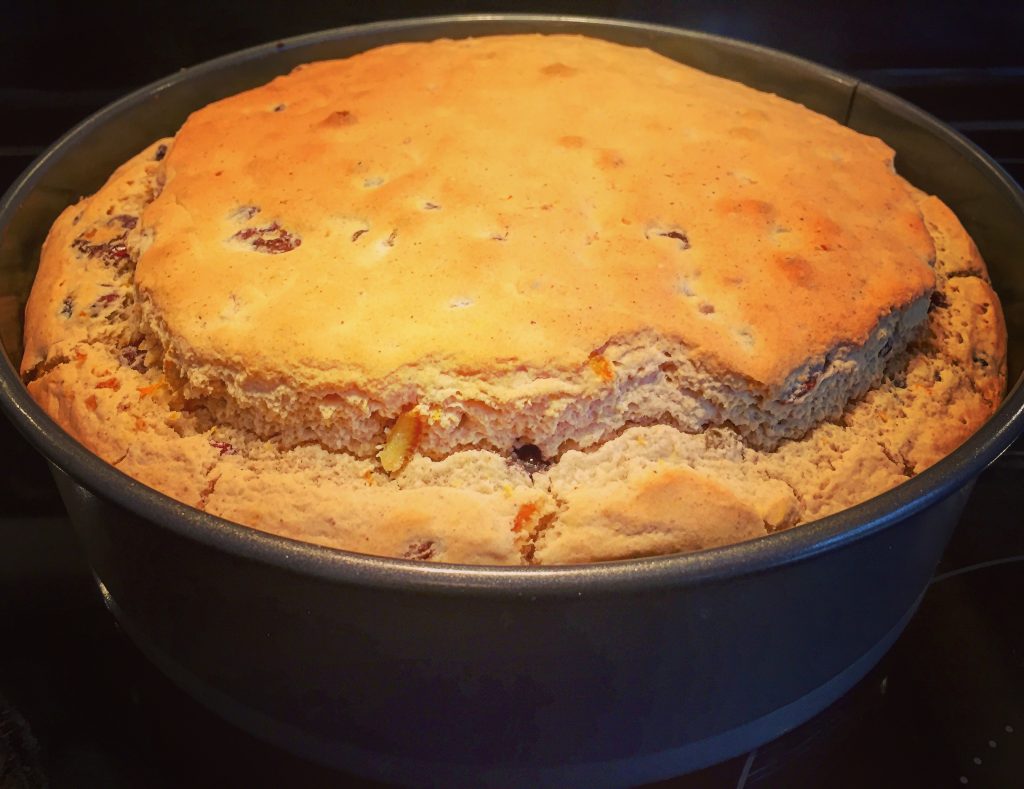 This Traditional Irish Barmbrack Recipe Will Make You Want To Dance A Jig!
Reminiscent of other holiday bread recipes like panetone, this Irish festive fruit bread is a perfect addition to your St. Patrick's Day brunch or luncheon. Best served warm fresh out of the oven, left over barmbrack can always be warmed up the day after or even cubed and used as a delicious ingredient for other sweet gluten free recipes later on. Here's wishing you a delicious St. Paddy's day full of health, happiness and of course, a hearty dose of barmbrack with honey, yum!
About me: My name is Paul Thibault, an impulsive home chef developing delicious gluten free recipes for family and friends regardless of their allergen restrictions or dietary limitations, visit the About Page to learn more.