Impulsive Culinarian's Filipino Beef Mechado Recipe
Stew Ingredients
2 Yellow Bell Peppers
1 head Garlic Cloves
2 cups Vegetable Broth
2 tbsp Olive Oil
2 pounds Chuck Beef, trimmed & cut into rustic chunks
2 tbsp Dairy Free Margarine
1 large Spanish Onion, peeled, quartered, thinly sliced
1 large Carrot, peeled, long matchstick cut
1 cup full-bodied Red Wine
2 Bay Leaves
Tomato Sauce Ingredients
4 large Tomatoes, peeled & seeded
1 overripe Banana
2 tbsp Coconut Oil
1 Shallot, finely chopped
1 tsp Fresh Ginger, finely chopped
1 Garlic Clove, finely chopped
1 tsp Sriracha Sauce
2 tbsp Brown Sugar
1 ounce Rum
1/2 tbsp Kosher Salt
Freshly Ground Black Pepper
Instructions
Set broiler to maximum
Core & trim yellow peppers into flat slices
Place sliced peppers skin side up on a foil-lined baking sheet
Broil peppers in the top-most oven rack for around 8 minutes until skin blisters and is nicely blackened
Let cool for 5 minutes then transfer roasted peppers to an air-tight container and set aside
Turn off broiler and set the oven to 400°
Carefully cut the top off your head of garlic
Place the head of garlic in an oven-safe ramekin or small baking dish with sides
Drizzle olive oil over each exposed clove
Cover with foil and bake in the center rack for 1 hour
In a medium sauce pan, warm the vegetable broth on a back burner, then cover & simmer over low heat until needed
Peel & seed the tomatoes
Transfer the tomatoes and banana to a food processor, then blitz until smooth
In another medium sauce pan, warm the coconut oil over medium-low heat
Add finely chopped shallot & ginger to the coconut oil and saute, stirring frequently until softened, around 5 minutes
Add finely chopped garlic clove to the sauce pan and saute for another 2 minutes
Increase to medium, then add the pureed tomatoes & banana to the shallots, ginger & garlic
Add sriracha, sugar and rum to the tomato sauce
Bring to a gentle boil, then reduce the heat to medium-low
Partially cover the sauce to avoid splattering while still allowing moisture to escape and let simmer for 1 hour
Peel and the roasted peppers and slice into long matchstick sized pieces
Trim the chuck beef if required and cut into approximately 1 1/2″ rustic chunks
Season the beef generously with salt & pepper
Warm a large Dutch oven over medium-high heat
Add olive oil to the dutch oven
Brown the beef chunks in small batches then set aside in a clean bowl
Reduce the heat of your Dutch oven to medium, add margarine, Spanish onion & carrots, stirring frequently to de-glaze the pan
When the carrots & onions just start to brown and are tender (around 6 to 8 minutes), add red wine and let simmer for 5 minutes
Add thickened tomato sauce to the Dutch oven
Return beef and any drippings to the Dutch oven
Add sliced peppers to the Dutch oven
Carefully pluck out the roasted garlic cloves and add them to the stew
Gently stir to combine
Add just enough of the warm vegetable broth to completely submerge all of your beef cubes, pressing them down if necessary
Bring to a gentle boil, then reduce heat to the lowest possible setting
Add the bay leaves, cover and let simmer for 3 hours
Remove the bay leaves and serve over steamed rice with a sprinkling of chopped green onions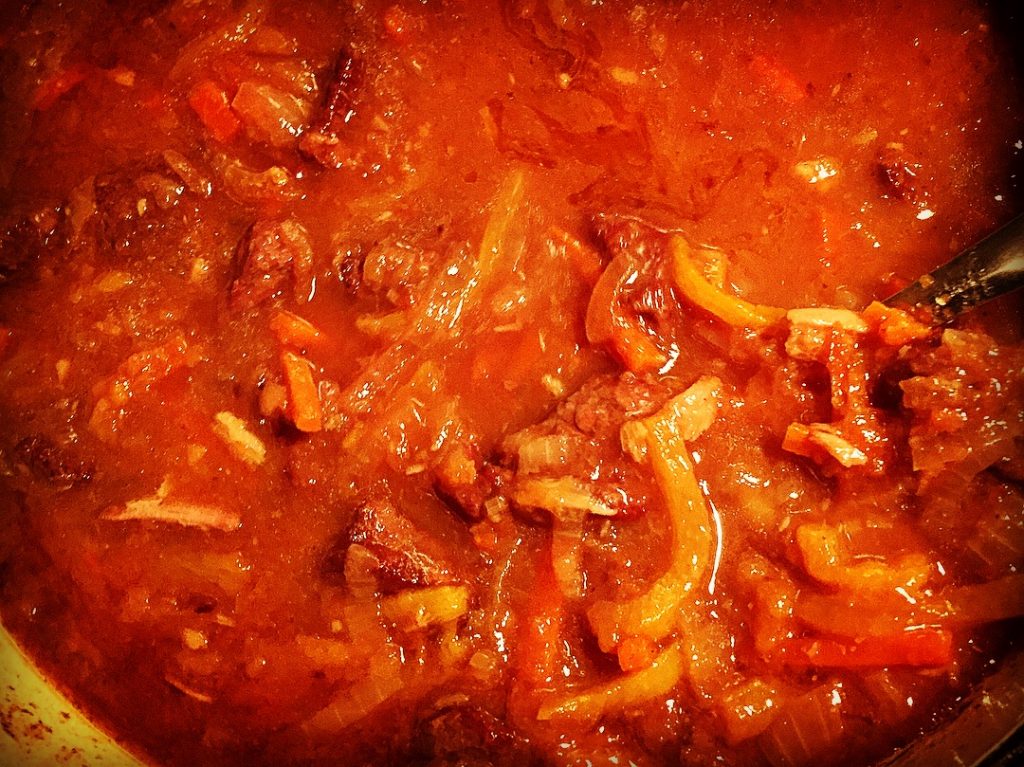 Time-Consuming? Yes … Worth IT? OMG YES!
Certainly unconventional, definitely lots of time spent on prep, and you will end up using a lot of pots there is no doubt! But, I can say with wholehearted conviction that this is absolutely one of the best beef stews I have ever had in my entire life and I highly recommend you set aside time at least one weekend in your life to give it a try and see for yourself why I am so passionately excited about this incredible dish. My love for Filipino cooking increases with every new dish I try, might just have to visit one day!
Be sure to drop us a line at your favourite social hangout with any new Filipino recipe suggestions you'd like to see here on IC. Wishing you much delicious success in all of your culinary adventures.
About me: My name is Paul Thibault, an impulsive home chef developing delicious gluten free recipes for family and friends regardless of their allergen restrictions or dietary limitations, visit the About Page to learn more.