Impulsive Culinarian's Deliciously Dairy Free Risotto Recipe
Ingredients
8 cups Mushroom Broth
1/4 cup Dairy Free Margarine
1 pound Mushrooms, thinly sliced
3 tbsp Olive Oil
6 Shallots, chopped
2 cups Arborio Rice
4 Garlic Cloves, peeled & thinly sliced
1 cup White Wine
3 ounces Dairy Free White Cheese. grated
2 tbsp Dairy Free Margarine
2 tbsp White Wine
Fine Sea Salt & Freshly Ground Black Pepper to taste
Instructions
In a large saucepan, bring mushroom broth to a gentle boil, then reduce heat to minimum and cover to keep warm
In a non-stick skillet, melt the 1/4 cup margarine over medium-high heat
Saute sliced mushrooms until they are nicely browned all over
Transfer the mushrooms to a clean bowl and set aside
In a separate large saucepan, warm olive oil over medium heat
Add chopped shallots to the hot oil and saute for around 5 minutes
Add rice to the shallots and stir for another 3 or 4 minutes
Add sliced garlic to the rice and keep stirring for another minute
Add white wine to the rice and stir to de-glaze and combine until the wine has almost completely evaporated
Using a good ladle, spoon one ladle of warm mushroom broth at a time into the rice, stirring constantly until almost of of the ladle of broth is absorbed by the rice; repeat this process for 20 to 25 minutes until the rice is cooked to your taste
When the rice is cooked, reduce the heat to minimum and add your grated cheese and 2 tbsp of margarine, stir until melted and combined
Fold in the sauteed mushrooms until nicely combined
Add 2 tbsp of white wine (or more to taste) and gently stir to combine
Add salt & pepper to taste, serve with a sprinkling of freshly chopped parsley for garnish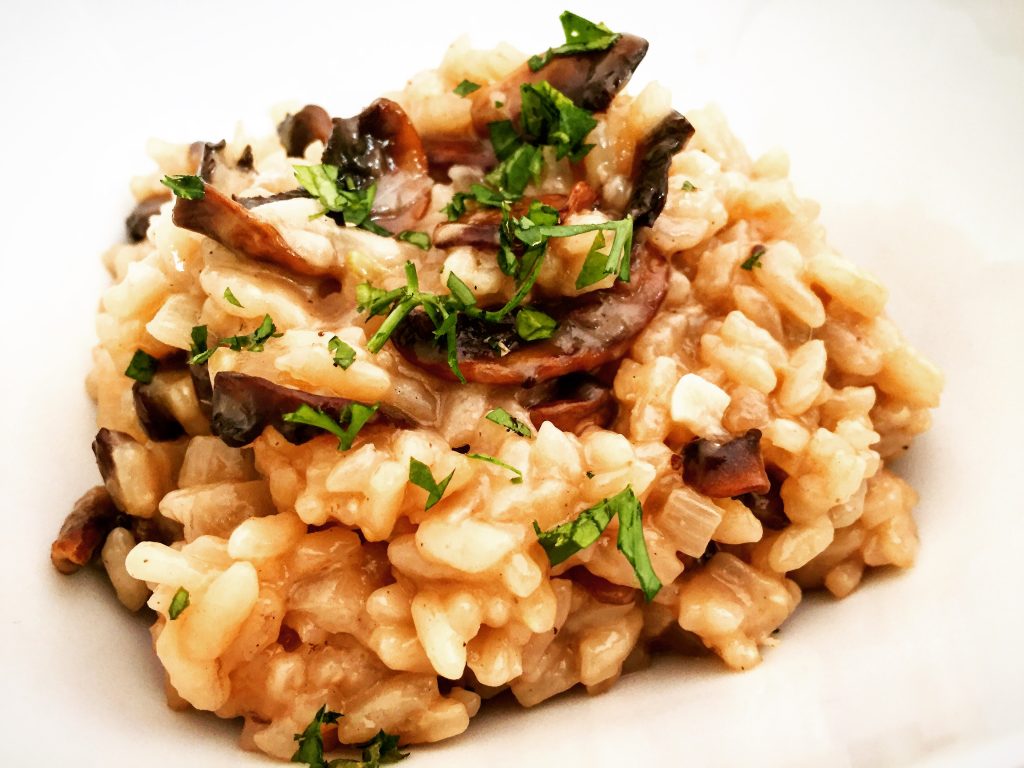 Silky Smooth Dairy Free Mushroom Risotto Made With Homemade Mushroom Broth
Admittedly, I have been peeling my mushrooms for as long as memory serves, which means I always have plenty of raw materials for making delicious homemade mushroom broth. My basic recipe for it is to take the peelings from a 1/2 pound container of mushrooms, simmer them in 2 cups of water with a bay leaf and some peppercorns for a couple hours, and that will do the trick. Of course you can use any kind of broth you like, but homemade mushroom broth is my personal favourite.
With the addition of some silky dairy free cheese and some dairy free margarine, I suspect that even the most picky eaters at your table will be hard-pressed to resist this dish, especially since it is completely allergen friendly … buon appetito!!
About me: My name is Paul Thibault, an impulsive home chef developing delicious gluten free recipes for family and friends regardless of their allergen restrictions or dietary limitations, visit the About Page to learn more.