Impulsive Culinarian's Labor Day Pulled Pork Recipe With Homemade Canadian BBQ Sauce
Pulled Pork Ingredients
4 pound Pork Shoulder (bone-in)

(alternately you can use a 3 pound boneless cut of pork)

1/3 cup Brown Sugar
1 tbsp Crushed Pepper Flakes
1 tbsp Kosher Salt
1/2 tsp Freshly Ground Black Pepper
5 or 6 Garlic Cloves, peeled & smashed
2 cups Apple Cider Vinegar

(alternately, you use 1 cup of vinegar and top up with water until you have 2 cups)
Pulled Pork Instructions
Preheat oven to 325°
Trim any excess fat from the pork shoulder
Place trimmed pork shoulder in a dutch oven
Add brown sugar, crushed pepper flakes, salt & pepper to the dutch oven and rub dry mix all over the pork shoulder
Add smashed garlic and cider vinegar to the dutch oven
Cover and place in the 325° oven
Let it cook undisturbed for 4 hours
Once cooked, transfer the cooked pork to a large cutting board or work surface
Shred the pork using two sturdy forks, setting aside the final shreds in a large mixing bowl
Discard the bones and fatty pieces
Strain approximately 1/3 cup of the brine from your dutch oven and add it to the pulled pork
Add enough juice so that the pork seems moist without any additional juice collecting at the bottom of the bowl
Keep pulled pork warm until ready to serve
Top with BBQ sauce
Impulsive Culinarian's Homemade Canadian BBQ Sauce
BBQ Sauce Ingredients
3 tbsp Dairy Free Margarine
1 Shallot, finely minced
3 Garlic Cloves, finely minced
2 tbsp Canadian Rye Whiskey
1 cup Ketchup
1/4 cup Apple Cider Vinegar
3 tbsp Worcestershire Sauce
2 tbsp Real Maple Syrup
1/3 cup Brown Sugar
Freshly Ground Black Pepper
BBQ Sauce Instructions
Place a standard sauce pan over medium heat
Add margarine to the sauce pan
Add minced onion to the sauce pan and saute for around 3 or 4 minutes until softened
Add minced garlic to the sauce pan and saute until fragrant
Remove pan from heat and carefully add rye whiskey to the onions and garlic
Return sauce pan to the heat and simmer for another couple minutes
Add all remaining ingredients and reduce heat to low
Simmer for an additional 20 minutes
Remove from heat and set aside to cool
Reheat just before serving and spoon over pulled pork as desired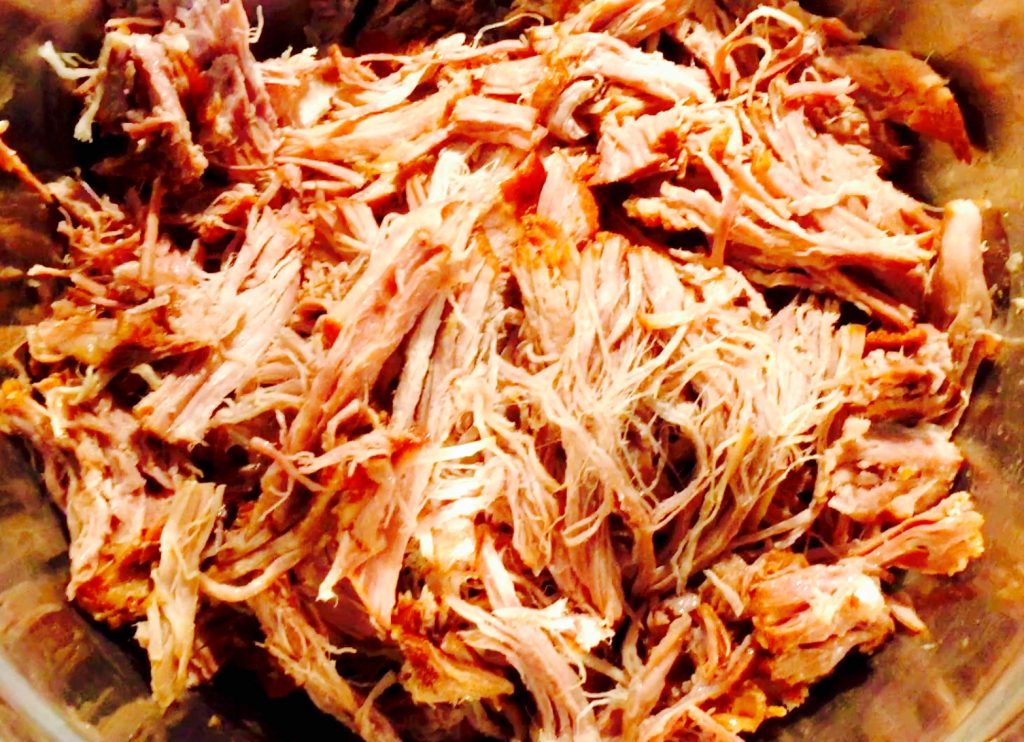 Celebrate Labor Day, Or Any Day, With The Comforting Taste Of Slow-Cooked Pulled Pork
Probably one of the most satisfying taste sensations for any carnivore is the mouth-watering satisfaction of a delicious pulled pork sandwich slathered in a sweet homemade BBQ sauce. I can't imagine a more appropriate way t celebrate the last long weekend of summer than with this incredible comfort food on the menu.
Here's hoping that this pulled pork recipe features prominently as a key part of your labor day party ideas, cheers and happy long weekend!
About me: My name is Paul Thibault, an impulsive home chef developing delicious gluten free recipes for family and friends regardless of their allergen restrictions or dietary limitations, visit the About Page to learn more.