Impulsive Culinarian's Deliciously Dairy Free Potato Salad Recipe
Salad Ingredients
8 Medium Potatoes, peeled & cubed
5 Hard-Boiled Eggs, sliced
3 Celery Stalks, small dice
3 Shallots, finely chopped
2 Green Onions, finely chopped
Dressing Ingredients
1 1/2 cups Mayonnaise
2 tbsp Apple Cider Vinegar
1 tbsp Dijon Mustard
1 tbsp Organic Honey
3 sprigs Fresh Dill, chopped
1 tsp Celery Seed
1 Garlic Clove, monced
1 tsp Kosher Salt
Freshly Ground Black Pepper
2 tbsp Capers (optional)
Instructions
Bring a large pot of salted water to a boil
Boil potatoes until fork tender, then set aside to cool
In a large mixing bowl, add all of the dressing ingredients and mix until thoroughly combined
Add the egg, celery, shallots & green onions to the dressing and gently stir to combine
Add cooled potatoes to the mixing bowl and gently stir to combine
Serve immediately or refrigerate until ready to serve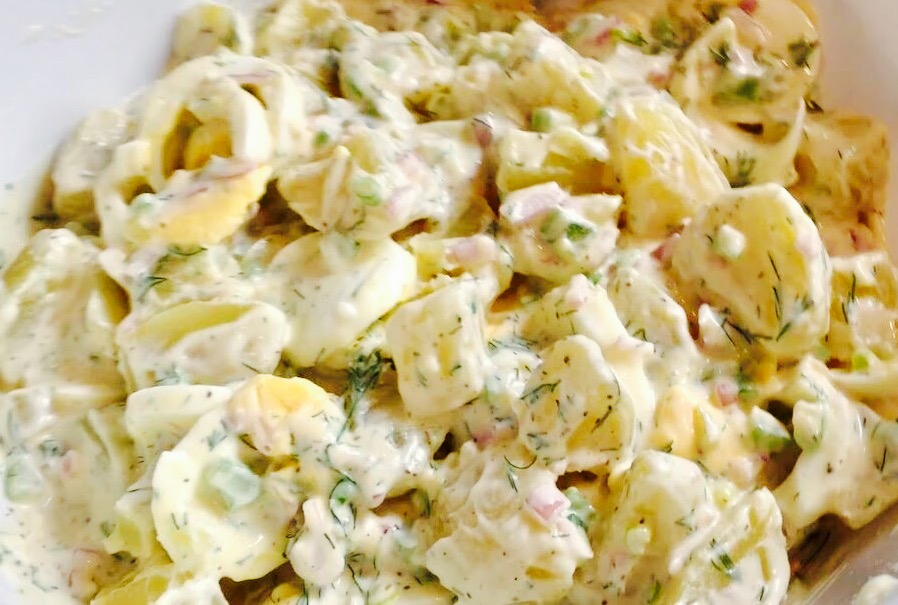 Potato Salad Never Tasted So Good
There are many ways to make potato salad, but I have always been a big fine of sticking to tradition whenever possible. Breaking the rules just a bit is always a good thing but doing so on the foundation of a classic original is definitely a recipe for success.
My recipe above gives a nod to the traditional classic, using fresh dill and sliced eggs in a creamy mayo dressing to bring back all those fond potato salad memories, but the addition of capers brings a new element of surprise to this delicious classic.
About me: My name is Paul Thibault, an impulsive home chef developing delicious gluten free recipes for family and friends regardless of their allergen restrictions or dietary limitations, visit the About Page to learn more.