Impulsive Culinarian's Dairy Free Mashed Potatoes With Roasted Garlic & Caramelized Onions Recipe
Ingredients
1 head of Garlic Cloves (large)
2 pounds Russet Potatoes, peeled, large dice
4 French Shallots, peeled, finely chopped
6 tbsp Dairy Free Margarine
1/2 cup Dairy Free Milk
1/2 tsp Kosher Salt
Freshly Ground Black Pepper to taste
Instructions
Preheat oven to 400°
Line an 8″ cake pan with parchment paper, long enough so that it can fold over
Trim off the top of the entire head of garlic, exposing each of the cloves inside
Place the head of garlic into the parchment lined pan, cut side up
Brush the cloves with a generous amount of olive oil
Fold the parchment over the head of garlic, then cover and seal the pan with a square of tinfoil
Roast garlic in the center rack for 1 hour
Warm a non-stick skillet over low heat
Peel and finely chop the shallots
Add 3 tbsp of the margarine to your skillet
Add the chopped shallots to the margarine and cook, stirring occasionally, for around 45 minutes until caramelized
While onions are cooking, pour 8 to 10 cups of warm water into a large pot over maximum heat
Add 2 or 3 tbsp of salt to the water
While the water is heating, peel & cut your potatoes, adding them to the pot as you go
Once the potatoes come to a boil, reduce the heat to medium and simmer until very tender, around 15 to 20 minutes
Drain the potatoes in a colander and set aside
Return pot to the stove top over medium heat, and add the milk and remaining 3 tbsp of margarine to the pot
Heat until the margarine has melted and the m,ilk just starts to bubble, then remove from heat
Return the potatoes to the milk and margarine mixture
Once onions are caramelized, add them along with any margarine from the skillet into the potato mixture
When garlic is done, let cool for 5 minutes then gently transfer the soft garlic cloves into the potato mixture
Season with salt & freshly ground black pepper, and mash together until desired consistency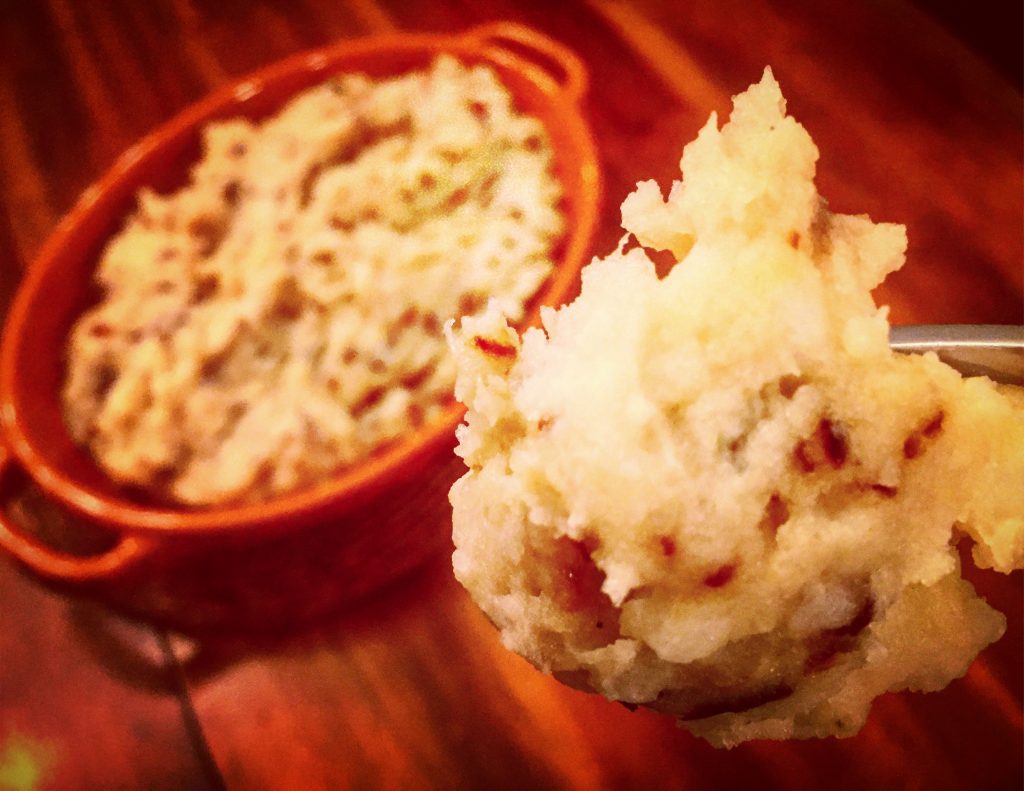 An Essential Comfort Food Recipe For Your Christmas Menu
While there are certainly going to be many beautiful dishes gracing your table this holiday season, none will be as important as your mashed potatoes! Mixed with homemade gravy, served with roasted vegetables, or most delicious of all, topped with a few morsels of scrumptious homemade stuffing … what could be more festive or enjoyable than that?!
The combination of all these dishes, graced by a fragrant roasted garlic mashed potato side, will definitely bring joy and cheer to all who attend.
About me: My name is Paul Thibault, an impulsive home chef developing delicious gluten free recipes for family and friends regardless of their allergen restrictions or dietary limitations, visit the About Page to learn more.