Impulsive Culinarian's Dairy Free & Gluten Free Creamy Lemon Asparagus Pasta With Shrimp & Fresh Herbs Recipe
Ingredients
1 pound Raw Shrimp, size 26-30, peeled & thoroughly cleaned
1 bunch of Asparagus
8 ounces of Long Gluten Free Pasta (Linguine, Spaghetti, or anything you like)
1 cup Unsweetened Coconut Milk
4 ounces White Dairy free Cheese, grated
3 tbsp Dairy Free Margarine
4 Shallots, thinly sliced
4 Garlic Cloves, thinly sliced
1/3 cup White Wine
Juice of 1 Lemon
4 tbsp chopped Fresh Oregano
2 tbsp chopped Fresh Basil
Instructions
Bring a large pot of heavily salted water to a boil
While water is heating, thoroughly clean the raw shrimp and rinse with cold water
Pat the shrimp dry with paper towel
Season the shrimp with salt & pepper, cover & refrigerate until needed
Trim the woody ends off your asparagus stalks and discard
Trim the asparagus tips off and set them aside until needed
Once the water is boiling, add the remaining asparagus stalks to the boiling water and blanch until tender, around 5 minutes
Carefully remove the cooked asparagus stalks with a slotted spoon and transfer them to a food processor
Add pasta to the boiling water and cook as per package instructions
Add coconut milk to the food processor and blitz with the cooked asparagus until smooth
Transfer the creamy asparagus mixture to a medium sauce pan, cover and set over medium-low heat
Chop the fresh herbs and set aside
When pasta is cooked, drain and transfer to a bowl of cold water to stop the cooking process and prevent it from becoming a sticky mess
Add shredded cheese to the asparagus cream mixture, raise the heat to medium and stir frequently until the cheese is completely melted
Season with salt & pepper, reduce the heat to minimum, then cover and let simmer until needed
Warm a large non-stick skillet over medium heat
Add margarine & shallots to the skillet and saute until softened, around 4 minutes
Add garlic to the skillet and saute for an additional minute
Add shrimp to the skillet and saute until just cooked, flipping as needed to ensure an even cook through each shrimp, around 2 minutes
Temporarily remove skillet from the heat, transfer cooked shrimp to a clean bowl, cover to keep warm and set aside
Return skillet with garlic and onions back to the medium heat
Add asparagus tips and white wine to the skillet
When the wine has reduced (around 3 minutes), add the lemon juice
Add warm cheesy asparagus sauce to the skillet and stir to combine
Drain pasta and add it to the skillet
Add fresh herbs to the skillet
Return shrimp along with any drippings back to the skillet
Gently fold everything together
Correct the seasonings if necessary, remove from heat and serve immediately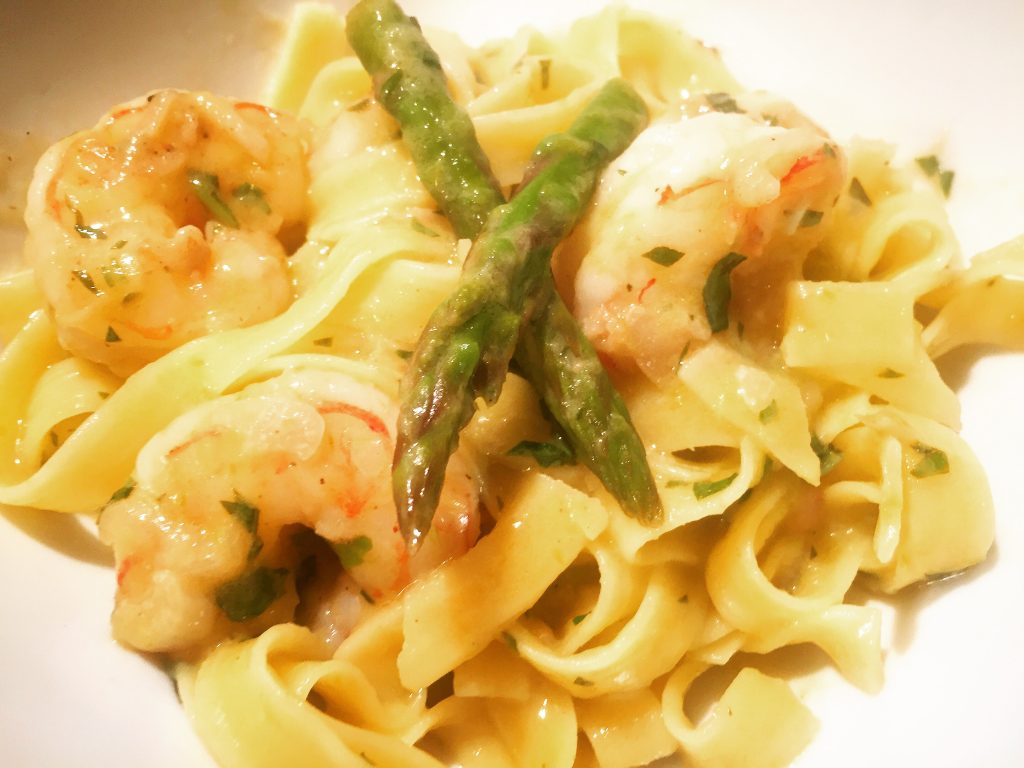 Spring Time Asparagus With Fresh Herbs In A Lemony Cream Sauce … YUM!
This recipe exudes freshness and delicious springtime flair, while also providing the comforting warmth of a dairy free cream sauce that will have your guests coming back for seconds, or maybe even thirds!
About me: My name is Paul Thibault, an impulsive home chef developing delicious gluten free recipes for family and friends regardless of their allergen restrictions or dietary limitations, visit the About Page to learn more.