Impulsive Culinarian's Gluten Free & Dairy Free Chocolate Glazed Irish Brownie Bar Recipe
Brownie Ingredients
3/4 cup Sugar
1/2 cup Almond Flour
1/3 cup Coconut Oil, melted
1/4 cup Dairy Free Milk
1/2 cup Cocoa Powder
2 Tbsp Cornstarch
1/2 tsp Baking Powder
2 Organic Eggs
1 tsp Pure Vanilla Extract
"Irish" Filling Ingredients
1 cup Icing Sugar
1/2 cup Corn Starch
3 tbsp Dairy Free Margarine
3 Tbsp Dairy Free Milk
1 tsp Vanilla Extract
3 to 6 drops Green Food Colouring
Chocolate Glaze Ingredients
3/4 cup Dairy Free Semi-Sweet Chocolate, melted
3 tbsp Dairy Free Margarine
1 tbsp Organic Honey
1/2 tsp Pure Vanilla Extract
Instructions
Preheat oven to 350°
Grease an 8" square baking dish with some dairy free margarine
In a large mixing bowl, combine all brownie ingredients, whisking together vigorously until thoroughly smooth and combined
Transfer the brownie mixture to your prepared baking dish and spread evenly
Bake for 25 minutes
Using an electric mixture, mix together the icing sugar, corn starch and margarine in a large mixing bowl
Add the remaining filling ingredients and thoroughly mix together until smooth
Remove brownies from the oven and let cool for 30 minutes
Once cooled, spread the green icing evenly on top of the brownies
Put in the freezer for 20 minutes to set
Gently melt the glazing chocolate according to package instructions, or microwave in two 20 second bursts whisking vigorously until smooth
Add margarine to the warm chocolate and whisk together until melted and smooth
Add honey and vanilla extract to the chocolate glaze and whisk until smooth
Once brownies and green icing have set, pour glaze evenly over the icing until completely covered, then refrigerate for 1 hour
Let stand at room temperature before serving, cut into bars or cubes with a sharp knife, then enjoy with friends & family!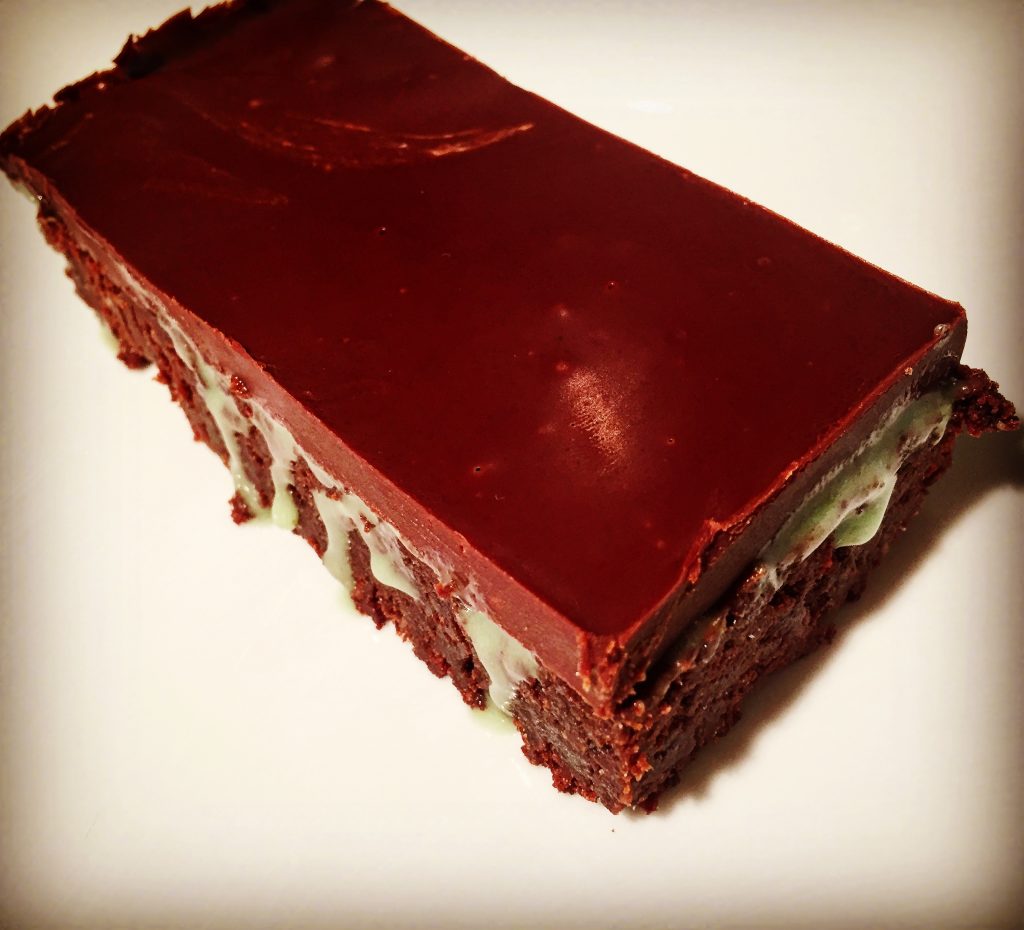 It May Not Be Traditional, But It Sure Is Fun & Delicious!
One of may favourite St Patrick's Day expressions has always been, "On St Paddy's Day, everyone is Irish!". With that lovely notion in mind, I also believe that, any recipe can be Irish if you set your mind to it, and so the chocolate-glazed goodness you see above has been transformed into an albeit non-traditional, yet fun and delicious gluten free & dairy free delight. Here's wishing that you and yours will enjoy this recipe with friends young and old, Happy St Patrick's day!
About me: My name is Paul Thibault, an impulsive home chef developing delicious gluten free recipes for family and friends regardless of their allergen restrictions or dietary limitations, visit the About Page to learn more.