Impulsive Culinarian's BBQ Flap (Bavette) Steak with Homemade Chimichurri Sauce & Grilled Vegetables Recipe
Steak Ingredients
24 ounce Flap (Bavette) Steak
2 tbsp Red Wine
1 tbsp Montreal Steak Spice
1 tbsp Sugar
Chimichurri Ingredients
1 Shallot, minced
1/4 cup chopped Flat-Leaf Parsley
1/4 cup Good Olive Oil
1 tbsp Red Wine Vinegar
1 tbsp chopped Fresh Oregano
1 Garlic Clove, minced
Zest of 1 Lemon
1/2 tsp Kosher Salt
Freshly Ground Black Pepper
Vegetable Ingredients
1 pound Button Mushrooms
1 bunch Asparagus, trimmed
2 Roma Tomatoes (or 1 Beefsteak Tomato), halved
Olive Oil
Kosher Salt
Freshly Ground Black Pepper
Instructions
Combine steak, wine, steak spice and sugar in a large zip-lock bag and rub together well
Seal the zip-lock and marinate in the refrigerator for at least 6 hours, preferably over night
One hour before grilling, remove steak form the fridge and let it come to room temperature
Combine all the chimichurri ingredients in a small mixing bowl and set aside
Arrange mushrooms on skewers
Toss asparagus in a shallow dish with some olive oil, salt & pepper
Brush mushrooms and tomato halves with olive oil and season with salt & pepper
Warm one half of the grill over medium-high heat and the other over medium-low
Grill the mushrooms open side down over medium-high heat for around 5 minutes until most of the moisture has escaped
Flip and finish them on the top side for around 2 minutes
Grill the asparagus over medium-low heat for around 5 minutes per side being careful not to burn them
Increase the heat on half your grill to high heat
Grill the tomatoes over high heat until the have visible black char marks
Gently flip the tomatoes and grill on the other side until skin starts to char, transfer the tomatoes the a clean dish and set aside
Clean the grill of any debris, put heat back to high and close the lid for a couple minutes to get everything piping hot before adding the steak
Sear the steak over high heat with the lid closed for one minute per side
Reduce heat to low and move steak over to indirect heat, then cook for 3 to 4 minutes per side until the steak is a beautiful solid pink colour in the middle
Remove from the grill and let the steak rest for at least 10 minutes
Remove skins from the tomatoes and cut into attractive large slices
Arrange vegetables and cut tomatoes on the plate
Thinly slice the steak against the grain
Top the vegetables with a serving of steak, garnish with chimichurri and any drioppings
Serve immediately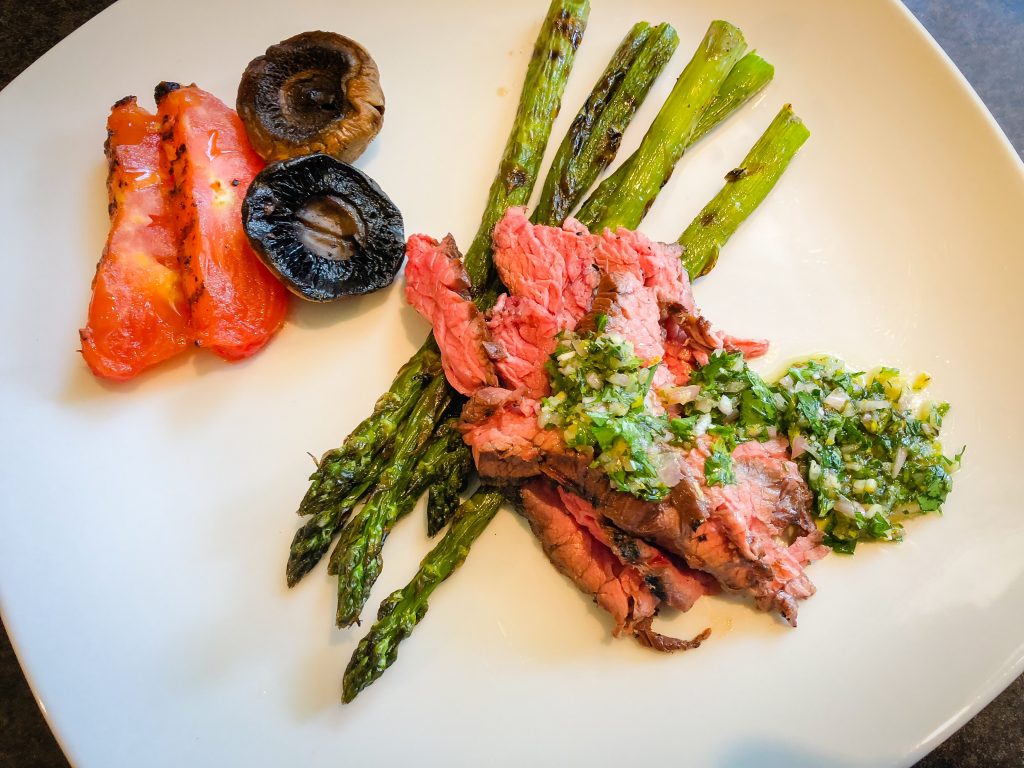 BBQ Grilled Bavette Steak with Homemade Chimichurri … A Meal You Will Dream About!
Flap steak, aka: bavette steak is very similarly to flank steak, both have a lovely meaty chew but can be grilled up to tender perfection when prepared as outlined above. If you've ever had perfectly grilled flap steak before you most certainly remember the experience and it will easily remain in your memory as one of the most delicious summer dishes of all time.
About me: My name is Paul Thibault, an impulsive home chef developing delicious gluten free recipes for family and friends regardless of their allergen restrictions or dietary limitations, visit the About Page to learn more.