Impulsive Culinarian's Back To School Maple Glazed Ham Recipe
Ingredients
1 pound Boneless Pre-Cooked Smoked Ham
2 tbsp Real Maple Syrup
2 tbsp Sugar
2 tbsp Dijon Mustard
Ingredients
Preheat oven to 350°
Line an 8″ cake pan with a long piece of tin foil … long enough to fold over and cover your ham once it's in the oven
Place a long piece of parchment paper on top of the tin foil if you prefer not to have tinfoil touching your food
Place the boneless ham in your lined cake pan
Cut a few shallow slices along the top of your ham to help catch some of the glaze and infuse more flavour into the ham
In a small mixing bowl, combine the maple syrup, sugar and mustard … whisking until smooth and thoroughly combined
Baste the ham with half of your maple mustard mixture
Cover the ham with the long flap of tinfoil / parchment paper and place in the oven for 10 minutes
After ten minutes, baste with the remain maple mustard mixture
Cover again and place in the oven for an additional 10 minutes
Remove from the oven, place ham on a cutting board and let cool for 5 minutes
Using a very sharp knife, slice as thinly as possible
Refrigerate in an air-tight container for up to a week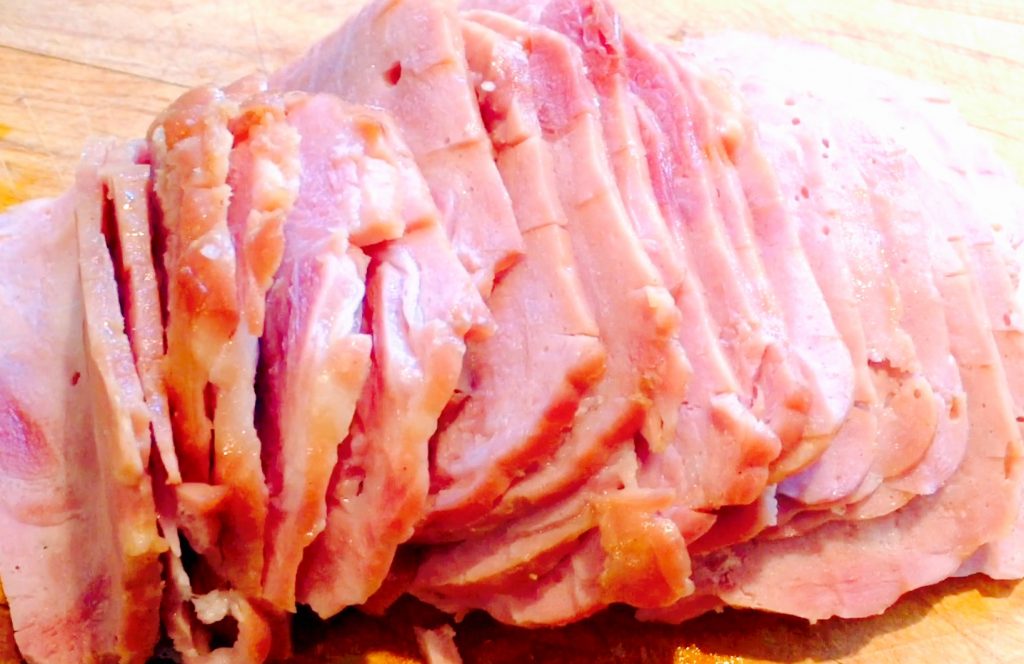 Healthy Back To School Lunches Can Be Both Affordable AND Healthy!
It makes me sad to see good folks lining up at the deli counter to buy lunch meat at incredibly high prices ranging anywhere from 2 to 4 dollars per 100g … that's around 10 to 20 dollars per pound of meat!
The only reason it makes me sad is that, for a lot less money we can buy organic cuts of those very same meats, prepare them ourselves with very little effort and be super proud of what we're putting in our kids lunch boxes when they go back to school.
In around 25 minutes from start to finish, you can have a whole pound of organic maple glazed sliced ham ready to go for less than it would cost you to buy the non-organic variety at your local deli counter … not to mention it truly tastes amazing and you won't feel bad sneaking a few pieces for yourself :)
Another great alternative for home made back to school lunch meat that you might like to try is my Cajun Roasted Chicken Breast recipe.
About me: My name is Paul Thibault, an impulsive home chef developing delicious gluten free recipes for family and friends regardless of their allergen restrictions or dietary limitations, visit the About Page to learn more.